New Season! "Zero-emissions" podcast series (Ep. #1): Cleaner, Greener Propulsion Systems in the Era of Advanced Air Mobility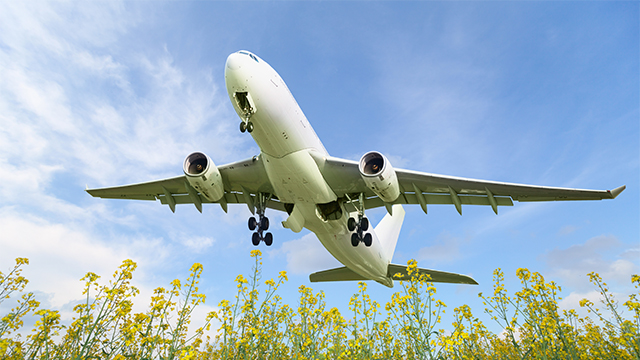 The zero-emissions aircraft. Sounds like a rather lofty goal, doesn't it? So what is a zero-emissions aircraft anyway?

Sure, there's electric propulsion. And then there's hydrogen. But do we use hydrogen as a combustible fuel or are we talking hydrogen fuel-cell batteries? All of these options show promise, some are further along than others.
The fact is, the aerospace industry is moving towards a cleaner, greener way to fly. Right now, we are making significant progress with biofuels and fuel blends. Sustainable aviation fuel (SAF) not only helps airlines reduce carbon emissions, but increases fuel efficiency across a variety of aircraft already in use.
Welcome to Season #5 of Talking Aerospace Today. In this five-part series we'll be talking about zero-emissions aircraft – not just how it applies to urban air mobility vehicles and eVTOLS – but also how it applies to our more traditional wide- and narrow-body aircraft. This first episode touches on that very topic. We cover a lot of ground and it's a good introduction into the series.
Listen to the podcast now.
This is episode #1 in a five-part series.
Welcome to Talking Aerospace Today – a podcast for the Aerospace & Defense industry. A place that brings the promise of tomorrow's technology to the ears of our listeners today.

There's a lot of talk about air mobility these days. So much innovation. No question the electric vertical take-off and landing (eVTOL) vehicles will have a huge role. There are many reasons why eVTOLs will be so popular. One of the primary reasons: zero emissions. Right now, more than ever, new modes of air transportation need to be cleaner, greener and better for our environment.

Today, in our first episode of a new series we're calling "The Future of Air Mobility: Zero- emissions Aircraft," we'll be talking about how the aerospace industry is planning for a cleaner, greener future. We'll cover the various types of propulsion technology and how better blends of fuel are helping to lighten the carbon footprint. You'll hear about current advancements and how the digital twin is helping companies keep up with the latest technologies.

I am your host, Scott Salzwedel, and I will be joined by Dale Tutt, Vice President of Aerospace & Defense at Siemens Digital Industries Software. Dale has a lot to say on this topic – and we plan to cover a lot of ground.
So please take a listen as we discuss the promise and future of zero-emissions aircraft.
In this episode, you will learn:
How the airline industry is preparing for a greener future. (2:08)
The role of sustainable aviation fuel (SAF) in reducing hydrocarbons. (3:52)
Paths towards fuel efficiency and reduced emissions. (5:19)
Why the wait to reach zero-emissions aircraft? (8:42)
How energy density and power density relate to one another. (11:49)
The controversy around hydrogen. (14:45)
Why a comprehensive digital twin is critical in the design process. (21:33)
  Connect with Dale Tutt:
 Connect with Scott Salzwedel:
Resources:
Dale Tutt – Speaker
Dale Tutt is the Vice President of Aerospace and Defense Industry for Siemens Digital Industries Software. He is responsible for defining the overall Aerospace and Defense industry strategy for Siemens Digital Industries Software, driving specific industry requirements into solutions for Aerospace and Defense customers. Dale has over 30 years of experience in engineering design, development and program leadership within the Aerospace industry.
Scott Salzwedel – Host
Scott Salzwedel is senior technical writer and corporate communications writer involved in the Siemens Aerospace & Defense Industry and Siemens Capital. In addition to writer/host of Talking Aerospace Today, Scott is the writer of white papers, articles, blogs, videos and websites at Siemens.
Talking Aerospace Today Podcast
The A&D Industry is at a serious inflection point. Transformation to the digital enterprise has opened up a new era in innovation and technological breakthroughs. However, complexity and compliance continue to hamper the best of efforts.
Join us as we explore how Siemens is turning complexity into a competitive advantage for many of our customers – today and well into tomorrow.
Listen on:
This article first appeared on the Siemens Digital Industries Software blog at https://blogs.sw.siemens.com/podcasts/talking-aerospace-today/zero-emissions-podcast-series-ep-1-cleaner-greener-propulsion-systemsin-the-era-of-advanced-air-mobility/