Podcasts
Collaboration and Coordination of BIM Tools in the AEC Sphere
In complex construction projects, changes are bound to happen many times before completion. While some changes can be made in isolation, others will impact many other project components. That's why a general contractor needs a design-sharing system that can inform sub-contractors when an approved change calls for a design change on their end.
On this episode of the Next Generation Design podcast, our host Jennifer Piper is joined again by Derek England, NX Product Manager for AEC and BIM at Siemens Digital Industries Software. He'll help us understand the design review challenge in the AEC industry and the impact it's having. He'll also share how NX from Siemens DISW and the digital twin address the challenges faced by the industry.
In this episode, you'll learn how data and design silos impact construction projects and what can be done to eliminate them. You'll find out about the problems that come with a single-file approach, and you'll hear how NX improves collaboration and ultimately simplifies the design review processes.
This is the second episode of a three-part series. Listen to or read the first episode to learn about technology trends in the AEC industry and how an integrated solution can improve productivity with building information modeling.
What You'll Learn in this Episode:
The purpose of a design review
Why it isn't easy to collaborate and coordinate design reviews
How NX simplifies design reviews
The role of the digital twin in design reviews
How a single-file approach hinders collaboration
How the BIM collaboration space might look like in the next five years
The cloud enables you to get data, put somewhere where everyone can access it. So today, lot's of times, it lives on somebody's computer on the disk drive, that only a few people can have access to. So, by putting it on the cloud, at least everybody can access the same data.

– Derek England, Siemens Digital Industries Software
Listen to the Next Generation Design podcast wherever you do podcasts.
Connect with Derek England:
Connect with Jennifer Piper:
---
Podcast Transcript
Derek England: When you drive by a construction site, it's clear that there's a lot of coordination that needs to happen between all the different disciplines: there's the structural, plumbing, mechanical, electrical, civil engineering, if you're going to do storm drains, piping, sanitary, and natural gas, there's just so many different people all working at the construction site at the same time, so an incredible amount of coordination needs to take place. It's just as important in the digital space to collaborate as it is on the construction site itself.
Jennifer Piper: Welcome to another episode of the Next Generation Design podcast. I'm your host, Jennifer Piper. In this episode, I'm welcoming back Derek England, NX Product Manager for AEC and BIM at Siemens Digital Industries Software. In part two of our three-part series with Derek, we're talking all about the benefits of collaboration using multi-discipline Building Information Modeling tools in Architecture, Engineering, and Construction. Before we begin, Derek, would you like to give our audience a bit of a reintroduction?
Derek England: Hi, I'm Derek, England. I'm an NX Product Manager for AEC and BIM at Siemens Digital Industries Software. I've been with the company for over 25 years now and I've been able to be fortunate to work with some of the most innovative companies around and understand their workflows and help them to achieve their productivity goals. My job is to make sure that NX is the best there is for this industry and I continually search and work with customers to figure out how to enhance the software so that it's the most efficient for them.
Jennifer Piper: It's great to have you back, Derek. Today, we're talking all about collaboration and coordination of BIM tools in the AEC sphere. What are some of the real-world challenges regarding this issue that you see general contractors experiencing?
Derek England: The general contractor is responsible for coordinating all the engineering construction activities with the subcontractors. So, they'll have one contractor that's responsible for designing and installing the HVAC system, they'll have one contractor responsible for piping, another for electrical, etc. The challenges are changes in one area will impact many different disciplines. So, his responsibility as the general contractor needs to be able to, when he finds these issues, go back and communicate back to them and say, "Okay, these things need to change." One of the challenges is that everybody has their own source of the truth, they've got their own version of the part—not everyone is reading from the same script, I guess—so it's difficult for them to make those kinds of changes.
Jennifer Piper: And I would imagine that's further complicated with the number of different technologies being used, is that right?
Derek England: Typically, each one of these disciplines are using different software as well. So, if I'm a contractor and my job is to design HVAC, I'm going to use whatever software is the best for HVAC. And the guy over here who's designing plumbing, he's going to use the software best for designing plumbing systems, so on and so forth. Now the general contractor has to take data from lots of different systems as well and integrate it all together. And this process of integrating the data and collecting it, it's error-prone. And when changes are made, it's really difficult to understand what the impact is on all the different areas for lots of different reasons. So, if I decide I want to make an opening here on this wall, I need to add a beam that's going to impact piping, electrical, and HVAC, you need to communicate that all to them. And because each of them works in their own silos, it's really difficult to find these things and communicate them in a timely manner.
Jennifer Piper: So, can you walk us through what the process looks like currently? How does a general contractor typically ensure that everyone is working in harmony?
Derek England: It doesn't feel very harmonious a lot of times. If you've ever been to an orchestra or something like that, it's kind of like when you first sit down, the lights go a little bit dim, and you hear them start playing; they don't immediately start playing this beautiful music. It kind of sounds a little bit chaotic, you hear them warming up. It sounds a little bit chaotic how they do that. But in reality, they're just all getting in sync. And that's kind of what a design review is; it's getting everyone in sync. So, in an orchestra, the oboe will play a note, an A note, and then the violin checks to make sure he's got the same A note, and then the other woodwinds and brass and strings, they all make sure they have the same note. Now they're all in sync. Now they're ready to make music. Now they can be harmonious. And that's kind of what the design review is like. It's like, "Okay, we need to make sure everybody's in sync. Do we all have the same design? Are we all reading from the same script?" They figure that out in the design review. But it feels like they don't start playing music, they just say, "Okay, great. We're all in tune. Let's go back and start practicing on our own." And it just feels like they constantly are getting in tune, but never really making music together. I think that's where we have opportunities to make music together and not just warm up and get our instruments in tune from time to time.
Jennifer Piper: What would you say makes it so hard to collaborate and coordinate those design reviews?
Derek England: The way it typically works today is everybody works independently. And how often they do the design reviews can be once a week, it can be once every other week. But in reality, they're working a long period of time independently from each other, so they're making decisions, not in context with the other disciplines. So, I might make a design change that makes perfectly good sense to me, but in the context of the overall design, it's not so great. And if it impacts somebody else, that's somebody else's problem. So, this process, too, of collecting all this data can take several days. You asked for the data, and it takes me a while to save my data and collect all the data from all my different designers, they've got to collect it and integrate it on their side as a contractor. And then they give it to the general contractor who's got to integrate all the disciplines together, and then they can find the clashes and interferences and things like that. The challenging part is by the time he finds these clashes and interferences, that date is pretty old; it could be a week old or two weeks old.
Jennifer Piper: So, in the meantime, everyone has continued working because they have no reason not to.
Derek England: Now, all of a sudden, it's like, "I've been working two weeks already since I gave them my last version. What's changed?" So, it takes a lot of time for them to figure out "Okay, this is what my data used to look like, this is what it looks like now. Does that change still impact me?" So they spend a lot of time just trying to figure out what's changed.
Jennifer Piper: It sounds like a lot of people are doing twice or three times more work than they need to. How have you seen this play out in the real world?
Derek England: I worked with this one company, and they were convinced that they were going to use the best-in-breed solution. There are a lot of benefits to best-in-breed; you basically use the best software for the best task. And it's good. It's easy to implement. I can be really flexible in the type of tools I use. And so they said, "This is the best solution." But what they found was they were never able to get enough design cycles in. The integration of all these different tools made it really difficult. They really would like to have gotten to the point where they could do dozens of design iterations and dozen of options before the design freeze. But ultimately, what ended up is they will get one or maybe two viable options, and then they are choosing between those, and it wasn't optimal. They knew it wasn't optimal but because it took so long to get there, that's kind of where they were.
Jennifer Piper: Is there anyone who's been able to figure out a solution to the collaboration issue? Do you have any examples of a company that's doing this process well?
Derek England: A company called SSF Engineering. It's an industry-respected German civil engineering and construction company, and they design large, complex infrastructure construction projects. I go to Germany quite often and I always take the trains, they're great. But whenever I go between Stuttgart or Frankford to Munich, it always seems like these high-speed trains aren't any faster than driving. And the reason why is because there's this one stretch that's really slow. It's because it has lots of turns and a steep climb, and high-speed trains really just don't go that fast in those areas. So they've redone it and they've designed this new track for high-speed trains, it'll cut that time in half. They used NX to do things like 4D construction sequencing, so they could actually visualize this is what the construction site looks like on day one, this is what it looks like after one month, after two months.
Jennifer Piper: And they're actually able to use that data collaboratively?
Derek England: They were able to use that same data over and over again through lots of different disciplines. Also, because they were all using a common tool, it became really easy to do these design reviews. They save their work, walk over to the conference room or get on a conference call, and they can immediately start an online meeting within minutes. And that was something they could never do before because the data is always in the same location, in the same system. It really boosted their efficiency and eliminated errors compared to when they were using multiple systems that weren't integrated together. These design reviews are much easier when you're working in a common design environment. Each designer is working with live data, so when design changes occur, everybody immediately sees it and they can react immediately. Instead of waiting weeks to integrate, review, and get feedback, it's immediate. So, that enables them to deliver on time.
Jennifer Piper: Flexibility of the solution seems to play a big role in a lot of best practices. Can you expand on how that flexibility is helpful?
Derek England: Flexibility is a key point. There's lots of software out there that will assist in designing a bridge or a roadway. But these designs need to adapt to different terrain and different circumstances. So, lots of times this out-of-the-box "here's my template bridge or roadway" doesn't fit into that scenario. And it's very difficult to force the software to do something it wasn't meant to do. And that was one of the things they really loved about NX was this flexibility to "I want to design the roadway to do this. In this one section, I need to change it." I'm not constrained by some predefined rules in the software.
Jennifer Piper: Does the digital twin come into play at all?
Derek England: All along, they can always represent and see what's happening. So, if I made a design change, I could immediately see how that impacted all the other disciplines. And when I made a change and found a mistake, it immediately got applied and represented the digital twins. So many issues are found on-site and on-site decisions are made to modify the design. Those on-site modifications never make it back into the digital twin. So, it's important and really beneficial to be able to find all those issues early on to ensure that it really gets an accurate representation of the digital twin.
Jennifer Piper: Can you tell us a little more about the idea of a "common design environment"?
Derek England: Most AEC design software stores data in a single-part file. It's a single file. For architects, managing all this data in a single file is, for the most part, fine. The challenges come when you need to collaborate with others; when you need to get a whole team of people, many people. How do you collaborate with a single-part file? One way to do it is you're probably familiar with something like Google Docs; the ability to work together. But it's not really satisfactory when you've got really complex design processes or your needs are much different. I might be designing one thing; I don't want to see everything associated with the formwork and the scaffolding because that's not what I'm interested in.
Jennifer Piper: So it goes back to the need to collaborate amongst different disciplines. Do you see the single-file issue as the biggest hurdle to collaboration?
Derek England: It becomes difficult when you have different objectives for the need of the data. So, while a single-part file might work great for an architect, it really is difficult during engineering construction. This scalability issue was one of the key complaints in that open letter to Autodesk a couple of years ago. When the design is stored in a single file, it's challenging to leverage things just like multiple cores. How do you have multiple processors working when it's all stored in a single-part file? So, you'll see more and more customers complaining that the performance is getting worse and worse because they have no way to really distribute that design and leverage multiple CPUs. When that happens, nobody wants to get bogged down, so they create their own version of the design. Everybody has their own version. It's an unfortunate circumstance, but kind of what they do.
Jennifer Piper: It sounds like it would be a pretty major roadblock for productivity.
Derek England: They spend a lot of time trying to determine what's changed. So, the guy who's in charge of the design, he'll make a change, and then everybody has to figure out what's changed. They don't really know, they have to spend a lot of time looking for it. It's unique to this industry as well. You don't see it like an automotive, you don't see it in aerospace or machinery. These tools enable distributed design using assemblies and components.
Jennifer Piper: Can you elaborate a little bit about that? How much of an obstacle does the single-part file create?
Derek England: With a single-part file, you'll design an element. I'm going to design a restroom, let's say, and I've designed a men's and women's restroom, that's represented on every floor of that building. Today, I would just copy and paste it and put it in all the different levels. But really, now these are all unique instances. So, if I decide later and I said, "Oh, I need to change something in one of them." All of them now are wrong. You don't just change it once and propagate that change everywhere; they're all wrong. So, it's not ideal, it's better if you had to take that instance and replicate it multiple times, making one change and see that lots of times. So, if I'm the guy who needs to do the concrete work, I need to put in formwork. So, my design needs to have formwork. The guy who's doing steelwork, he might not care at all about the formwork. Where does my formwork live? We don't have a single source of truth that has everything in it. It'd be great if you have a single source of truth that had everything in it, and then only the things I want to see are the things I get to see, and other people don't have to load it if they don't want to.
Jennifer Piper: I can imagine poor collaboration would really have an impact on those builds, too.
Derek England: You're always going to find mistakes on site somehow — sometimes it's human error and sometimes it's just got missed. But the problems are really compounded when you're working with stale data or out-of-date data, and you're constantly translating data between different CAD tools, and you're trying to integrate it together. There are great tools out there that have made progress in making the translations better and the integrations better. But in reality, you're not getting enough design cycles. So, in the end, you're not finding all the mistakes in time because you're on a deadline and you're pushed to start building. So, what happens is mistakes are made. And then every single time mistakes are made, you cause delays and you cause wasted materials, you've ordered the wrong product, or the writing of equipment didn't get delivered in time. So, this eats into their profit margins. And in this industry, the profit margins are thin. You just don't have the flexibility to make these kinds of errors. So you are either forced to take a hit or turn around and charge the owner a lot more money and say, "Hey, there's this mistake you need to pay more." That's not a good solution either.
Jennifer Piper: So, Derek, looking ahead, what would you say the BIM collaboration space looks like in the next five years?
Derek England: Well, you can start to see that the cloud is really a big deal. The cloud enables you to get data and put it somewhere that everyone can access it. So, today, lots of times, it lives on somebody's computer on the disk drive that only a few people have access to. So, by putting it on the cloud, at least everybody can access the same data. So, that certainly will be the future; leveraging the cloud to make this data accessible from any device.
Jennifer Piper: How do you see that accessibility changing the industry?
Derek England: These design silos can't exist. We can't have these people working in isolation, designing their specific thing out of the context of the rest of the design. You really need to have an environment where everybody can see and work together. That has to happen to ensure that we don't get these delays and missed interferences and clashes and things like that. As soon as changes occur, if I'm designing something and something else suddenly comes into my space, I imagine I'm going to get notified of it. It's not going to take somebody else to tell me this. I'm just going to be working and it's going to say, "Hey, somebody just put an HVAC unit right through your space. Is that okay?" So, I imagine there's going to be a more dynamic, interactive way that these disciplines work together and send notifications. When that happens, these interferences are found immediately. I'll start adapting to that right away. I'm not going to wait until a week from now when we do our designer review till I discover that; I'll start working on it immediately. So, I imagine, these design reviews will be much, much different. You're not going to be finding interference in clashes, those will be resolved ahead of time. These designer reviews will really be communicating large changes or exploring design opportunities or something like that. But they won't be finding interferences anymore, there'll be much more high-level discussions.
Jennifer Piper Are there any other big changes you see on the horizon? What about in terms of the digital twin?
Derek England: Another area, too, is the way we document on-site issues and the way we capture these on-site issues, we can't have digital twins if decisions are being made on-site, changes are being made on-site, and these aren't documented the digital twin. So, somehow we need to pull this into our digital twin and make sure all these changes are documented and replicated in our digital twin. So, I think you're going to see that in the future, no construction project will be done without a digital twin, without the ability to digitally represent what's physically there. You see more and more governments requiring 3D data, but I think more and more, it'll be like "We really want a full digital twin." You actually see people retroactively doing that. I know the German government is paying to take projects that were done in 2D, maybe five years ago, and "We really want a 3D representation of this. We really want a digital twin." And they'll pay people to retroactively create these digital twins. So, you can bet that in the future, all projects will be leveraging these principles and have an accurate digital twin.

Jennifer Piper: Wow, so we're looking at a future where things like infrastructure maintenance could be completely revolutionized. Thank you so much to Derek for joining us today, and please stay tuned to Next Generation Design for the final installment of our three-part conversation with Derek. Thanks also to our listeners for tuning in to today's episode. Join us next time for more discussions about the latest in design innovation and software applications. I'm your host, Jennifer Piper, and this has been Next Generation Design.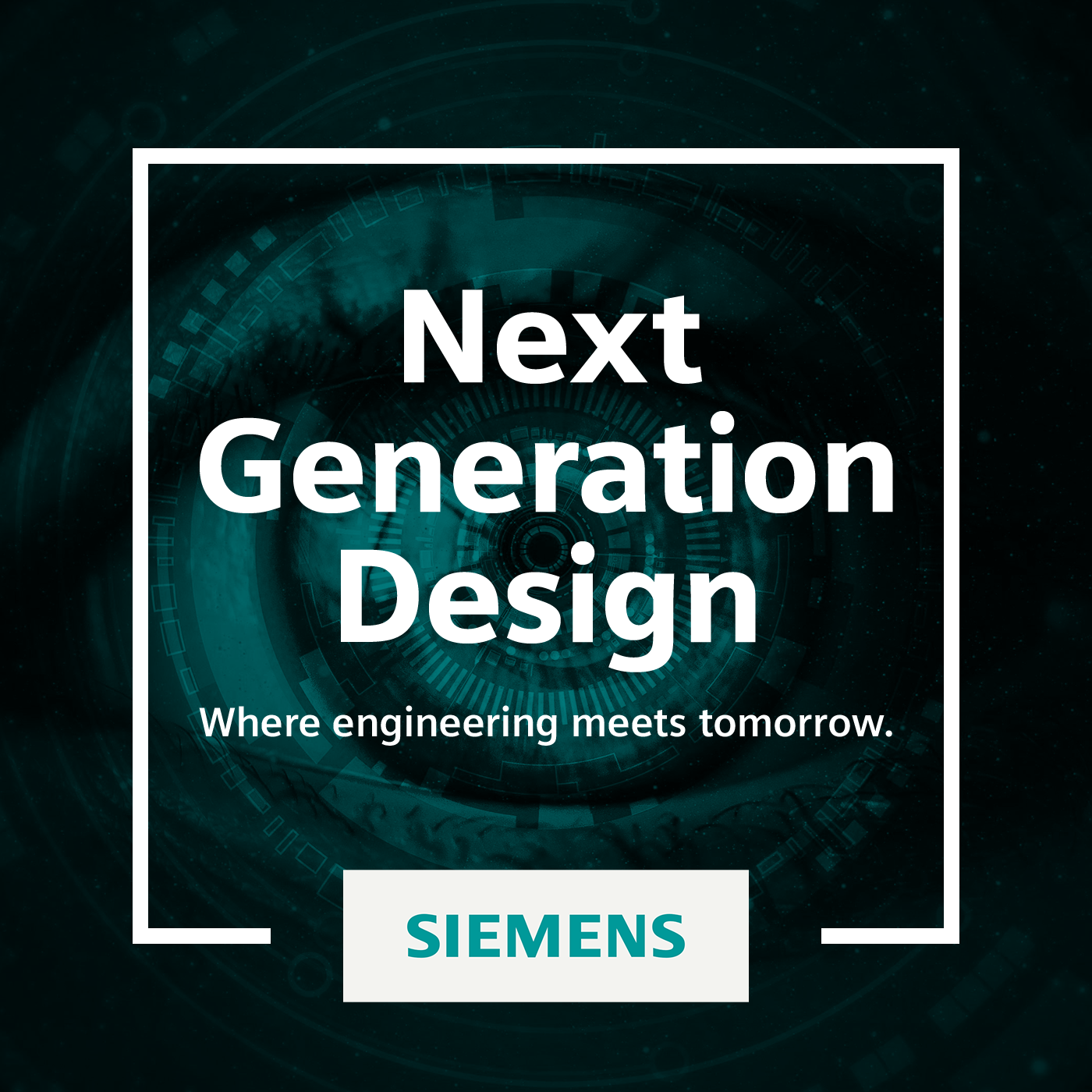 Next Generation Design Podcast
As product engineering tools continue to morph and expand at speeds human expertise may not be able to endure, Revolutionary design technologies that span beyond industry borders, will prove their necessity for companies looking to take over their markets in the future. What will the future of design technologies and machinery look like? What will your digitalization story be? Where engineering meets tomorrow.
Listen on:
This article first appeared on the Siemens Digital Industries Software blog at https://blogs.sw.siemens.com/podcasts/next-generation-design/improve-bim-construction-design-reviews/