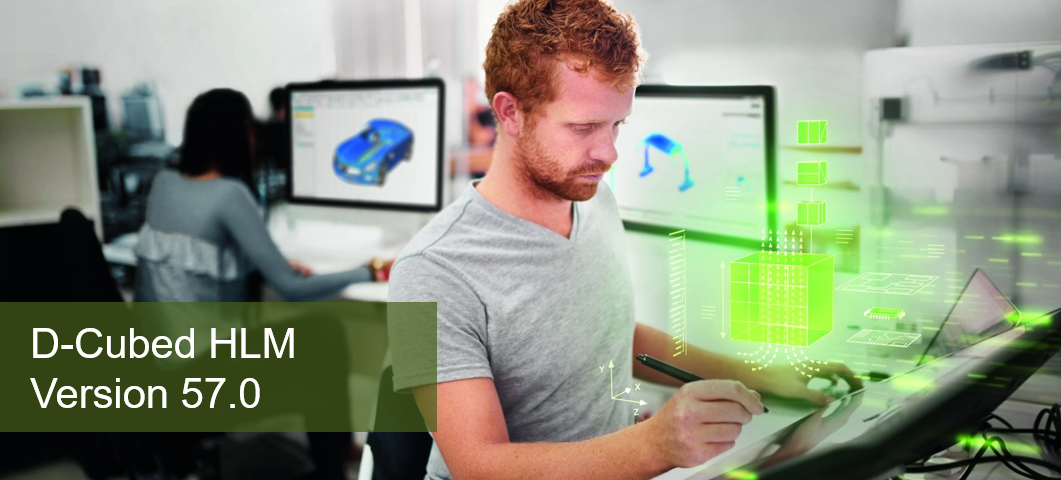 Key enhancements introduced in version 57.0 of D-Cubed HLM (Hidden Line Manager) are described below.
Reduced memory overhead
A set is an HLM entity that holds a collection of geometries, with one set typically, but not necessarily, representing one part.
An application can inform HLM that the geometry in a specified set will not be hidden by the geometry in other specified sets. One use of this is to allow the application to specify annotation such as the centre line of a cylinder, a sweep path or the thread lines of a bolt.
In a large model where there are many such relationships there could be many calls to the relevant HLM function and substantial memory usage. A simpler way to set these relationships for some situations has been added in this release, improving efficiency.
Use of annotation sets – the centre line is hidden by the block but not the cylinder
Improved face outline performance
This release sees implementation of improvements that speed up face outline computations, particularly when generating section-views of large models.
About D-Cubed HLM
D-Cubed HLM (Hidden Line Manager)) is a software component that provides applications with a fast hidden line computation capability. HLM is optimized for solid, surface and wireframe models, with support for accurate, tolerant and faceted geometry. HLM is compatible with most applications, being independent of modeler or model format. HLM accurately computes hidden line views, engineering drawings and technical illustrations of parts and assemblies with exceptional performance, reliability and functionality.
This article first appeared on the Siemens Digital Industries Software blog at https://blogs.sw.siemens.com/plm-components/d-cubed-hlm-version-57-0/