Corporate
From the top floor to the shop floor – experts from beginning to end
Stemming from a personal relationship while working for different companies in the 1990s, our managing directors from BCT Technology AG and A+B Solutions GmbH created a partnership that continues to flourish today. Many marriages don't last that long! Read on to find out how we complement each others' skills and expertise to become a Siemens Digital Industries Software Solution, Technology, Foundation and OEM partner.
Combining unique competencies
When A+B Solutions was founded in 2003, we immediately started collaborating based on previous work together for specific manufacturing customer requests. A+B has specialized skills to support the BCT vision of seamless process chain from engineering to manufacturing in the shop floor. A+B brings the manufacturing to the shop floor and BCT brings skills in engineering and standardization that customers need.
The synergy we share is our unique value and an advantage for small and medium-sized businesses in Germany, Switzerland and Austria. BCT covers the overall process chain with NX, Solid Edge, Teamcenter on its broad modularity and Polarion while A+B is a specialist in manufacturing. They are experts in the process and data flow from manufacturing engineering to the shop floor and back. Together, we deliver complementary software and services then support the process and data flow from the idea to the final product along the produce lifecycle management (PLM) process chain.
Partnering with partners – and Siemens
As technology partners, we developed new extensions to the Siemens portfolio to deliver additional value to the customers. Specifically, we offer manufacturing engineering and shop floor integration like DNC Connect for NX which is a data management and shop floor solution for native NX CAM users. Shop Floor Connect makes it easy for shop floor operators to search and view the latest released data in Teamcenter and to download numerical control (NC) programs to the machine and upload optimized programs back to Teamcenter. The A+B solution, 3rd Party Part Integrator integrates 3rd party CAM or manufacturing solutions in Teamcenter.
With a concentration in the machinery market, we streamlined our activities and our core competencies and can confidently prove that the Siemens solution portfolio is the right offering for them to grow and provide a vision for the future. One of our most successful joint customers is Andritz Ritz. Customers find our ability to respond quickly, our reliability, and the trust we build together are invaluable.
"We are very happy about our cooperation because our partner understands the processes of mid-sized companies and is immediately available when a problem occurs."

– Hans-Juergen Steeb, Manager of IT and Organization ANDRITZ Ritz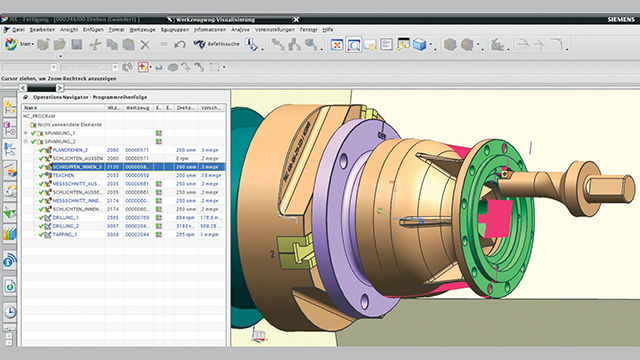 Aligned for the future
Specialization is important to our customers so A+B will pursue expanding its expertise and portfolio to include Opcenter APS. Both companies foresee new opportunities to complement offerings for manufacturing and the Xcelerator portfolio, particularly around MindSphere and Mendix to reach new and existing markets in the cloud, add new functionality into our core products, and combine the technologies to the existing offerings we develop for Siemens. New business models like SaaS will help address the needs of new customers who want to dive into PLM but have not found the right way yet. The future looks bright for us both.
About the authors
Juergen Hillemann is CEO at BCT Technology AG. Prior to BCT, Juergen was manager of the technical IT at SKET Walzwerktechnik in Magdeburg, Germany and has managed many different projects in CAD, PDM and ERP over the past 29 years.
Ralf Stetter is currently the owner and acting partner for A+B Solutions GmbH in Germany, a Siemens Digital Industry Software Sales, Service, Foundation, and OEM partner. A+B Solutions is specialized in sales, service and development of manufacturing solutions in combination with the Siemens PLM portfolio of NX CAM, Teamcenter, and Tecnomatix.
This article first appeared on the Siemens Digital Industries Software blog at https://blogs.sw.siemens.com/partners/manufacturing-specialists-are-shop-floor-experts-siemens/