AI and IIoT optimize decision-making from planning to execution
Manufacturers working with composites in the aerospace industry face a series of unique challenges, such as the time-sensitive nature of composite raw materials, excessive material waste during the production process, and meeting the high-quality standards that the aerospace industry demands.
The composites challenge and time-sensitive raw materials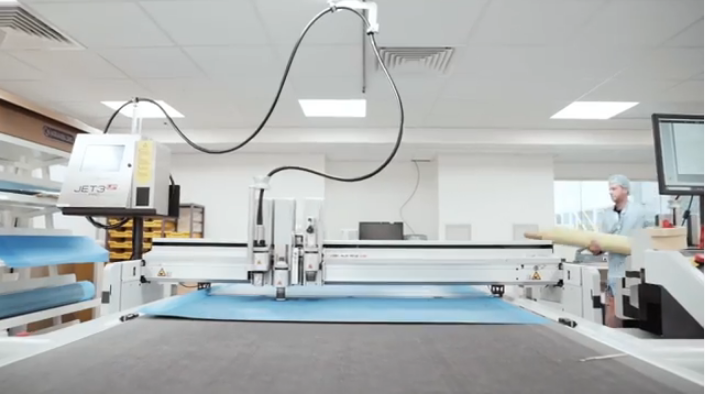 Time-sensitive raw material management is the unique aspect of working with composites because the raw material has a limited shelf-life and must either be sent to the autoclave for curing or returned to the freezer. Many aerospace composite part manufacturers currently rely on time-consuming manual tracking to manage this and are subject to human error.
The cutting and kitting process is another primary source of inefficiencies. Manually creating cut plans is time-consuming and leads to expensive raw material waste as human workers struggle to compute the most optimal cut plans.
The quality issue – audits and recalls
The uncompromising nature of the aerospace industry means that composite part manufacturers must deal with tough quality challenges. For this reason, they must always be ready for audits and be able to deal with product recalls at short notice.
The solution and benefits
To help address these challenges, Siemens is integrating with Software and Technology partner Plataine's technology into their Manufacturing Operations Management (MOM) solution – Opcenter. Plataine's deep domain knowledge in the field of aerospace composites and IIoT to deliver an end-to-end solution for Siemens' aerospace composites customers.
Plataine's value-add to Opcenter
A MOM solution consolidates all production processes to deliver another level of visibility on top of a manufacturing execution system (MES), giving an end-to-end view. Plataine brings an essential new range of capabilities to MOM, such as improved quality, advanced planning, improved efficiency, flexibility, and time-to-market.
---
Combining AI-based IIoT technology allows the shelf-life of all composite raw material rolls to be tracked and monitored in real-time as soon as they enter the factory. If an unexpected production delay causes the ETL (expiration time left) to run low, digital assistants alert employees to the best course of action.
Optimized cutting and kitting processes
The Plataine-Siemens solution automatically creates ready-to-cut production plans. The fully CAD-integrated AI software achieves optimal material utilization by taking all variables into account. The process starts at the cad level and is validated by the Siemens FiberSim tool. The flattened plies that need to be cut are tracked individually by Teamcenter, setting, and the entire manufacturing flow. When it is time to cut the plies, Plataine's FabricOptimizer kicks in and uses advanced algorithms to fit as many plies into each cut plan as possible, resulting in significant material savings.

Intelligent raw material assignment
Plataine's Digital Assistants automatically assign composite raw material to production lines – leading to significantly reduced waste. The integrated solution of Siemens and Plataine uses sensors to monitor and track material location, length, and shelf-life. The software also ensures the use of short rolls and remnants – which human workers would often overlook.
Meeting the quality challenge
The Digital Thread keeps an automated record of every element of production, meaning that if a batch of composite raw material is found to have been defective, production records can show exactly which kits incorporated that material. The integrated solution of Siemens and Plataine identifies problems earlier in the production process and can dramatically lower the costs attributed to defects.
Summary
The above is just part of Plataine's advanced digital manufacturing solution. The Siemens-Plataine partnership represents a significant step forward for aerospace customers delivering new levels of material savings and manufacturing efficiencies that are tailored specifically to composite part factories' needs. Watch the video to see how it works.
Walter Ofer Abramsohn is the head of Product Development and Product Marketing at Plataine. He has over 20 years of experience with a vast background in technology, encompassing software and hardware solutions, and has held diverse leadership roles from R&D to Product Management and Product Marketing at High-Tech companies, including Infineon, NetApp, and Orbotec.
Plataine is a Siemens Digital Industries Software Software and Technology Partner. Software and Technology partners are leaders in their domain and leverage the open Xcelerator portfolio to provide customers with a comprehensive set of integrated solutions.
This article first appeared on the Siemens Digital Industries Software blog at https://blogs.sw.siemens.com/partners/aerospace-composites-in-the-manufacturing-process/