Products
What's New in NX for Manufacturing (December 2022)
With the holidays and new year approaching, we are excited to announce the latest version of NX for Manufacturing!
Powerful new capabilities for CAM programming, additive manufacturing, CMM inspection programming and more are available in NX 2212. The new, advanced functions, such as automated programming, new machine strategies, AI-powered processes, and better shop floor connectivity help manufacturers boost productivity.
Here are some of the major new enhancements in the latest release of NX for Manufacturing:
What's New in NX CAM
The new 3D Adaptive Roughing operation, which replaces the Adaptive Milling operation, enables faster programming and shorter machining cycles. The bottom-up cutting strategy can be used to efficiently remove material between cut levels by re-cutting the walls at each cut level by stepping upward. The other enhancements include more accurate tool holder collision checking, thin wall option, and flat surfaces machining using the adaptive pattern.
Guiding Curves Mid Pass Patterns provides new cutting strategies that define the guiding curves automatically. It uses the medial axis defined by the topological center of the cut area. Previously, users had to manually select guiding curves. The new strategy provides flexibility to create passes offset or morphed using the medial axis, enabling programmers to create the most efficient toolpaths for any part.
Using the new Face Mill Mid-Pass operation, programmers can quickly create toolpaths on flat faces with complex shapes, such as mating faces on machinery casings. Just by selecting the face, you can create intelligent toolpaths that can ignore or cut around the holes, as well as define an offset. It can even show the uncut material using the In-Process Workpiece (IPW) technology, enabling programmers to rapidly create optimized toolpaths.
Turn-milling, a Rotary Milling capability, is a new cutting strategy for cylindrical and conical parts with feature obstructions, such as bosses and split seam flanges. It simplifies programming of parts with symmetric and eccentric surfaces. Advanced settings, including axial and radial limits, engagement types, and cut sequencing help you create optimal toolpaths for your applications. You can program both roughing and finishing operations using many tool types, including indexable, solid, ceramic, carbide, round, and wiper tools.
Turning Threads IPW display enables realistic 3D material removal for turning threads during simulation such as the G-code-driven simulation in NX. The detailed depiction of the machining process enables programmers to validate thread operations quickly and accurately.
The AI-assisted programming in NX CAM has been further enhanced in the latest release. In addition to assisting in the creation of new operations, the AI technology now helps you with editing operations. Learning from your best programming practices, NX predicts the most probable used parameters, presenting a minimal set of parameters, accelerating the programming process and ensuring repeatability.
The new NX CAM Wire EDM Advanced add-on, introduced in the October release, delivers industry-leading capabilities to program a wide range of wire EDM machines. It offers a direct access to machine tool technology databases for all common wire EDM machine tools, such as Agie-Charmilles, Mitsubishi, and Fanuc. Visit this blog to learn how this new module helps you quickly generate optimized operations that can increase the overall cutting efficiency.
What's New in NX Additive Manufacturing
The new AM capabilities include the ability to create embossed and debossed print markings for all printer types and manufacturers. Using the new Boolean build tray attribute, you can choose desired operation for different 3D printers.
The new drag-and-drop methods for adding parts to the build tray speeds up the AM preparation process. You can now drag-and-drop part files, STL files, or assembly files into the build tray and then easily define the part position.
Printer support is expanded with further support for EOS printers and added support for ARCAM hardware. These capabilities add to the already strong solutions in NX for printing parts, and they allow you to set up your builds more efficiently and to more printer types than ever before.
The multi-axis enhancements in NX Additive Manufacturing include new material build-up methods that adds materials along the axis of rotation of cylindrical parts. This new, axial method complements the helical build-up strategy, providing more flexibility and addressing the needs for wire arc additive manufacturing (WAAM).
The Freeform Additive Buildup operation has been enhanced to control the tool axis, including tilt and lead angle. This is particularly useful to avoid situations when the laser is normal to the surface, avoiding damages of the sensors.
What's New in NX CMM Inspection Programming
The CMM inspection programming enhancements provide more automation and integration with the CNC programming phase.
Using the Automatic Scanning operation, you can create scanning paths automatically without using manually created curves. This not only helps reduce the programming process, but it helps you utilize standardized inspection strategies.
NX  On-Machine Probing is a brand-new module in NX. This interactive capability offers a simple method to use machine cycles for probing on machine tools.​ You can execute and create machine cycles all in one operation, while creating measurement statements using feature-based methodology.
Other enhancements in NX Inspection Programming include interactive programming of multi-point inspection paths and programming automation using Model-Based Definition (MBD).
What's New in NX Assembly Line Planner
Automatic discrete feature distribution lets you calculate the distribution of features to different stations based on the product distribution and the flows between those stations. Features will be automatically added to stations as soon as all the required parts are present. After this distribution is done, you can enter station detailing and add the distributed features to a new or existing operation. In case some features cannot be processed in the current station, for example because the tools required are not available, you can move the selected features to the next station in the line.
The discrete feature consistency checker allows you to validate if the features planned in a station in Assembly Line Planner are correct, which means that all the required parts to be connected are already assigned to that station or a previous station in the line. In case an inconsistency is observed due to changes in the part distribution, the dialog lets the user correct the inconsistency by unassigning the features from the station.
The new suggestive part planner lets you review which part could be assigned to each station based on incoming products from previous stations. Suggested parts will be those that can be directly connected to incoming parts, to ensure that the build sequence is correct. The decision of assigning a suggested part is up to you – this feature intends to offer guidance and a better overview of the buildup of the product in the line.
What's New in NX Line Designer
The new workarea enhancements allow you to easily create new workarea types, for example, a line, a station, or a workarea, under the selected component in a plant structure.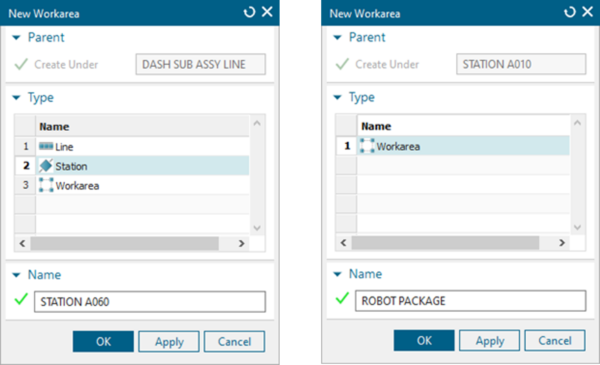 The new mixed unit feature lets you drag-and-drop an inch unit component into a metric unit parent, and vice versa, within the Line Design application. This allows the support for mixed units in context, thus avoiding the unit conversion for components.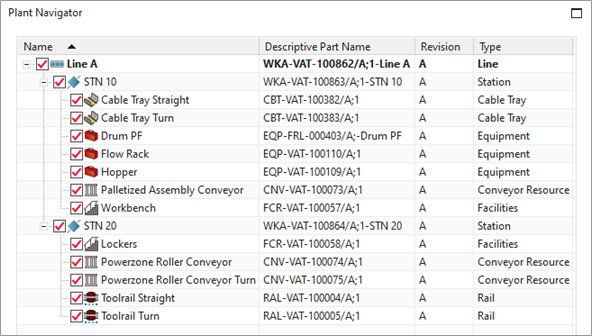 Additional content has been added to the factory resource library, which will be released soon on Support Center. This includes a point cloud scanner, packaging box, toolrail systems, transfer line, and conveyor systems like merry-go-round conveyors, electrified monorail conveyors, chain on edge conveyors, overhead power and free conveyors, and inverted power and free conveyors.
What's New in Manufacturing Data and Process Management using Teamcenter
Manufacturing data and process management enables companies to connect people, systems and machines with a digital thread.
Active Workspace can be now used to populate tool vendor catalog data. To enter the tool data into the manufacturing resource library, it is essential to have access to digital vendor tool catalogs. You can now import and map vendor products in the Active Workspace user interface. The system supports GTC (ISO 13399) and DIN (DIN 26100 and DIN 4000-102) standard formats, enabling you to populate the Manufacturing Resource Library (MRL) for a wide range to tool types.
MRL's new Create Parent Assembly capability lets you build complete tool assemblies in seconds, automating this previously manual and time-consuming task. After you select the cutting tool (such as face mill or drill) in NX CAM, MRL will classify the tool assembly based on the tool type. Using the new command in MRL, you can create the complete tool assembly with one click, saving time and eliminating mistakes due to manual input.
Resource Tracker is a new product that is included in the Shop Floor Connect application. It enables tracking of tool assemblies on the shop floor and synchronizes the tools that are mounted on a physical CNC machine tool. Using this new capability, manufacturers can eliminate the use of spreadsheets or paper documentation to track the manufacturing resources, enabling efficient connectivity between the engineering and shop floor teams.
Learn more
To learn the details of the new NX for Manufacturing features, you can check out these step-by-step tutorial videos on our online community.
Explore NX's advanced capabilities for NC programming by signing up for the NX CAM cloud-based trial. No installation is required meaning you can run NX in your browser, in just a few minutes.
For more information about the new design capabilities in NX 2212, check out this blog.
Happy Holidays!
The entire Siemens Digital Manufacturing team wishes you happy holidays and success in the new year!
Enjoy this short video about the perfect gingerbread man:
This article first appeared on the Siemens Digital Industries Software blog at https://blogs.sw.siemens.com/nx-manufacturing/whats-new-in-nx-for-manufacturing-december-2022/