Products
NX CAD/CAM cloud-based trial: Join Amy, Steve and Curt for a guided tour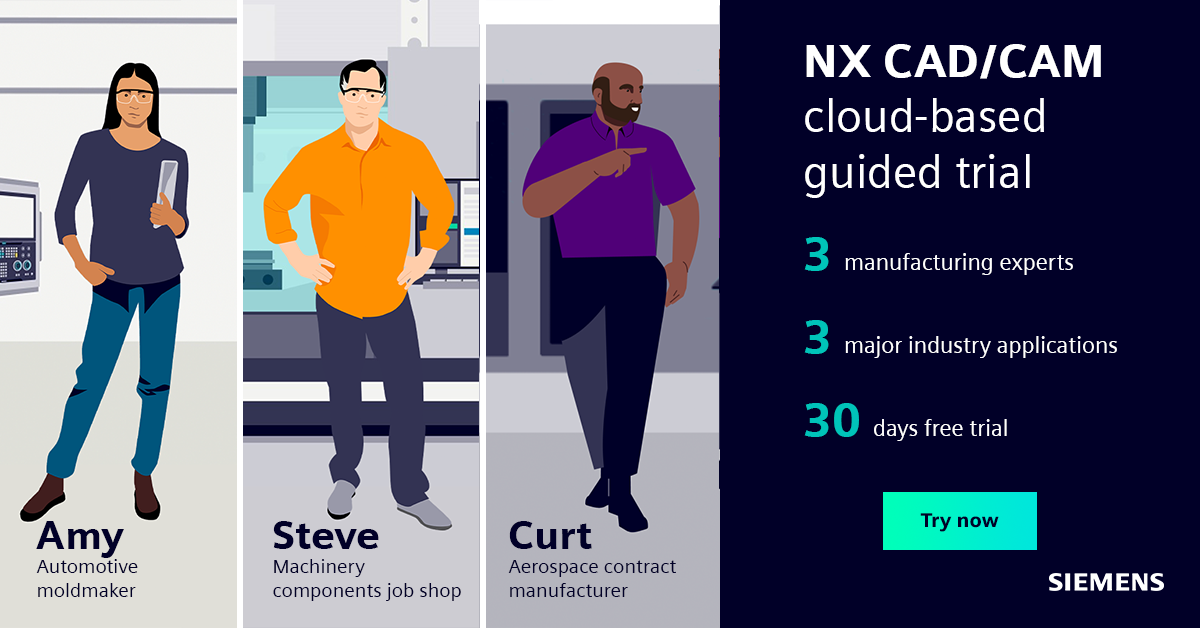 What do an automotive moldmaker, a machinery components job shop programmer and an aerospace contract manufacturer have in common?
A few years ago, this question might have yielded no clear answer. However, in the modern world of manufacturing, the rise in complex products and parts, coupled with the need to cut costs, shortened delivery times, and challenging production process, brings about a shared set of challenges for part manufacturers. Even though the industries and applications differ, they share a common need for a powerful CAD/CAM software.
Amidst the challenges that they share, let's step into the shoes of three part manufacturers – Amy, a skilled moldmaker for automotive components, Steve who operates within a machinery components job shop and Curt, who works for an aerospace contract manufacturer. Each of them faces distinct hurdles as NC programmers, but their common ground lies in their pursuit of enhancing programming efficiency, reducing machining time, and improving part quality through programming automation and use of modern machining strategies.
Join them on a journey through an NX CAM expert-led guided trial, as they show you the ropes and uncover ways to ramp up CAM programming productivity and reduce machining time introducing you to the latest machining operations and strategies.
The most exciting part? You get to experience the power of fully licensed NX CAM software for 30 days, absolutely free. This comes with the added bonus of sample files and guided tutorials, and you can access it instantly anytime, anywhere, without having to download the software!
Mastering mold manufacturing with Amy
Amy is an NC programmer at a small-sized mold manufacturer. Her days are packed with activities to plan the manufacturing of the different mold components, including mold inserts and plates. She needs to quickly program automotive mold components, use the latest machining strategies, and deal with changes, such as design and process changes. It'd be a tall order if she didn't have an advanced CAD/CAM software. It helps her connect and simplify the process needed to manufacture world-class molds to stay competitive.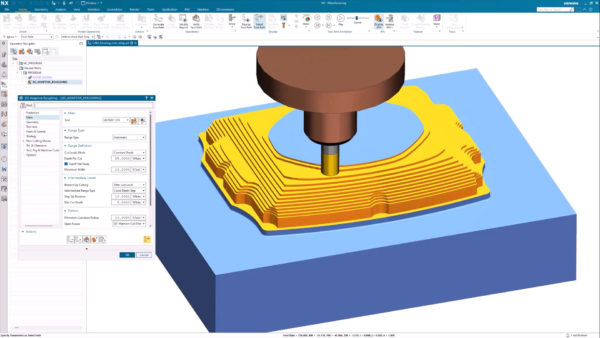 Enroll in the trial, and under Amy's expert guidance, you'll explore how to:
Streamline NC programming workflow for mold machining.
Apply advanced machining strategies like Volume-Based programming and 3D Adaptive Roughing.
Effectively address engineering change orders from clients, including automated toolpath generation for the mold design revisions.
Digitally validate the process to avoid any possible collisions during the machining on the shop floor.
Job shop machining with Steve
Steve is a NC programmer at a job shop that primarily manufactures machinery components. This machine shop stays busy by supplying parts of different complexity to many clients, including Tier 1 and OEMs. He's the key team member on the manufacturing team, responsible to generate and manage CNC programs for many of the jobs. To deliver high-quality results within tight deadlines for a large number of projects, Steve needs to utilize the advanced CAM features to automate time-consuming tasks, generate optimized toolpaths and run high-performance machining processes.
In this example, Steve will use NX CAM to program a conveyor bracket of a bottling machine, including:
Program multiple brackets using a "tombstone" configuration to increase throughput.
Automatically generate operations with Feature-Based Machining.
Create deburring operations using an automated strategy.
Reduce machining time by up to 80%.
Flight through the Complexity of Aircraft Components with Curt
Curt is an experienced senior NC programmer for a contract manufacturer in the aerospace and defense industry that produces components for aircraft engines. His task is to program the machining operations for a complex turbine component. He yearns for more efficient multi-axis programming, better-integrated simulation capabilities, and advanced toolpath controls to guarantee error-free machining.
Throughout this trial experience, Curt will be your mentor, introducing a variety of NX CAM capabilities that include:
Program innovative machining operations such as Prime Turning and automated 4-axis Rotary Milling.
Track the real-time status of machined parts via in-process workpiece (IPW) technology.
Use cutting-edge multi-axis finishing operations designed to machine the turbine's intricate features.
Devise optimized toolpaths that maximize material removal rates.
Harness G-code-driven machining simulation that displays motions driven by the NC code, leading to error-free production and increased machine uptime.
Eager to explore? Enroll now in our exclusive 30-day free NX CAD/CAM cloud-based guided trial, with the expertise of three seasoned manufacturing experts representing 3 major industry applications. With each click, follow step-by-step guidance to seamlessly execute the machining sequence, programming, postprocessing, and simulation within NX CAM.
This article first appeared on the Siemens Digital Industries Software blog at https://blogs.sw.siemens.com/nx-manufacturing/nx-cad-cam-cloud-based-trial-join-amy-steve-and-curt-for-a-guided-tour/