Products
What's new in NX | June 2023 | Simulation-Driven Design
Welcome back to our latest installment of what's new in NX™ software. The June 2023 release of NX has been enhanced with productivity at its core—and today we'll be jumping in and exploring Simulation-Driven Design. As part of this post, we'll be focusing mainly on the new Performance Predictor tool as well as review Topology Optimization and Design Space Explorer. Let's get started and learn more about how Simulation-Driven Design can increase productivity and save your team time within your design workflow!
Use Performance Predictor to validate material choices and mechanical performance of parts
The traditional workflow for design and simulation teams cross-collaborating has typically been slow, infrequent, and sporadic. But with Simulation-Driven Design, workflows can now be completed more quickly and with more options to choose from during the design phase. This not only saves time, but helps to ensure that the smartest decisions are being made at each step along the way—and this is where Performance Predictor comes into play…
Performance Predictor is a new addition to NX's comprehensive range of design simulation and analysis tools, including Sustainability Impact Analysis, Design Space Explorer, and Topology Optimization. This rapid simulation tool allows you to evaluate and immediately review the design performance of a part in the NX design environment, reducing the number of design iterations.
After creating an analysis study, you can define an analysis body, constraints, loads, and environmental forces to view your design performances with regard to stress and displacement. Simply put, Performance Predictor means faster design cycles, reduced costs, fewer physical prototypes, and better-informed design decisions.
To learn more about how the new Performance Predictor tool can help your team's workflows, watch the video below!
---
Simulate assembly parts during Topology Optimization analysis with Remote Force
Remote Force is a new tool within Topology Optimization that can be used to apply specified forces to a face. The force can be placed on a point outside the design space and connect to a face inside the design space, transferring the loads to the connected face. As we reviewed in our previous Tips & Tricks blog, this tool is especially useful because it eliminates the need for unnecessary assembly components to be include during optimization—Remote Force will automatically simulate the distribution of these forces.
If you'd like to take a deeper dive into this helpful and time-saving new tool, you can review our recent post on Topology Optimization here.
---
Identify efficiencies with Design Space Explorer
When we talk about design simulation and analysis capabilities within NX, we're referring to a range of tools created to address specific needs—working effectively with one another to enable the recreation of a product's digital twin.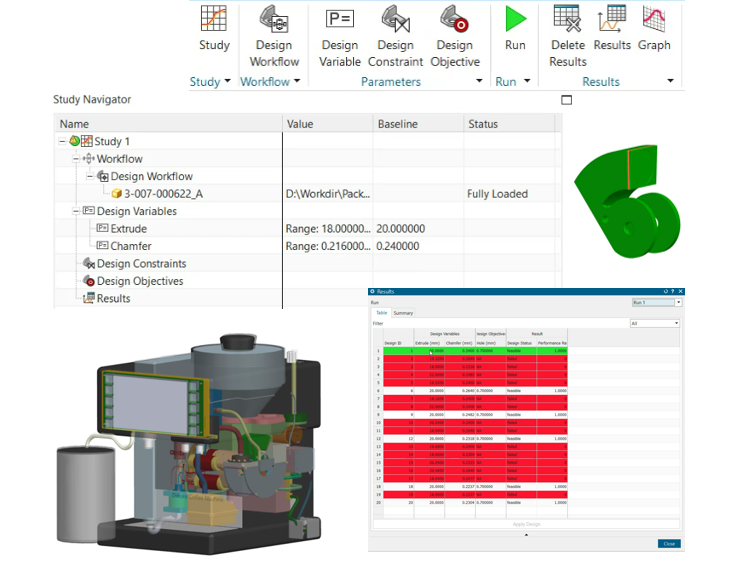 Design Space Explorer searches for and identifies efficiencies by exploring design spaces faster than traditional tools and processes. By leveraging the use of Artificial Intelligence, it's now possible to deliver a higher-quality product, with a greater level of refinement. You can use design, simulation, and manufacturing capabilities in a holistic, all-encompassing manner—removing the need to manually test materials and variables for each design iteration. This yields new design concepts, improves product performance, and accelerates optimization processes by up to 90%.
You can learn more by checking out our Design Space Explorer Tips & Tricks series right here.
---
Conclusion
Thanks for stopping by and checking out the new features of Simulation-Driven Design from the June 2023 release of NX! We hope you'll take advantage of all these new tools and features created to drive efficiency and promote cross-disciplinary collaboration across all of your workflows.
Be sure to check the blog next week for more 'What's new in NX' posts along with our Tips & Tricks and derivative content series. In the meantime, please let us know if there are any specific features you'd like us to highlight in the future. We're always excited to share updates that will make your workflows as productive as possible!
Watch the full Performance Predictor video below!
Continue your journey with NX
This article first appeared on the Siemens Digital Industries Software blog at https://blogs.sw.siemens.com/nx-design/whats-new-in-nx-june-2023-simulation-driven-design/