Products
NEW: NX December release details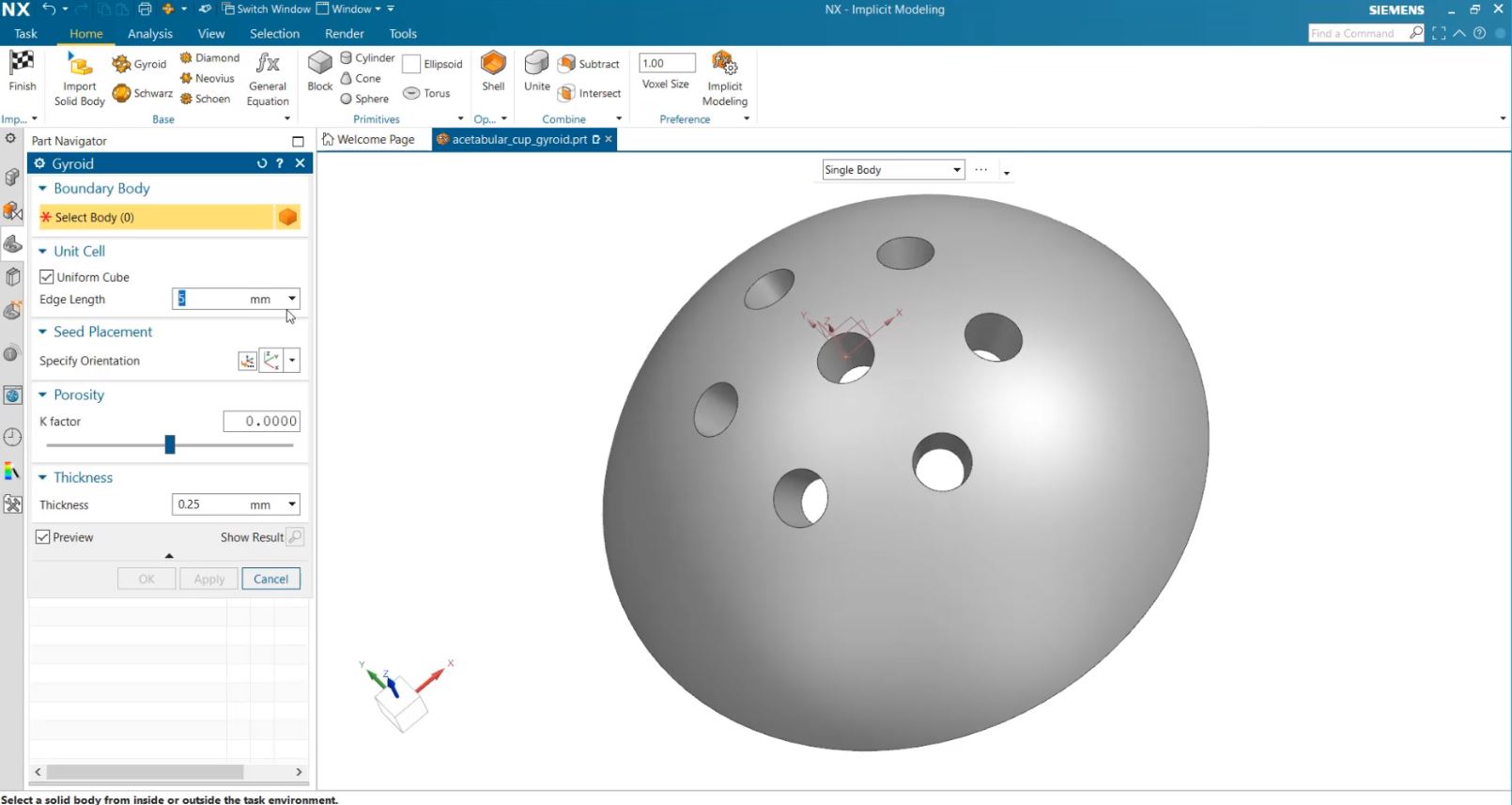 Every six months or so you can experience new enhancements, quality features, and improved workflows to your NX software. This time around is no different.
In the design application we have an all new Algorithmic Modeling feature, Convergent Modeling upgrades, and new design for additive manufacturing functionalities. Read on to find out what's new to the latest NX software. The Assemblies application, Model Based Definition, Appearance Management, PCB Exchange, and Mold, Tool, and Die applications all see major upgrades. Please read more below to discover what's new in the latest and greatest from the world's premiere engineering software.
NX is bringing the biggest leap forward to sketching and this allows you a 30% reduction in the time you spend capturing your design ideas. The all new sketcher was introduced in the previous release of NX six months ago. The future of sketching doesn't stop there. In this release of NX we've added enhancements to the sketcher process with enhanced visual information and ease of creation.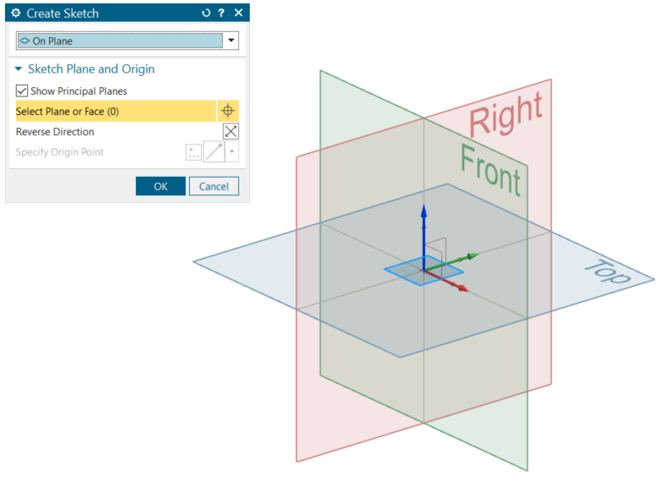 NX sketching now anticipates what you are going to drag or modify. Sketch does the geometric constraining for you as needed and applies geometric relationships for you based on surrounding geometry. This works seamlessly with data regardless of the source. The new approach to Sketch allows users to capture ideas as they iterate and make changes as needed, instead of approaching CAD after the initial iterations have been sketched out by hand. We've reduced the click count needed to create a sketch so you won't get into a situation where you need to enter a plane, vector, and point to initialize the sketch. As you can see by the image on the right, we've add large, labeled, principal planes that can be selected to easily initialize a sketch. When picking on a plane to start your sketch, there's also now a visual indicator, the word "Sketch." This to show the orientation of the sketch.
With NX Algorithmic Modeling, it is now possible to design and engineering complex product forms and features that can be saved as a template and easily reused in similar design workflows. This tool garners a lot of interest in auto, aero, energy and consumer. Any industry where you need to make complex, variationally patterned shapes will be greatly helped by this tool.
The new NX Algorithmic Modeling application allows designers and engineers to create complex designs previously only attainable through days of effort or advanced programming knowledge. Design algorithms can be easily constructed using a logic editor. Algorithms can be saved and reused by the broader design and engineering community.
Convergent Modeling in NX features new updates this time around. The updates to the Convergent technologies increase the value of convergent generated geometry, via scan or CAE, for downstream use without reverse engineering. Convergent Bodies with Mixed Geometry lets convergent bodies be comprised of mesh and analytic faces together. Replace Face of Mesh is a new command that lets users easily replace portions of mesh with analytics geometry.
Create engineered structures using implicit methods that are not feasible using traditional CAD methods. Implicit Modeling is a new optional module for the creation of equation driven structures, and performing robust modeling operations on complex designs. Industries that will benefit most from Implicit Modeling include those who are in the Additive Manufacturing market: Aero, energy, medical, and auto. Watch a demo below of Implicit Modeling.
Design for Additive Manufacturing
Quickly create strong designs that require less resources to construct than with traditional CAD methods. Increased engineering flexibility and speed in designing performance structures only possible through additive. Lattice Structures in this release show increased flexibility of engineered structures which leverages the power of NX CAD modeling for the design of the unit cell. Lattice Structures updates improve engineering productivity and quality. Better quality faceting, for a much cleaner result. Creation time for lattices are blindingly fast, with up to 93% creation time reduction.
Wrap Mesh is also a new command that aids in preparing STL/Mesh models for 3D Printing. Wrap Mesh wraps a volume of interest into a water tight mesh body. There are options to control mesh and gap sizing. Watch for a demo below.
In Model Based Definition, creating annotations is traditionally a manual process. Imagine a solution that could address this challenge. NX will allow users who have already adopted MBD to be more productive and efficient. For users that haven't adopted MBD, our MBD solution will act as a kickstart and an accelerator (it no longer takes too much time to add the data in, for example.) We are helping our users get over previously perceived roadblocks to MBD.
Model based definition offers enhancements that deliver 3 distinct values to you.

1.) Removing tedious processes
2.) Capturing business intelligence
3.) Insure the PMI is compliant with industry and company standards
Automated authoring of PMI introduces an artificial intelligence powered solution. You will find an interactive Logic Editor diagramming interface that supports building and executing rules used to author PMI. This automation speeds up and simplifies tedious manual work, even for users without experience in MBD.
Capturing business intelligence – not only doing it faster, but better. Gain better insight with richer data. Capture key characteristics inside the model with the latest updates: this not only is it faster its also more intelligent, allowing better and more insightful capturing of design data. Instead of having to manually find and enter these specs, it is automatically captured with NX MBD.
With this update, you won't need to depend on individual experts to make sure you are compliant, so you can produce high quality parts in less time. With PMI Advisor for validation and guidance this will remove the dependency on highly trained GD&T experts.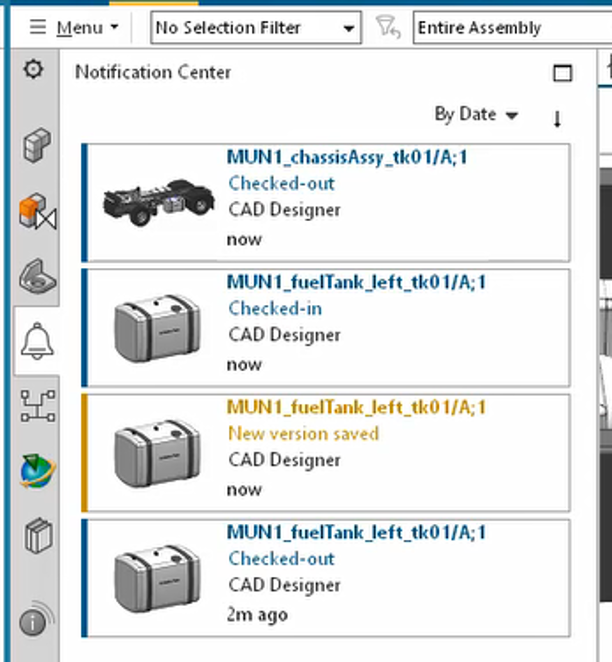 The upgrades to Assemblies in this release of NX is focused around Multi-User Design. NX supports a truly collaborative design environment by proactively notifying users of changes in their design context. Save time and eliminate rework by discovering changes as they occur and automatically update in your design context.
When you have multiple users in the same area, and they have each others parts open (not really an ownership of a file, but rather attribution), this keeps everyone on the same page and up-to-date on design changes. It lets you make sure you're working on the latest version of your parts – which is great for large and interdisciplinary teams. This is not multiple users making changes simultaneously: you check out and check in, it's not instantaneous. If another user has a part checked out, you'll know.
Appearance Management is a brand-new tool that will have significant application and benefit for many of our users in various industries. Whether you're in automotive, consumer products, or any other industry, if you need to show product configuration variety, how can you do that easily?
Simple. With Appearance Management, now managed in Teamcenter. We've addressed the challenges around visually demonstrating product configuration variety so that you can easily display a range of looks. This new tool gives an edge to all users that need to be able to display their variety of products visually.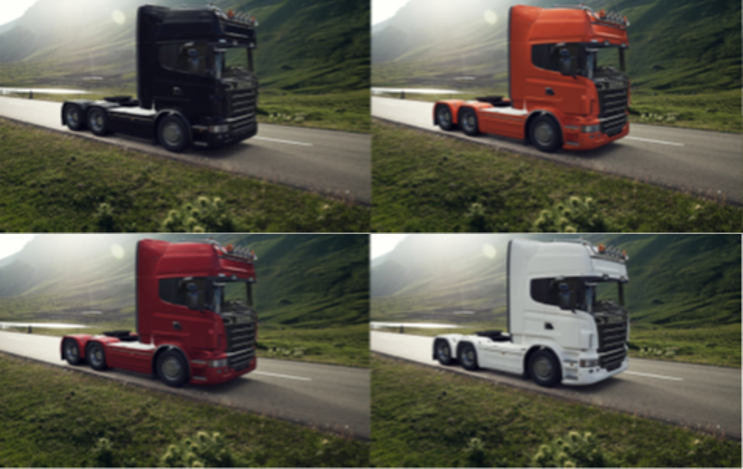 This is not limited to High End Rendering. This could and should support any Visual Twin representation. Appearance Management can be run in team center, as well as natively in NX.
Enhancements in this area are critical for users in the consumer electronics and high tech industry. This impacts you or your organization if they develop personal products, design electronics in devices (since devices are getting smaller), and those who seek to disrupt mature industry with innovations in electronics.
Flexible PCD updates offer our users a unique edge that no one else in the CAD space can match. We offer a complete set of tools for designing flexible circuits and cable components. As our users' need to create innovative product designs increases, we've given electronics designers the ability to outpace the competition with new capabilities around Rigid-Flex Design, and flat solid enhancements.
We are also proud to announce Rigid Flex as part of our design solution. This industry first (we are the only one who offers this!) tool which allows for the creation, editing, and collaboration of Rigid-Flex designs in NX. This enables designers the ability to produce a fully flattened model for collaboration and downstream processes.
New tools within NX's Mold, Tool, and Die solution enhance our users' workflow experience by consolidating necessary applications and by leveraging automation to speed up manual processes. The solutions and enhancements in this area are especially impactful for designers in the automotive, industrial, consumer electronics, and medical spaces.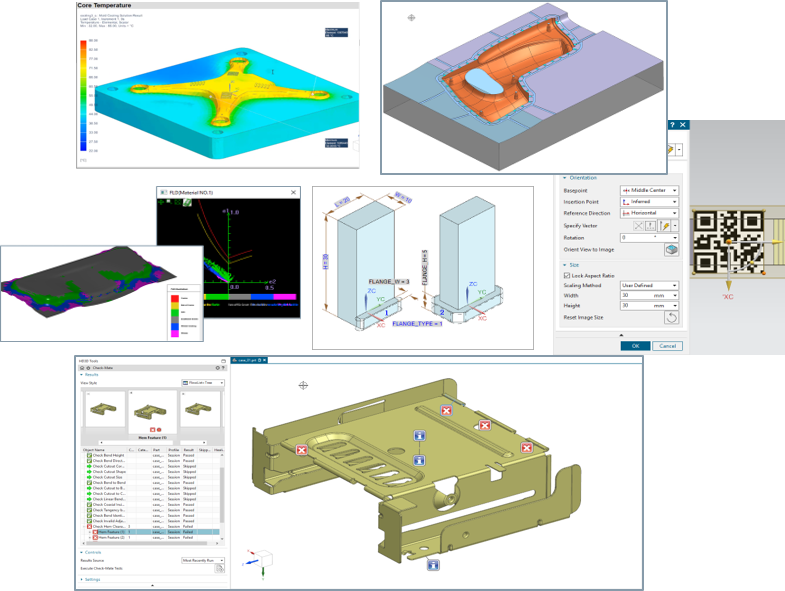 Users can rapidly simulate the thermal performance of an injection mold insert – previously, calculations took a long time, and users had to switch between CAD and CAE systems. Now it's all in one system so the workflow is much faster, and helps designers stay focused by enabling them to stay in a single software environment. This is possible with Mold Cooling Analysis which is a very simple to use tool for designers.
Another big enhancement to Mold, Tool, and Die, Forming Analysis is a new tool that contributes to seamless workflow integration within NX, by helping perform both design and validation in (once again) a single software environment. With Forming analysis you can simulate forming and springback analysis.
For what's new in NX for Manufacturing – Please click here
---
#IngenuityIsNX
Click on one of the social media buttons to follow NX.
This article first appeared on the Siemens Digital Industries Software blog at https://blogs.sw.siemens.com/nx-design/new-nx-december-release-details/