Thought Leadership
Conferences in perspective
My busy two week conference period is now behind me and, having had a bit of R&R in the meantime, I have had a chance to reflect on some of my experiences and impressions of the three events: ARM TechCon, ECS and IP-SoC.
If you attended any of these events, please email or comment to share your thoughts. If you would like copies of any of my materials, please email …
ARM TechCon, Santa Clara, CA, USA
I am not sure how many years this event has been running, but I have notes from my participation with the ARM DevCon in 2006, which I believe was the forerunner of ARM TechCon. In any case, the conference and show are well established and heading towards being the foremost event for embedded developers in the US. It will be interesting to see how the rebranded EE Live [a.k.a. Design West or Embedded Systems Conference] in April 2014 compares.
My colleague, Findley Merritt, already posted a guest blog summarizing some of the key facets of this event. It is hard for me to add a lot to what she reported. The exhibition area was bigger than before and seemed to be quite busy throughout its open hours. The range of topics in the conference was vast and I found myself quite challenged to select which sessions to attend. I was impressed by some of the organization, in particular the real time feedback. On attending a session, my badge was scanned. Straight after the session, I received an email inviting me to leave brief feedback on the session that I had just attended.
I presented two sessions myself: "USB 3 – An Introduction for Embedded Software Developers" and "Interprocessor Communications and MCAPI". These were both well attended and elicited a few good questions.
A bonus activity for me, while I was at ARM TechCon, was an invitation to participate in a short video interview with the guys from EDACafe. You can see this video online. Do take a look and tell me what you think [I do not like to see videos of myself, so I rely on your feedback].
ECS, Stockholm, Sweden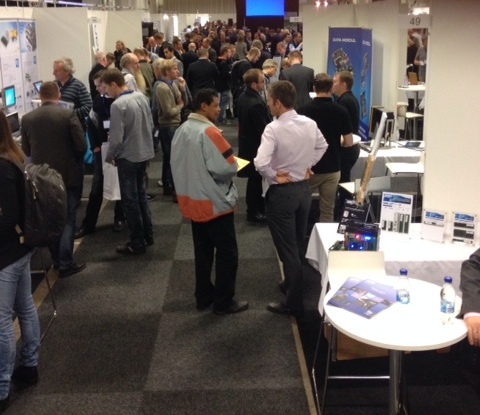 This is another annual conference and trade show which has become well established and is now undoubtedly the key embedded event in the Nordic region. I have records indicating that my first participation at ECS was in 2009, but the event may pre-date this. In any case, the event has grown and, as you can see from my snaps, the show floor was busy and sessions seemed to be all well attended.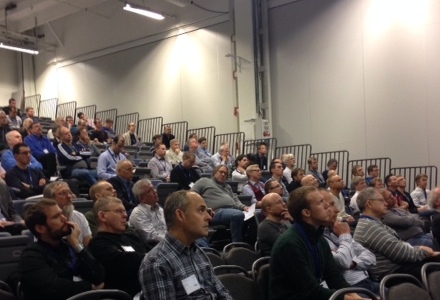 There were 4-5 parallel streams, so, like at ARM TechCon, I was slightly challenged to select sessions to attend. The event was extremely well organized and some of the presentations were of a very high quality.
I presented two sessions: "Power Management in Embedded Systems" and "Selecting an Embedded Operating System", both of which went well.
IP-SoC, Grenoble, France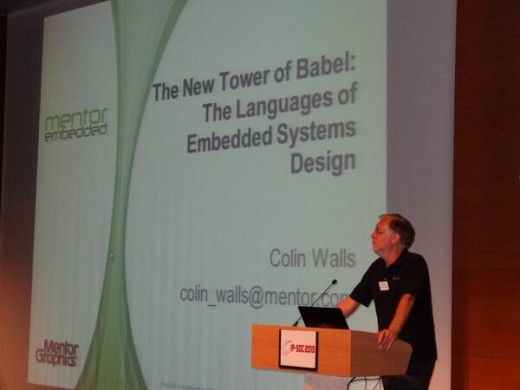 This event is rather different from the mainstream embedded systems oriented conferences. It started out in the EDA world, with a focus on re-usable intellectual property for system on chip designs. In recent years, the role of software in SoCs has become more apparent, so this topic has been added to the conference.
I have attended IP-SoC for a number of years and it has become something of a tradition that I deliver a keynote. This year I looked at the topic of programming languages, which somewhat bridges the worlds of software and hardware design: "The New Tower of Babel – The Languages of Embedded Systems Design". If you click on the picture, you can see a video of the presentation.
I also chaired a track on embedded software, during which I made a technical presentation: "Self-testing in Embedded Systems", which seemed to be well received.
This article first appeared on the Siemens Digital Industries Software blog at https://blogs.sw.siemens.com/embedded-software/2013/11/18/conferences-in-perspective/