Thought Leadership
osmosis – our annual event for formal verification users – is coming-up on November 16!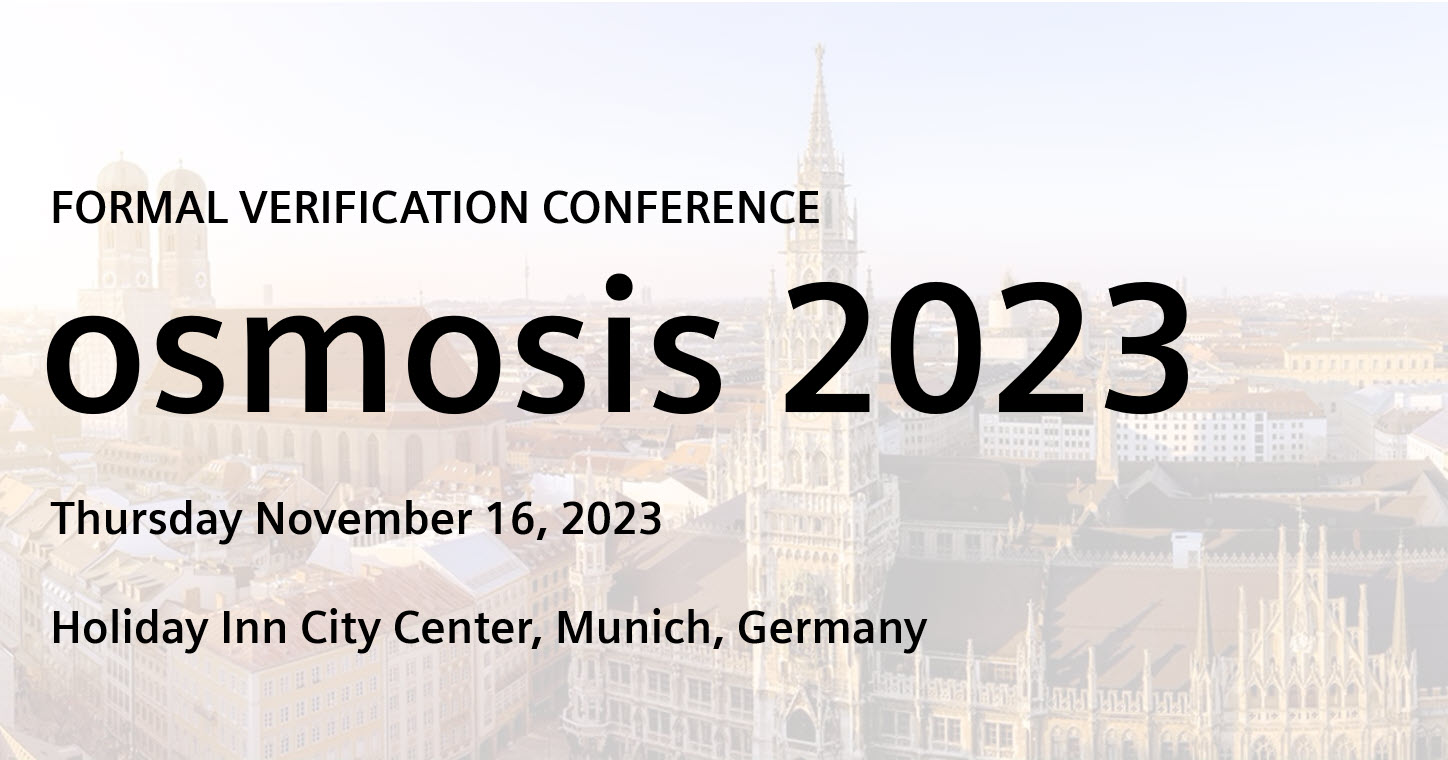 Attention anyone interested in Formal Verification: We are thrilled to invite all formal verification enthusiasts to osmosis 2023, the premier event for sharing success stories in using formal techniques to solve verification challenges. This gathering of experts takes place on November 16th in Munich (conveniently scheduled the day after DVCon Europe and at the same venue), and it promises to be an invaluable opportunity to expand your knowledge and network with like-minded professionals.
What knowledge did formal experts share at the previous osmosis event? Attendees were enlightened about various critical subjects, such as how formal techniques can enhance RISC-V verification, efficient strategies for evaluating formal coverage inconsistencies, the challenges posed by "unknowns" in design projects, the importance of security and trust verification in high-consequence systems, and methods to bridge the gap between hardware and firmware verification process, among other significant topics.
This year at osmosis 2023, we have curated an exciting conference program that delves into a wide range of formal verification topics, addressing the most pressing challenges and innovative solutions in the field. This program will not only provide you with deep insights into current industry trends but also offer sneak previews of our future product roadmaps, giving you a unique advantage in staying ahead of the curve. The agenda is posted here: https://events.sw.siemens.com/en-US/eda-osmosis-2023
To secure your spot, please register today: www.onespin.com/osmosis-2023/registration
Again, we encourage you to take advantage of this opportunity to connect with our R&D experts, engage in insightful discussions, and be a part of a community dedicated to advancing the boundaries of formal verification.
The Formal team can't wait to see you in-person!
Nicolae Tusinschi
for the Siemens EDA Formal team
This article first appeared on the Siemens Digital Industries Software blog at https://blogs.sw.siemens.com/verificationhorizons/2023/10/26/osmosis-our-annual-event-for-formal-verification-users-is-coming-up-on-november-16/