Thought Leadership
SystemC 2011 Standard Published
IEEE Std. 1666™-2011 Available as Free Download
In November 2011 I blogged the IEEE Standards Association (SA) approved a revision to the popular SystemC standard, known officially as IEEE Std. 1666™-2011.  One of the key elements of this standard includes the addition of Transaction Level Modeling (TLM).  I pointed to several online resources to learn more about the revised SystemC standard in that blog.  But missing from the list of resources was information on how to get the revised standard from the IEEE.  As I concluded my blog, I indicated that the final editorial review and formatting for publication was underway and that I would report back when this work was completed.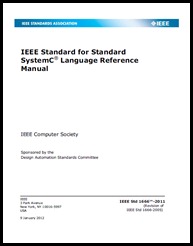 I can report that the IEEE SA concluded their editing of the specification and it is now ready for download.  Many of you know the prior version of the SystemC standard was available for free download and have wondered if this would be the same for this revision update.  The good news is the revision update is available as a free download as well.  If you wish to have a printed and bound copy, that too is available, but that will have to be purchased.
IEEE Std. 1666-2011 is part of the "IEEE Get Program" that offers individuals the ability to retrieve, download and print one copy of the standard for free.  Click on the link above to get your personal copy of the standard.  You will need to share some basic information with the IEEE on your user type (Academic, System/Semiconductor Company,  EDA Company, IP Company or Other).  This is certainly worth if for a free copy.
The original standard, IEEE Std. 1666™-2005, had more than 50,000 free downloads since it was made available and I expect this version to do even better.  With the addition of TLM to the standard and the move up in abstraction to handle system design requirements, the need for this standard is even more pressing today.
This article first appeared on the Siemens Digital Industries Software blog at https://blogs.sw.siemens.com/verificationhorizons/2012/01/16/systemc-2011-standard-published/