Products
5 trends shaping the electronics industry in 2023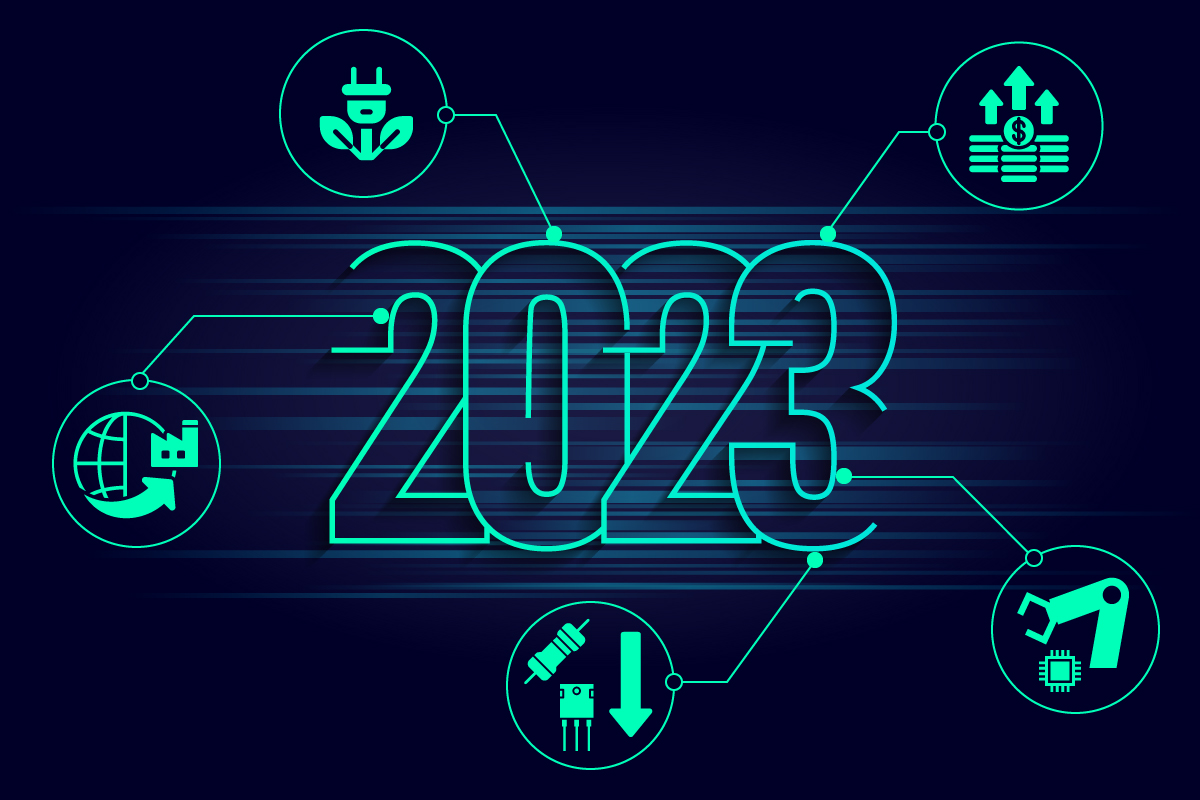 What electronics manufacturers need to plan for in 2023
2022 was a year of global shifts. The Ukraine-Russia war, lingering COVID-19, the soaring cost of living and rising inflation have all had a major impact on the global economy, creating a sense of uncertainty and concern about the future. How are these affecting the electronics manufacturing industry? And what can we expect in 2023? We've broken it down and outlined the most important trends for electronics manufacturers to consider when building their business strategies for 2023 and beyond.
1. Effects of inflation on electronics production
According to the June 2022 Global Sentiment of the Electronics Supply Chain report by IPC, 86% of electronics manufacturers are concerned about inflation, and 9 out of 10 manufacturers are already experiencing rising material costs. Labor costs are also a growing concern—it is increasingly difficult to hire and retain professional employees.
Electronics manufacturers have begun raising the prices of electronic goods, but they need to remain competitive despite the rising costs and continued uncertainty. Manufacturers can only offer competitive prices by focusing on what they are able to control and improve—optimizing internal processes, fully utilizing existing assets and becoming more efficient overall.
Digitalization is key to achieving that goal. No longer just a "nice to have" feature, it empowers electronics manufacturers to manage and utilize their manufacturing assets and material inventory to their fullest, while also enabling existing employees to achieve more with automated tools and processes.
2. High-mix, low-volume manufacturing
The trend towards high-mix, low-volume production has been consistent in recent years, but the current market conditions have now accelerated the trend. As inflation rises, demand in many end markets is slowing and there is concern about recessions across the globe. Such uncertainty encourages caution, resulting in smaller orders. In addition, even large orders can only be produced in smaller batches due to varying component availability.
High-mix production requires frequent NPIs, sometimes several in a single day. If left unoptimized, the NPI process can be time-consuming, creating a negative impact on overall efficiency. Here too, digitalization is the solution. Digitalized solutions for process engineering, such as Valor Process Preparation, paired with planning and scheduling tools, can help electronics manufacturers become agile and better prepared for a dynamic production environment.
Read more in our recent eBook The Electronics Industry's Guide to… The Evolving PCB NPI Process.
3. Component shortages made worse by the shift away from China
During 2022, China continued to struggle with COVID-19 outbreaks and continued its "Zero COVID" policy, pushing companies to move manufacturing out of China. According to a CNBC report from December, US manufacturing orders from China plummeted by 40%, and new US export controls on semiconductors and chip manufacturing technology are hampering China's plans to lead the semiconductor industry as well as its ability to produce advanced chips.
While some companies plan to diversify their supply networks and shift production away from China, such as Apple's plan to move manufacturing to India, it will not be a quick process. In light of these major changes within APAC, companies need to plan for continued component shortages. By implementing solutions that provide full visibility of materials in the warehouse and on the shop floor, they can ensure optimized use of materials, as well as reduce costly material obsolescence.
4. Reshoring electronics production
In addition to the Zero Covid policy, wages in China have doubled in the past few years and shipping costs have skyrocketed since COVID-19 broke out, trends which are driving many manufacturers to reconsider their production locations.
Reshoring helps to establish a more resilient supply chain, which has recently proven to be a critical element of successful manufacturing. It also offers additional benefits, no less significant, such as increased quality control, shorter delivery times and reduced shipping costs, and smoother communication between manufacturers and suppliers.
Domestic SMB electronics manufacturers can take advantage of these new opportunities, if they have the ability to leverage them. For example, they need to meet quality standards required by global OEMs and be able to procure enough components for large orders. Solutions for strategic component sourcing from Supplyframe, a Siemens company, can help source parts quickly and easily and enable increased production.
5. Demand for sustainable electronics
Awareness of the need for sustainable products has never been higher. Global warming is quite literally a burning topic, with consequences felt worldwide. This has created a rising demand for sustainable products, and manufacturers are also increasingly required to use more sustainable and socially-responsible manufacturing methods. The electronics industry, which accounts for 4% of global greenhouse gas emissions, will be forced to make changes to meet the new requirements and demand.
Digitalization plays an important role in this arena as well. Manufacturing analytics can help identify and eliminate excess material and energy used in different manufacturing processes, which can help reduce waste produced by the electronics industry. For example, reflow ovens use less energy at lower temperatures, with only a slight slowdown in production. Manufacturers can also use analytics to monitor and limit the energy that the factory uses.
Summary
In today's ever-changing global manufacturing landscape, the need for digitalization is more acute than ever. Digitalized processes provide opportunities for optimization and efficiency even in times of strain and tension, and help manufacturers gain control of their operations across lines and production sites.
Talk to us about strategies to thrive in 2023.
This article first appeared on the Siemens Digital Industries Software blog at https://blogs.sw.siemens.com/valor/2023/01/17/5-trends-electronics-industry-2023/