Products
Tecnomatix Process Simulate Collaborate Shines at Digital Manufacturing Event  
Siemens recently hosted a digital manufacturing exhibition in Pune, India on February 1st, 2023, which marked a momentous occasion as it was the first time that Siemens cutting-edge technologies from the Digital Manufacturing portfolio were showcased in the Pune office alongside colleagues and customers. The event was held within the walls of one of Asia's largest R&D centers, home to over 3,000 of brightest minds in the country.
The Pune expo showcased the best in innovation and technology, and among the many exhibits, one product stood out and stole the show: Tecnomatix Process Simulate Collaborate, a Siemens' powerful, cloud-based 3D robotic simulation and collaboration tool. Colleagues and customers gathered around the live demonstration of the simulation application where users can access, review, and collaborate on Process Simulate studies from anywhere, at any time – iPad and Android tablets supported. The digital manufacturing event drew a large and diverse crowd of engineers from major automotive manufacturing companies, system and line designers, and integrators. The attendees witnessed the demonstration of the product and were struck by the ability of Tecnomatix Process Simulate Collaborate to solve the most pressing problem that the industry faces today which is, collaborating and exchanging design studies within internal and external teams.
Key takeaways
Seamless manufacturing workflow
In conversations with automakers and line builders who support them with advanced automation and robotics solutions, they emphasized the importance of a collaborative platform for visualizing, reviewing, and managing design work cell studies. These experts stressed the need for a solution like Tecnomatix Process Simulate Collaborate, which allows seamless sharing and editing of 3D designs in real-time capturing every iteration and update from the very beginning to the end of the project. With the ability to track changes and monitor the progress of the design workflow in real-time, design and simulation engineers can expect to have complete traceability within every aspect of the work cell design allowing them to make informed decisions and accelerate production alongside their internal and external stakeholders.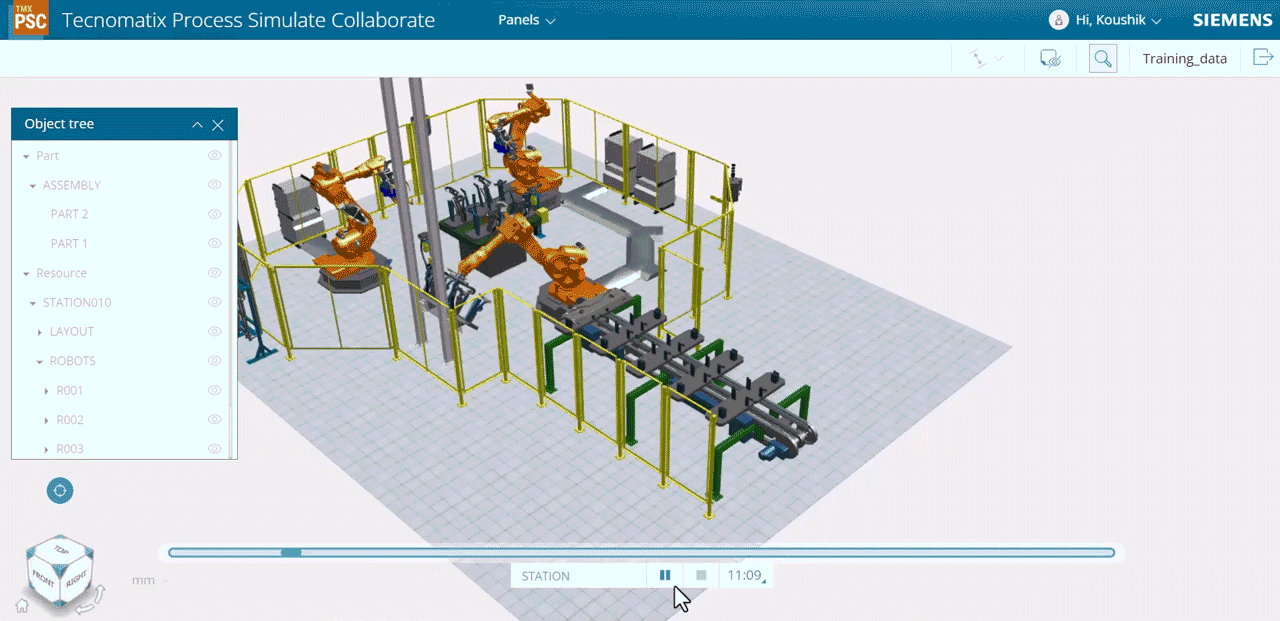 Optimized response time
System integrators, Line builders, and designers shared they can significantly shorten their response time using a collaborative platform where internal teams, such as presales and simulation engineers could review, and share their 3D work cell design, in real-time. By building concept work cell design, it streamlines the design process, ultimately saving valuable time, increasing productivity and reducing dependability. With Tecnomatix Process Simulate Collaborate, engineers can now say goodbye to the inefficient and traditional way of collaboration through messy email chains, static images with markups, slides, and recordings.
Share Process Simulate studies and gain real-time feedback on simulations faster and easier than ever before!
On average, 20% of Simulation Engineer's time is wasted on administrative tasks, like documenting static PowerPoints or PDFs and recording simulation videos to share with reviewers and decision-makers. That becomes a one-day loss of efficiency per week, per engineer. With Tecnomatix Process Simulate Collaborate, OEMs, manufacturers, line builders, and system integrators can revolutionize their simulation and design workflows by sharing and collaborating Process Simulate Studies with one push of a button."

Sahir Patel, Siemens Cloud Portfolio Leader
Are you ready to optimize your production lines and collaborate on Process Simulate studies more effectively? Then get ready for Tecnomatix Process Simulate Collaborate, the ultimate 3D collaboration platform that enables users to visualize, review, and analyze Process Simulate studies in a collaborative environment – all from a web browser.
Create accurate, real-time simulations of production lines faster and easier than ever before and unlock the potential of collaborative work with direct feedback and control.
This article first appeared on the Siemens Digital Industries Software blog at https://blogs.sw.siemens.com/tecnomatix/tecnomatix-process-simulate-collaborate-shines-at-digital-manufacturing-event/