Products
Optimizing collaboration on Process Simulate studies with 3D simulation [VIDEO]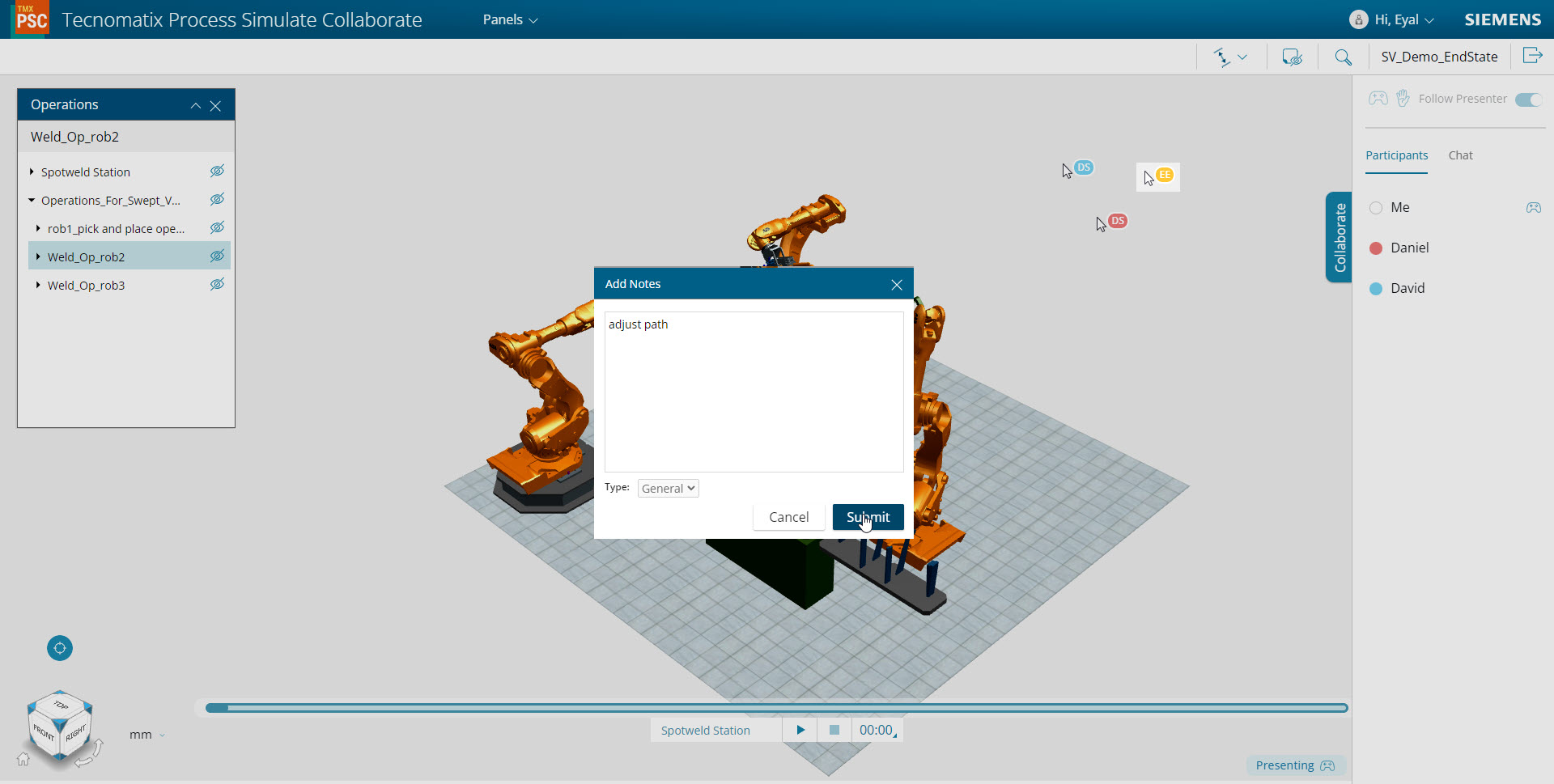 Built for Process Simulate engineers, line builders, OEMs or system integrators, Process Simulate Collaborate optimizes collaboration on Process Simulate studies with 3D simulation.
Traditional collaboration on Process Simulate studies currently involves inherently unmanageable email chains, labor intensive creation of static images and repetitive actions of collecting screenshots. Once the right angle of the workcell is captured, a Process Simulate user must compile these study items into a presentable format for feedback.
Process Simulate engineers must also capture Movies from Process Simulate, which often takes multiple iterations to create. If you think about the time dedicated to re-creating the study, it is evident there needs to be a more efficient way for Process Simulate study collaboration. Simulation owners and reviewers need a simple way to review the robot motion from multiple angles in a 3D environment, otherwise valuable time is lost on administrative simulation tasks such as reproducing static studies in multiple iterations for feedback.
As mentioned in previous blogs, engineers often invest a significant amount of time revising static design studies because they lack a way to share their simulations in a dynamic 3D environment. With Process Simulate Collaborate, users can now replicate the digital twin of the simulation from their Process Simulate application and review it with multiple stakeholders using 3D visualization.
3D simulation user roles
When it comes to designing 3D robotic simulation studies, there are two key users for Process Simulate Collaborate: the owner of the study and the reviewer. Both parties can now collaborate in a cloud-based environment and gain major cost and time savings. Otherwise, traditional methods of sharing design and simulations through PowerPoints and Movies is no longer as effective, which is why we are thrilled to define a new way of collaboration on Process Simulate studies.
Simulation owner
As shown in the demonstration below, owners can save the study directly from Process Simulate and upload it to the web-based platform. Owners can sort and filter existing studies by various criteria, such as modified date, and invite other stakeholders to collaborate on a study. To invite other users, create a unique link and send via email. Reviewers will have access instantaneously of the study data and do not need a Process Simulate installation. Owners and reviewers can then leave notes in context of the simulation, which enables a smoother design and simulation workflow to put feedback into action more readily.
Simulation reviewer
Once an owner shares the Process Simulate study via a web-based link, the reviewer is notified by email and can open the study directly from their inbox. Sharing 3D simulation studies enables reviewers to conduct study sessions in context of the simulation from a desktop, laptop or a tablet on the shop floor.
Whether you are a Process Simulate engineer, line builder, shop floor programmer, or OEM executive, Process Simulate Collaborate  optimizes the collaboration experience. Discover how you can easily share and collaborate on complex simulations, saving time and increasing productivity with faster decision-making and better design outcomes. In our next blog, we share more unique features and advantages of Process Simulate Collaborate, so stay tuned.
This article first appeared on the Siemens Digital Industries Software blog at https://blogs.sw.siemens.com/tecnomatix/process-simulate-collaborate-redefining-digital-collaborationvideo/