Products
Process Simulate Collaborate: Future of digital collaboration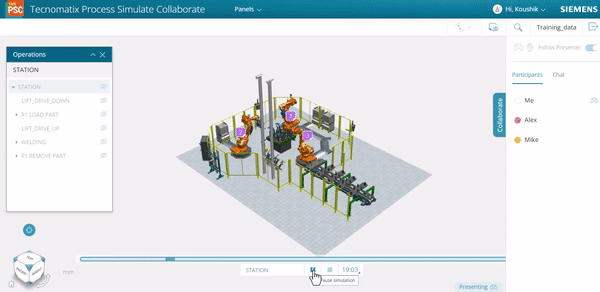 Are you looking for a modern and efficient way to optimize your factory production lines in Process Simulate? Then look no further. Tecnomatix Process Simulate Collaborate is here!
It is now easy to visualize, review and analyze Process Simulate studies in a dynamic, 3D collaborative, cloud-based environment.
Today's design and simulation engineers need a secure platform to exchange and share design studies and allow all stakeholders to conduct real-time simulation experiments. The Tecnomatix Process Simulate collaborate empowers them to collaborate digitally.
Share a study
Sharing a study involves making it easy to distribute process simulate studies by uploading new studies or organizing existing ones based on criteria like project name or modification date. This allows for a seamless sharing process, eliminating the need to manually share studies with static images, and enabling collaboration in a digital environment to ensure there is a clear, single master study. This approach facilitates consistent and accurate updates to the study, with reviewers able to provide feedback and notes in context while viewing the 3D simulation.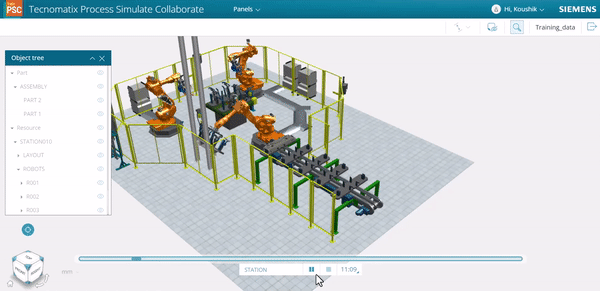 Collaborate on a study
To collaborate on a Process Simulate study, you can work with both internal and external stakeholders without needing a Process Simulate application. You can invite stakeholders to collaborate by creating a unique link and sharing it digitally with each participant.
Regardless of whether someone is a presenter or an invited stakeholder, all participants in the collaborative session can engage with the study by adding notes or using real-time chat. Participating stakeholders can also view the study independently of what is presented while in the session.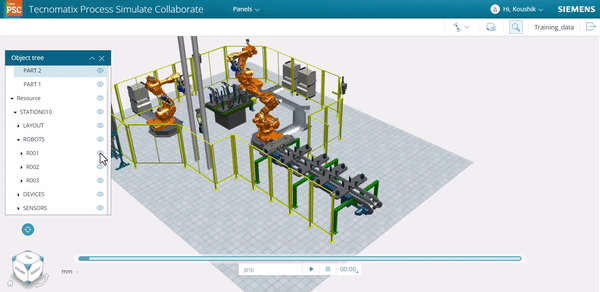 Stakeholders can also request control of the session to choose the simulation being played and present their ideas to the group. This increased flexibility allows for more effective collaborative sessions beyond simply sharing a screen.
Collect Feedback
To gather feedback, you can collect and document changes to a Process Simulate study either independently or in a collaborative environment. This approach facilitates efficient communication and streamlines the process of making improvements and implementing necessary changes to the study.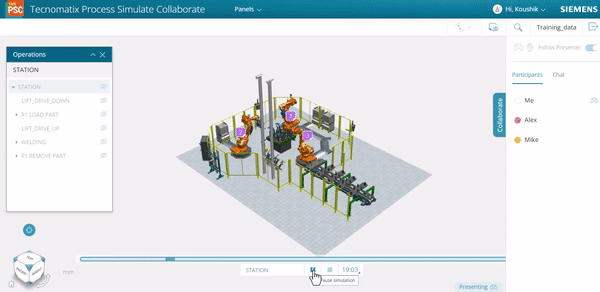 The capabilities mentioned above are a game-changer and demonstrate that Process Simulate Collaborate is the future of digital collaboration. It has the potential to significantly reduce the time required for design or simulation and improve workflows, ultimately accelerating development time and time to market.
Experience the power of Tecnomatix Process Simulate Collaborate and try the cloud-based software today. Join or lead a collaborative environment all from your browser, review studies independently, or observe the presenter's view alongside colleagues.
This article first appeared on the Siemens Digital Industries Software blog at https://blogs.sw.siemens.com/tecnomatix/process-simulate-collaborate-future-of-digital-collaboration/