Products
Intosite Transparent Factory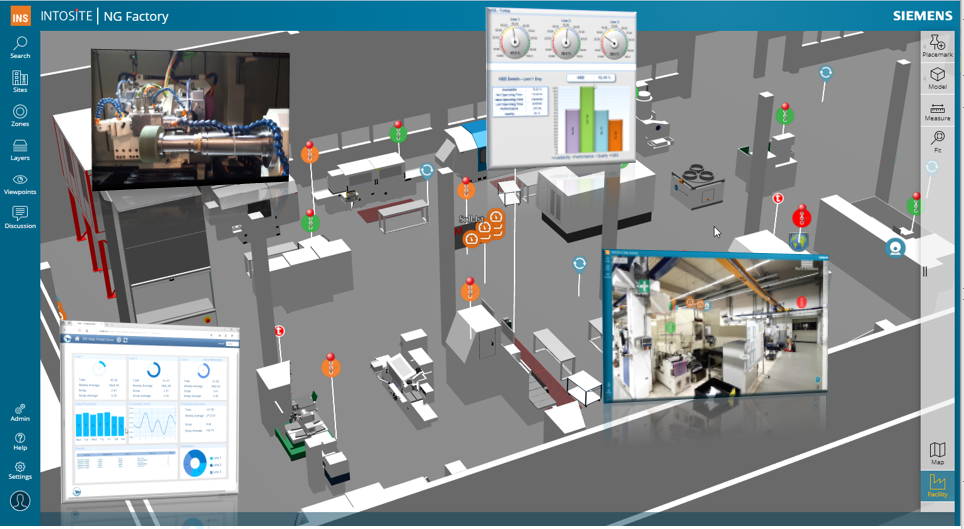 Contributors: Yakove Dayan and Noam Ribon, Siemens Digital Industries Software
During this health emergency period, with travel and work restrictions, manufacturers are seeking new ways to enable part of their production workforce, suppliers and customers, to work and collaborate while being remote from the factories. Intosite can help by providing a transparent factory – A virtual factory that is tagged with manufacturing information, making remote meetings feel as if you are physically in the factory, by the line or at the station.
From Intosite's 'Map View', users can select the desired factory, enter the factory, navigate to a specific location, and be there equipped with the right information, discuss manufacturing issues and make decisions.
Intosite can help bring the reality of the factory to the remote workers staying. Capturing daily events, as well as machines and equipment continuous status and OEE, could keep the remote workers connected with the factory. The means to do that are simple. Documents, movies and pictures from the factory could be simply uploaded to the virtual factory in their visual context. More advance connectivity could allow more sharing of dynamic data from the factory.
How Intosite can assist in the daily activities at the factory:
Share information between encapsulated shifts – In order to minimize the interaction between the people in the factory, same group of people are working across shifts. The important information captured during the shift as well as the handover shift status can be documented and uploaded to the virtual factory and made available to others before and after the shift
Conduct visual daily planning and status reviews in the virtual factory in the specific context where activities are taking place
Expedite issue resolution with shared movies, images and related documents
Share operational data
Collaborate with suppliers and customers
Watch the Remote Collaboration for Production Plants Webinar and read through the Frequent Asked Questions for more details. During this period, Siemens offers dedicated on-boarding support building the virtual site with the customer's own data. Siemens will be helping customers to start collaboration fast, with minimal effort.
Please contact a Siemens Digital Industries Sales Representative to further inquire about using Intosite to enable remote workers to collaborate during the global pandemic.
Call +1-800-498-5351 or Contact Us
This article first appeared on the Siemens Digital Industries Software blog at https://blogs.sw.siemens.com/tecnomatix/intosite-transparent-factory/