Unlocking innovation in vehicle systems engineering with MBSE 
Model-based systems engineering (MBSE) provides the tools to manage the spiraling complexity of vehicle systems engineering in the rapidly developing EV market.
The switch to electric powertrains is driving change in the automotive industry at an unparalleled rate – and resulting in levels of product and process complexity not seen before.
Further, as more manufacturers enter the market and as consumers look beyond the brand to focus on the functionality and user experience of electric vehicles, there are ever-growing pressures to innovate more quickly, while simultaneously reducing costs.
Meeting this new challenge demands a new approach to product development. One that provides manufacturers with the tools to remain competitive, agile and cost-effective while meeting the demands of quality, increased regulation and sustainability.
Recently, our expert Vijay Singh held a webinar on how to adopt MBSE to remain competitive, agile, and cost-effective while tackling challenges such as quality, increased regulation, sustainability, and cost. He explained how to overcome challenges and ensure that the digital thread of requirements remains in the modeling environment from requirements to design, analysis, verification and validation. If you want to know more, you can register here for the webinar: Addressing complexity in the automotive industry with a systems engineering approach. 
MBSE enables a new, functional approach to automotive engineering
Rather than traditional document-based information exchange between teams, MBSE uses models as the primary means of communicating and exchanging information between engineering disciplines and stakeholders throughout the vehicle development lifecycle.
This allows for supporting and tracking everything from the initial requirements to design and final validation, and then through later lifecycle phases. MBSE achieves this by creating one digital thread that runs through the entire development process.
Importantly, the MBSE-driven digital thread enables manufacturers to look at automotive systems engineering in a different way – to take a functional, holistic approach to product development. In other words, to focus on the functionality you're looking for, rather than the mechanical systems behind it. This allows manufacturers to introduce a truly software-defined vehicle that can be continuously improved via system updates.
Explore architecture earlier in the design process
Defining the product involves creating a detailed set of requirements and a system architecture model that describes every aspect of the e-drive system. The architecture of the e-drive system forms the foundation of the entire development process. It defines the structure of the system and the relationships between its components.
Exploring electric drive architecture early in the design stage enables engineers to be aware of and assess all possible combinations of inverter, motor and gearbox that meet the defined requirements, constraints and performance targets. This process ensures the electric drive system is designed to perform optimally and efficiently, ultimately resulting in a better end product.
Let's take the example of an e-drive system. Various types of electric motors can be used, including induction and permanent magnet motors. Selecting the right concept during the early stages of the design process is essential, as any incorrect decisions can lead to significant rework later in the development lifecycle. This can result in a much longer development timeline than initially anticipated, ultimately increasing costs and delaying the product launch.
To drive architecture exploration of an electric drive system, manufacturers utilize the power of Simcenter™ Amesim™ software and Simcenter Studio. These software tools combine best-in-class system simulation to provide a powerful platform for exploring e-drive architecture options. This allows engineers to simulate the performance of each architecture option, including factors such as efficiency, thermal performance, noise and vibration, cost and weight.
In addition, with MBSE implemented through the Simcenter integrated environment, engineers can massively extend the design space with the help of artificial intelligence (AI). AI allows engineers to evaluate dozens or even hundreds of potential e-drive architectures from just one system architecture model.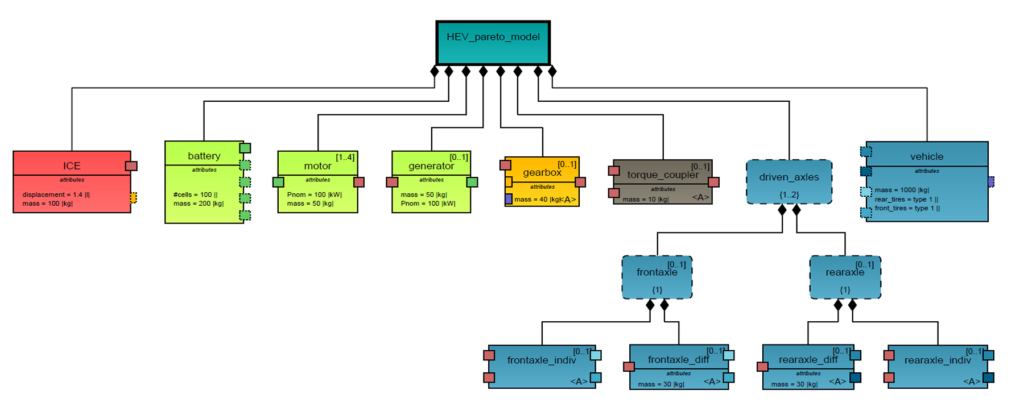 For a more detailed insight into the use of MBSE and Simcenter tools to optimize electric drive systems, read the white paper: Adopting MBSE in Vehicle Development.
Connecting architecture to the downstream development processes
Once the optimum architecture has been identified, the same model is used to drive all cross-product and downstream relationships. This enables management and control of all artifacts through the development process, change, configuration, workflow, variation, and more.
This is where the MBSE approach comes into its own, providing a robust framework for integrating the different models and simulation tools required by different engineering domains. Models are reused through the different applications, and the impact of changes, say a change in requirements, can be effectively managed across the development chain.
Whatever you do on the system architecture side is automatically informed by and reflects the requirements you set. And what you do on the parameter management side is automatically integrated with the simulation and engineering workflows.
Integrated workflows empowered by vehicle systems engineering and the digital thread
The digital thread in MBSE provides a seamless flow of information and data between the different phases of product development. Thus, the simulation engineers can tap into the data whenever they need, and then push their results back into that system to update the parameters with the output of the simulation.
This enables better collaboration, increased efficiency, reduced development time and costs, and improved performance throughout the product lifecycle.
For example, using Simcenter solutions, manufacturers can leverage the power of the HEEDS™ software workflow manager, in conjunction with Teamcenter® Simulation software, to establish seamless integration between the system architecture, requirements and parameters with the simulation workflows in Simcenter 3D or Simcenter Motorsolve software.
Optimization and reusable workflows
MBSE and the digital thread enable digital continuity from requirement through development, connecting engineering disciplines across the company, to the final product.
But automotive systems engineering is not a single-line, step-by-step process. It's a very recursive and iterative process, one of continuous loops. By enabling reusable workflows, MBSE and Simcenter tools provide a robust and repeatable process for design optimization and continuous performance targeting – and efficient management of this complex, iterative process.
Do something once, record it, and it is then available as a process that can be run almost automatically. So, as business needs or other parameters change, tests and analyses can be re-run without the need to enlist engineering specialists and technical experts.
This saves massively on development time and costs and opens up new opportunities for innovation and vehicle optimization.
Reconnecting the engineering domains
As the EV market grows, customers are not simply looking for an electric car but are equally focused on questions of quality, performance and cost. On aspects such as durability, driving dynamics, noise and vibration, and the driving range of the car.
To allow the necessary cross-functional and cross-domain systems engineering needed to develop an EV that meets market expectations, it's necessary to leave behind the traditional development silos of the past.
Only a connected engineering approach, with integrated, reusable workflows through the application of MBSE and a digital twin, provides manufacturers with the toolchain to manage the spiraling complexity of EV automotive engineering – not only of the product but also of the development process. 
This article first appeared on the Siemens Digital Industries Software blog at https://blogs.sw.siemens.com/simcenter/unlocking-innovation-in-vehicle-systems-engineering-with-mbse/