Products
Strategies to deliver lighter, stronger and more durable vehicles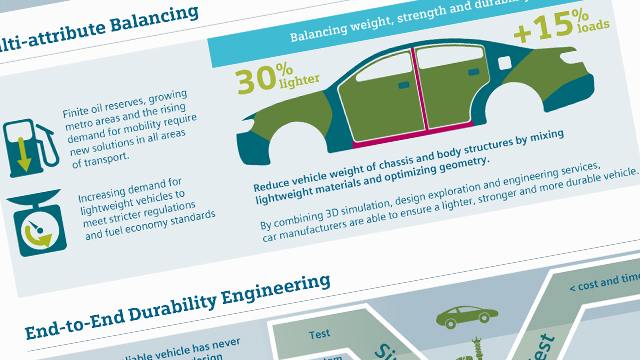 The pop band Queen knew it already in the late eighties, when they released the song "I want it all". The next 20 years proved them right. We do want it all, and this also applies for the vehicles we drive. We want a fuel efficient car. We want our cars to drive at least 300.000 km without breaking down or failing. We want a nice design, one that represents an image we can adhere to. And sure we want it to be comfortable.
Wanting is the easy part
But wanting is the easy part. It is a completely different story for manufacturers. They seek methodologies and solutions to meet their customer's expectations. But which customer? A driver in the Swiss Alps has a completely different driving and loading habit than a citizen of a mega-city such as Shanghai or a resident in a remote village in Morocco. Although the challenges seem tough, the automotive industry is ready for the new era of durability engineering.
Simcenter solutions of Siemens Digital Industries Software offers car manufacturers and suppliers proven methods, tools and expertise and help you acquiring and analyzing road load data to set realistic durability targets and virtually validate strength & durability performance. By combining physical testing, CAE simulation and engineering services, our solutions offer an end-to-end durability engineering approach, accelerate your time to market, and meticulously balance weight, strength & durability to avoid vehicle recalls and meet customer's expectations.
What YOU want
We know what it is you want: You want to deliver lighter, stronger and more durable designs, while accounting for geographical differences and reduced vehicle weight. If you want it all, and you want it now, watch the on-demand webinar on 'How to avoid excessive warranty claims and unlock your strength and durability potential' and see which strategies help you avoid vehicle recalls and meet customer's expectations.
More information: 
This article first appeared on the Siemens Digital Industries Software blog at https://blogs.sw.siemens.com/simcenter/strategies-to-deliver-lighter-stronger-and-more-durable-vehicles/