Santa Claus Customs lifting the hood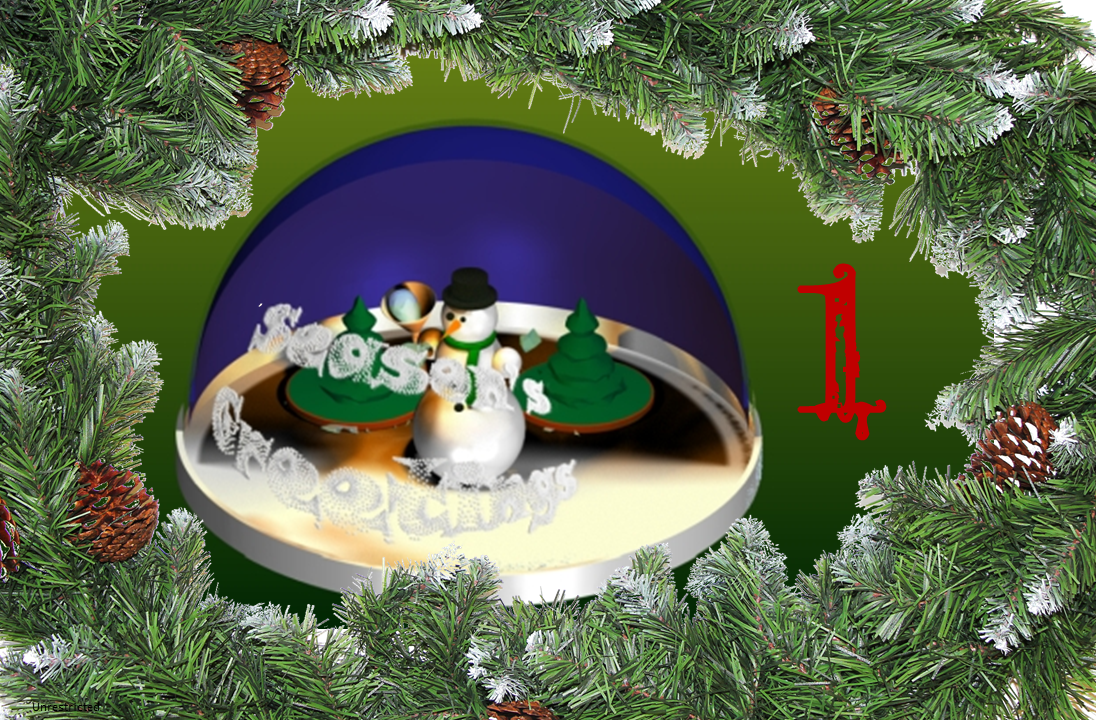 Santa Claus Customs lifting the hood: revealing "FROSTY-ICE" – the first Ultra-Cold-Combustion Engine
North Pole Motor Show, Arctic: "This is a true breakthrough for us!" says a broadly smiling Santa Claus, CEO of Santa Claus Customs (SCC) as he lifts the hood of his brand new hybrid sleigh in front of selected journalists.
While in the 1920s Santa was still dashing through the snow in a one-horse open sleigh the parcel delivery vehicle had to accommodate for ever-increasing speed demands resulting from human population growth. This finally led to the sleigh being powered by nine reindeers arranged in a V-shape (classical V9) for the last decades. But the times they are changing and not even Santa Claus can any longer neglect the challenges of today's mobility industry to increase fuel economy and reduce emissions. "So this is Christmas and what have we done?" Santa asks and pauses, "It was obvious we had to start reducing our Methane footprint and kick off a corresponding sleigh efficiency project".
The first stage of the efficiency project was focused on the vehicle: "Last Christmas we introduced CFD to improve the sleighs aerodynamics. I was skeptical about this whole CFD and Design Exploration thing, I am an analog man, you know" says Santa, CEO and Chief Sleigh Test Driver, "But I trusted the engineering elves and had them apply Simcenter STAR-CCM+ and Design Manager to optimize the sleighs aero. And – guess what – when I saw the first virtually optimized prototype thanks to the advanced reinderring and the VR capabilities I immediately realized: Those guys had done something great!" So the very next day SCC had that thing built. "And as the digital twin had promised, the test ride with the new sleigh blew my mind, it even exceeded our expectation!"
But that was just the beginning of the SCC success story! "We had to do more, we had to roll out the simulation technology not only to the vehicle but also to the powertrain!" says CTO Wrapping Layer and continues in excitement: "So we decided was to right-size the sleighs powertrain. We ran the sleigh on nine reindeers for ages: You probably know Dasher and Dancer and Prancer and Vixen, Comet and Cupid and Donner and Blitzen – and maybe you even recall Rudolph. But we understood running on nine methane-blasters is no longer acceptable if we take our mission seriously. On the contrary we have to meet speed targets. The whole present delivery has to be done in one night, covering the whole globe, kids expect that from us and there is NO compromise on that constraint. "
"To meet the targets we needed an efficient, long-range yet – for the last bit of the journey – locally low emissions solution, we needed a hybrid sleigh!" With rapid system simulation using Amesim they figured out to ideally do the long runs between cities on only four reindeers and then switch over to an alternative propulsion system once they reach the local hotspots of present delivery. And – again – simulation was the key to develop this key component:
Within one year Santa Claus Customs developed the first Ultra-Cold Combustion System on the planet: FROSTY-ICE. "We used Simcenter STAR-CCM+ In-cylinder solution and Design Manager to develop that engine from day one onwards." says Wrapping Reynolds. "The baseline architecture is pretty similar to a human IC Engine, so the tool was just right for us as it delivers quick and easy set-up for exactly that."
"Plus as In-cylinder is an add-on to STAR-CCM+, and we had all the experience from the sleigh aero project, the effort of training on the tool was close to zero" says newly hired SCC IC expert Walter Burns "and we had all the design exploration and brilliant post processing a few clicks away, just like for any Simcenter STAR-CCM+ project."
So while the human IC engine template fitted perfectly, in its details FROSTY-ICE features numerous outstanding innovations:
The hemispheric Piston Bowl allows for an optimum combined tumble-swirl evolution and quasi-spherical flame propagation.
The swirl is generated by a unique inside-out intake port technology, shaped like a snowman. "I can not elaborate on all the details here but the intake system acts similar to a Formula 1 Turbulent Jet Ignition system." says Reynolds. From available images one could see how the flow enters the centrally placed intake port which penetrates deeply into the combustion chamber and then is escaping the inside-out-port through off centric connection pipes in the arms of Frosty to generate swirl and -through the inclined broom – an overlaid tumble motion. "This is a unique system on the market and we hold all relevant patents" adds Santa.
Further features include the Christmas tree shaped exhaust valves, made of 100% recyclable wood catering for the whole sustainability concept. The valve design leads to improved droplet wall heat transfer to enhance evaporation of the fuel by the needle based surface increase.
Another novelty is the special carrot-shaped injector allowing for completely controllable injection patterns. "We saw kids on earth doing such a carrot-nose design and it looked interesting for our purposes." says Reynolds.
Finally, at its heart the combustion system is designed to cater for ultra-low temperature combustion, mitigating any NOx and Soot emissions, so the engine can operate without any aftertreatment measures. This also ensures there is no melt away of the Frosty-Intake Port. "The details of the Cold Combustion however are top secret" says Santa Claus.
And while this apparently is the greatest innovation of the engine today it also meant the biggest challenge: "A true key related to the Cold Combustion System was designing an appropriate fuel" says Rudolph, who became a key consultant on fuels to SCC after becoming a victim of the downsizing: "We started off with regular fuels and everything was on track. Diesel was a viable option to start from as long as we did our homework on aftertreatment." But then out-of-a-sudden humans decided to ban Diesel's in some of their cities.
"It meant a disruption to us, to our development, and it was immediately clear that we cannot continue with Diesel without incredible efforts", says Santa Claus. "For our business model not being able to reach ALL the kids is simply inacceptable: Imagine all the children with no presents on Christmas Eve in Berlin, Cologne, Munich, London and Madrid etc. In the world of Social Media it would take a few hours and we will be facing the biggest **bleep** storm on earth. So this year to save all those kids from tears, we had to do something special". So they went back to Rudolph asking him to come up with a novel alternative fuel catering for the Ultra-Low Combustion Concept.
"It was horrible" says Rudolph, "we played with blends of ethanol, cinnamon and oranges" (plus some spices as an anti-knock agent Rudolph got from the little drummer boy but does not want to talk about in detail. ) "It was all experimentally-based, trial and error – my nose was shining those days – it felt like alchemy." Rudolph admits. Then, one foggy Christmas Eve Santa came to say, "Rudolph with your nose so bright 'Why don't you start using simulation instead?", Rudolph recalls. "It was the breakthrough! Now I know what a fool I'd been and if you asked me now I'd never fool me again", adds Rudolph. The very next day they started using Simulation to optimize their fuel blend and injection strategy.
"Again, like for the sleigh's aerodynamics, this step was a revolution" says Santa with shining eyes and Rudolph – meanwhile rockin' around the Christmas tree in visible excitement – adds: "After that project some of the other reindeers came to me and said: 'Rudolph, the red-nosed reindeer, you'll go down in history!'"
Merry Christmas, everyone!
This article first appeared on the Siemens Digital Industries Software blog at https://blogs.sw.siemens.com/simcenter/santa-claus-customs-lifting-the-hood/