Products
Jan Leuridan's vision about educating the next engineers' generation with testing and simulation
Why testing and simulation should be part of universities' programs for future engineers education? In part two of the Simcenter for Academia series, we'll be talking to some of our leading experts — engineers with years of experience — to hear their opinion of today's market challenges and how Simcenter is supporting the academic community. And we start the series with Jan Leuridan Senior Vice President of the Simulation and Test Solutions business segment. (*Learn more section)
You have seen the world of engineering change significantly during your career.
Jan Leuridan: When I started out as an engineer back in the late 1970s and early 1980s, we had to do most of the work ourselves. We solved equations for mechanical analysis using numerical spreadsheets and sometimes even our own calculations. We mostly had to design and build our own testing hardware to confirm if our calculations were correct. Don't forget that programming – especially during the early days – was still on punch cards. You had to have a solid understanding of the mathematics, physics and theory behind the engineering problem to get the job done. As you can imagine, it took a lot more time than it does today, so a wrong turn could cost months of work.
Today, this has completely changed, of course. Engineers use advanced design and multiphysics analysis software to create comprehensive digital twins. Test data acquired on multi-channel data acquisition systems and tailor-made test benches allows to verify and support these digital twins. And all of this is tied together throughout the entire organization via data management backbones and product lifecycle ecosystems to make sure everything is aligned and synchronized.
How, in your opinion, has engineers' education evolved these past decades?
J.L. : For sure the job of the engineer of tomorrow won't be the same as the one I knew when I started in the 1980s. Engineering today is undergoing a digital transformation. And I might add that this has accelerated the past months with the pandemic crisis. We have seen an enormous adaptation of digitalization throughout the entire product development and product lifecycle. Tools, like comprehensive digital twins, which were concepts just a decade ago, have become the reality today.
The way engineering departments are organized has changed, correct?
J.L. : In the past, engineering departments, and I am generalizing here, have been very compartmentalized. You had your NVH department, your durability department, your CAE department…and these departments didn't always communicate seamlessly. With time-to-market deadlines shrinking and products becoming more complex, maintaining a competitive edge is forcing engineering departments, both on the simulation and testing sides, to become more collaborative and, therefore, more digital.
Digitalization will enable the next generation of engineers to have a holistic approach and to successfully interact with other engineers from other areas – hopefully using the same family of tools to streamline the workflow throughout the product lifecycle.
Product complexity is still a major challenge for engineering innovation. How do you recommend addressing it?
J.L. : Today, products are more complex than ever. You have to factor in new technologies, smart systems, new materials, interconnectivity, cloud computing and IoT expectations – not to mention optimizing for performance improvements, energy efficiency, and even adapting for AI capabilities.
Trying to avoid or reducing complexity is not a solution. Succeeding in the complexity game will allow companies to differentiate and bring innovative products to the market faster than the competition. And the only way I see to manage this complexity is a digital approach to product development.
What role does education play in engineering innovation?
J.L. : Education plays a crucial role, but it must be aligned to future industry requirements. If you look at engineering education as a whole, a good base in the fundamentals of mathematics and physics is crucial. It isn't enough to be really good at one specific thing. The next generation of engineers will undergo a profound change in expectations. Creating products that contribute to a better more sustainable planet will be their challenge. And this means looking at problems in a "big picture" context. The paradigm needs to shift from singular problem solving to the product in its complete lifecycle. Of course, the next generation of engineers will need to be familiar with the digital tools that are common in various industries. Education programs will be an important part of getting the right type of hands-on experience here.
Could you expand on that?
J.L. : Today, we see that CAD and virtual design are very popular starting points when it comes to product development. We don't see as much emphasis on simulation, testing and digital twins as of yet. As you know, simulation and testing play a key role in product development. Having a good understanding on how a product is developed using simulation and testing throughout the product development cycle, what we typically called the V-cycle, should be taught as a standard.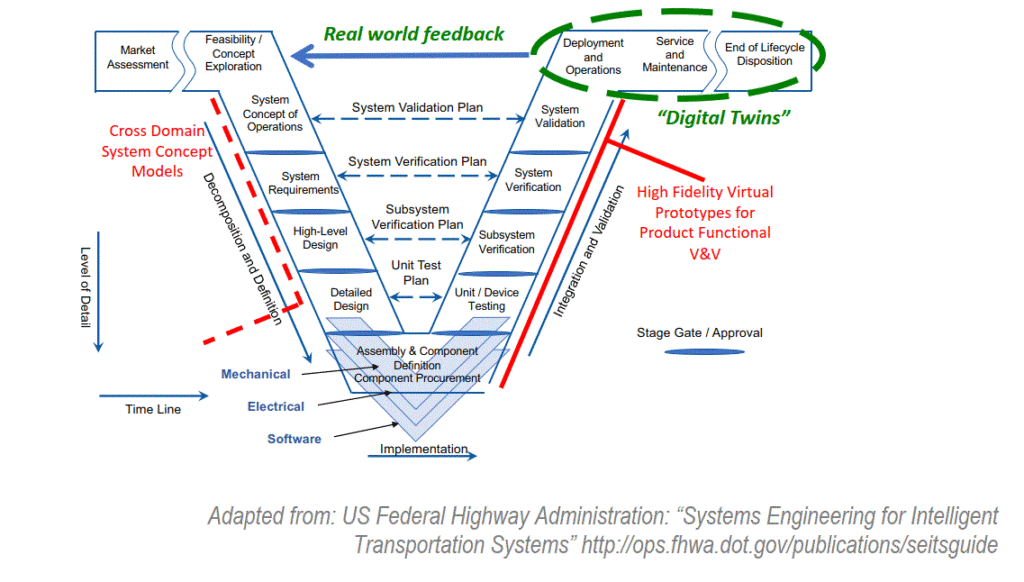 Indeed, we have seen an amazing acceleration in digitalization the past months. The bridge between academic theory and industry reality will have to be built much quicker. So, introducing simulation and testing during lectures will be just as important as hands-on experiences. Students should have corresponding hands-on experiences throughout their bachelor and master programs. It is one of the reasons, I might add, that we have always put a high emphasis on our internship programs, sponsoring student teams and various student outreach programs as well. We even showcased student projects at our last Simcenter conference .
In many cases, there is a real gap between the academic engineering world and industry expectations. How can we help bridge this gap?
J.L. : I think we need to support academic institutions with a clear definition and understanding of digital transformation. This might include developing new curriculum in collaboration with universities, sponsoring and working with student teams, or making sure that the students have easy access to tools from our entire portfolio. We offer specific software bundles to universities and certain products have free student editions, like Simcenter Amesim. And I believe there is more to come as well. This first hands-on experience with our tools is an essential step for future engineers.
I might also add that we support professors as well with online training and tutorials available online at the Siemens Learning Advantage center.
Our simulation and testing solutions have been used by engineers around the world in all the engineering-intensive industries for decades. And you can count on us at Simcenter to help make sure that the next generation of engineers is prepared for the world of digital twins and digital transformation, with the combination of Simcenter simulation and testing tools and hands-on experience.
Additional resources – success stories
Learn more about Jan Leuridan. Jan graduated with an engineering degree from the Department of Mechanical Engineering of the Catholic University of Leuven (KULeuven) in 1980. Later, he received a Masters of Science (1981) and Ph.D. (1984) from the Department of Mechanical & Industrial Engineering of the University of Cincinnati. He joined LMS International in 1984 as Research and Development Manager. Subsequently he was appointed Chief Technical Officer and Director at the Board. Following the acquisition of LMS by Siemens in 2013, he assumed his current role as Senior Vice President of the Simulation and Test Solutions business segment, which develops the Simcenter portfolio. He recently received the Werner von Siemens Top Innovator 2020 award.
This article first appeared on the Siemens Digital Industries Software blog at https://blogs.sw.siemens.com/simcenter/jan-leuridans-vision-about-educating-the-next-engineers-generation-with-testing-and-simulation/