Products
Introducing Simcenter SCADAS XS Net
Simcenter SCADAS Net (formely LMS SCADAS XS NET), part of Simcenter portfolio, helps test engineers in the automotive and transportation, aerospace and defense, industrial machinery and many other mechanical industries deliver the data they need for advanced noise and vibration testing. Since 2014, Simcenter SCADAS XS (formely LMS SCADAS XS) has constantly proved its measurement flexibility and versatility. The newly added Simcenter SCADAS XS Net, coupled with the Simcenter Testlab software, offers a turnkey solution for many NVH measurement applications. Miklos Papp, Product Manager for Simcenter SCADAS hardware, talks about it.
What is Simcenter SCADAS XS Net Multi-frontend?
Simcenter SCADAS XS Net (LMS SCADAS XS NET) is the newest member of the market leading, ultra light-weight and portable Simcenter SCADAS XS (LMS SCADAS XS) family, extending the capability of a single 12x channel front-end to a whole new level. While the standard Simcenter SCADAS XS data acquisition system operates as a single measurement device, Simcenter SCADAS XS Net adds extra measurement flexibility by allowing users to connect more than one device through a high-precision IEEE1588/PTP (Precision Time Protocol) synchronized measurement platform.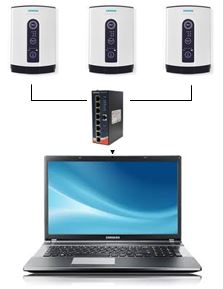 What are the main benefits for the users?
To begin with, it works for a wide range of applications, from handheld to distributed measurements with extended channel count. The measurement data from multiple front-ends is streamed to the PC or laptop into a single file or hard disk and the IEEE1588/PTP synchronization ensures high data synchronization accuracy.
The USB connection generally relies on the power coming from the different USB ports or special conditions to properly power the front-end. Our Simcenter SCADAS XS Net offers a dedicated PTP switch which provides PoE (Power over Ethernet) functionality, providing a reliable and stable power source for 7x Simcenter SCADAS XS Net (LMS SCADAS XS NET) at the same time.
Furthermore, bringing the front-ends closer to the measurement location means shorter sensor cable usage and easier instrumentation with higher level of noise immunity. With this system, the front-ends can be placed up to 50 m away from the control PC and can be connected to the PTP switch with a single CAT6E LAN cable.
How does it work in practice? Give us an example.
In in-flight NVH testing, for instance, it is essential to measure different sensor types such as microphones or accelerometers installed over various locations in an airplane. It is also mandatory to use low power, lightweight measurement equipment with the possibility to cover longer cable lengths since wireless connection is not an acceptable option. The switch of the Simcenter SCADAS XS Net (LMS SCADAS XS NET) can be powered from a safe, low power DC source and provides wired connection with powering and high data transfer capabilities at the same time.
What makes it a special testing solution?
Used in standalone mode, it brings a powerful combination of reliable onboard data storage and a typical working day battery autonomy, giving test engineers lots of flexibility. But if the measurement requires a bit more than what a 12 channel front-end can offer, the test engineer can easily pick additional NETs and quickly build a highly accurate multi-front-end measurement platform. By dividing and distributing the acquisition system over many parts of the vehicle, engineers can place the equipment in optimal locations, thus improving the measurement quality and creating a successful test campaign.
Why do customers need tools such as Simcenter SCADAS XS Net (LMS SCADAS XS NET) nowadays?
There is continuous pressure these days to test products in real-life circumstances and against ever stricter deadlines. Simcenter SCADAS XS answers this challenge by allowing on-the-go investigation diagnostics and troubleshooting, even by non-expert users who need to perform fast and reliable measurements with increased flexibility.
Simcenter SCADAS XS Net bridges the gap between the standard 6/12 channel measurements front-ends and the more robust, ultra-high channel count Simcenter SCADAS Mobile frames, providing affordable price, extended measurement flexibility and portability on a universal platform.
When will this option be available?
The Simceter SCADAS XS Net is available as of November 2016 and is supported in Simcenter Testlab with Firmware version 5.06. For existing 12 channel Simcenter SCADAS XS users, Siemens offers customers the option to upgrade to XS Net.
Learn more about Simcenter SCADAS XS HERE.
This article first appeared on the Siemens Digital Industries Software blog at https://blogs.sw.siemens.com/simcenter/introducing-lms-scadas-xs-net/