How Faurecia builds clean and long-lasting exhaust systems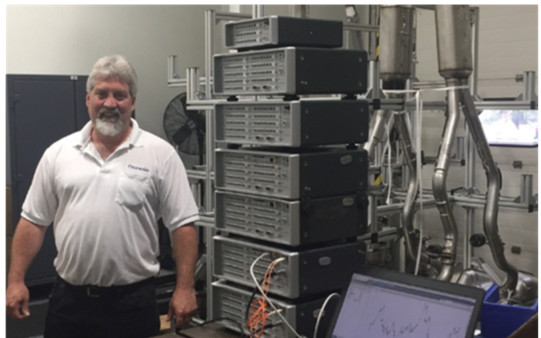 "We aim to create products that are as good as possible and that last a certain number of miles ‒ simple as that. We are happy to say that we can effortlessly achieve this with the combination of Simcenter SCADAS and Simcenter Testlab." 

Warren Selig
Warren Selig is the leader of the Durability Team at Faurecia Emissions Control Technologies, now Faurecia Clean Mobility. He is also a highly enthusiastic user of Simcenter portfolio solutions for durability testing and engineering.
Designing exhaust systems that last
Warren Selig, leader of the Durability Team at Faurecia , currently relies on 3 Simcenter SCADAS Recorders for RLDA (Road Load Data Aquisition). His team intends to expand its assessments and performance capabilities. It will measure an even higher number of channels by linking the devices together.
Why does durability testing remain so important in the context of clean mobility? It's obvious that in the current environmental context a manufacturer like Faurecia aims at developing efficient exhaust systems that help reduce pollutant emissions. It's also clear that lightweight designs support this goal by helping reducing fuel consumption.
But, as we all know, sustainability goes beyond the development of an eco-friendly product. It considers the product's total lifetime, how it lasts for years and years, providing equal performance before its end of life. Durability engineering remains a cornerstone of innovative, eco-efficient product development.
RLDA is an essential step in the durability engineering process. It provides an accurate, realistic view of the loads that burden exhaust systems throughout their lifetime.
"These systems are expected to last more than 10 years while obviously meeting the regulations. On top of that, most of them are exposed to extreme conditions. As an exhaust manufacturer, we have an obligation to run tests and do measurements on proving grounds as well as on public roads, depending on customer requirements and various usage,"

Warren Selig
The Simcenter durability testing solution combines the Simcenter SCADAS data acquisition hardware with the Simcenter Testlab software. It offers the framework to conduct efficient and successful RLDA campaigns.
If you want to know more about how Faurecia successfully design clean and long-lasting exhaust systems, read the full story here.
This article first appeared on the Siemens Digital Industries Software blog at https://blogs.sw.siemens.com/simcenter/how-faurecia-builds-clean-long-lasting-exhaust-systems/