Products
Tire modeling for getting a grip on vehicle dynamics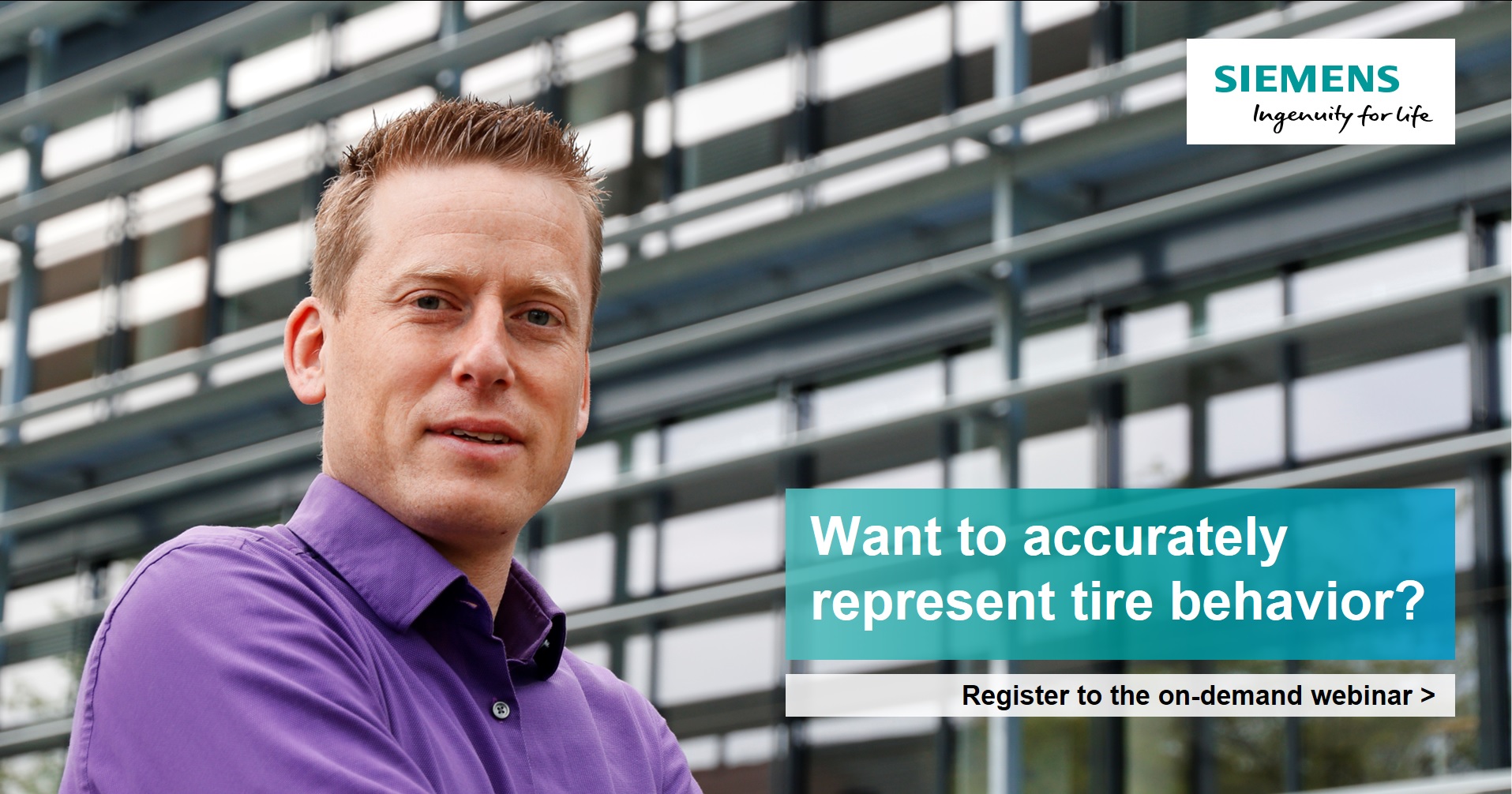 We all know that tires are a crucial component of the chassis and substantially influence the vehicle dynamics. But how much is 'substantially'? And can how can tire modeling solutions contribute to a better overall driving safety and behavior?
If this triggered your attention, let's make it yet more compelling … How about getting all the above, while speeding up your time-to-market, and balance the vehicle's performance with NVH and aerodynamics? I hear you thinking: "Now, we're talking!"
In the Handbuch Kraftfahrzeugtechnik, the influence of road, tires and the vehicle for a myriad of attributes such as acoustics, steering, friction is depicted.
Influence of road, tires and vehicle on functional performances, as studied in Vieweg's Handbuch Kraftfahrzeugtechnik
When looking at the graph, you see that for driving behavior and driving safety, the impact of road and tires mounts to approximately 50% of the total vehicle's performance. Fifty percent! Five zero! I guess you agree that this is quite substantial.
A substantial 50%
Now we understand how substantial the impact of road and tires is on the overall vehicle dynamics performance, it doesn't surprise you to know that vehicle OEMs, chassis, and vehicle integration departments are more and more considering the tire as an integral vehicle component. In discussions we have with vehicle OEMs, we experience that manufacturers are more and more cascading stricter requirements to tire manufacturers.
Additionally, vehicle manufacturers see the essence to have a well-defined and accurate representation of tire behavior throughout the vehicle development process. By doing so, they can virtually validate the performance and robustness of sub-systems, balance performances, and speed up the time-to-market.
That's all interesting. But back to the 50% that combines road and tire influences. Obviously, there's not much we can do about the road surface. The tires and vehicle dynamics performance on the contrary… here, you enter our domain.
Tire modeling
We recently hosted the webinar: Tire modeling for an outstanding grip on vehicle dynamics targeting vehicle OEMs, integration, and chassis departments. Many OEMs and suppliers attended and discovered how standardized tire modeling, ranging from tire testing over model parameterization to model application, helps to accurately simulate tire performance throughout the vehicle design process.
Illustrated by application examples, our expert Willem Versteden, described modeling techniques with increasing level of detail, from Pacejka's Magic Formula to Finite Element modeling and Computational Fluid Dynamics. Additionally, Willem described the impact of tire performance on the vehicle's safety systems performance, aerodynamics, NVH comfort, durability, and hydroplaning.
Webinar in a nutshell
Generate tire models for accurate validation and benchmarking studies
Apply tire models for vehicle driving dynamics, aerodynamics and NVH simulations
Balance between tire testing effort and calculation accuracy
How industry leading car manufacturers apply tire models in their product development process
Manufacturers will be able to fulfill (future) requirements linked to automated driving systems and ensure outstanding performance.
Tire modeling Q&A
During the webinar, Willem answered a couple of questions live. The questions that were not answered during the live session, were collected and replied after the webinar. Because you know … no question goes to waste!
Watch the on-demand webinar and get back to us with your question, or consult the 40+ Q&A included here.
Want to know more?
Related on-demand webinars are:
Or perhaps you're interested in our latest winter tire testing campaign? Then read this interesting blog post.
This article first appeared on the Siemens Digital Industries Software blog at https://blogs.sw.siemens.com/simcenter/a-substantial-50-thats-the-impact-of-road-tires-on-vehicle-dynamics/