Products
A short tale of a digital twin, a simple Simcenter SCADAS and the secrets of violins…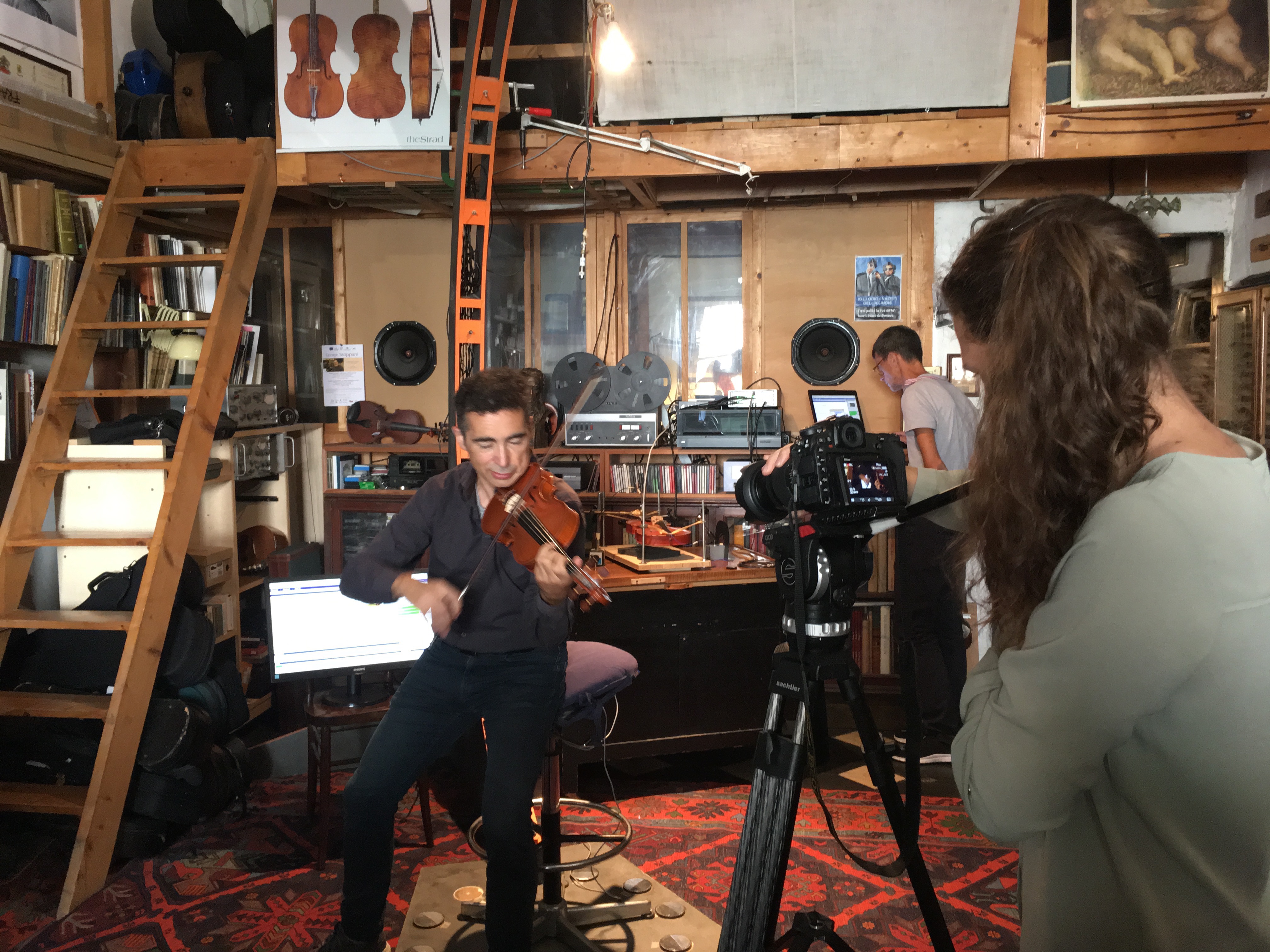 How Simcenter helps reveal the data behind the sound through digital twin
I must admit: the Simcenter™ portfolio can take you to unexpected places. Over the years, I have found myself holding interviews in state-of-the-art anechoic test chambers at Ford in Detroit, talking tech while robots and AGVs build Electrolux dishwashers in Solaro, Italy , and just recently, I found myself cruising along at 75 km per hour in a Zodiac powered by a COX Marine engine. (More about that one later…)
What I love about Simcenter storytelling is that every story is unique and filled with passionate people, creative and innovative solutions, and healthy portions of we-can-change-the-world aspiration, but this story about the Associazione Liutaria Italiana (ALI) is especially close to my heart. One, it is a story I have been following for over a decade. Two, it is a story of pure beauty and pure science. (Da Vinci would be proud.) And three, it is a story of one of the most uncanny combinations possible: historic violins and Simcenter SCADAS testing hardware. In other words, it is a story begging to be told…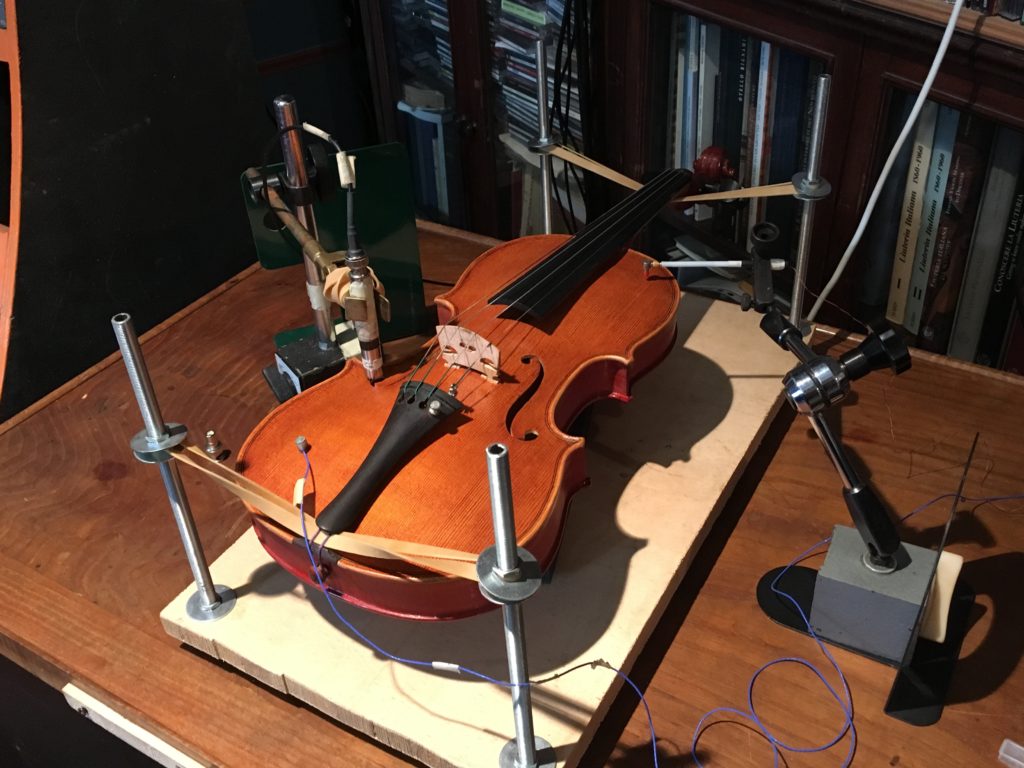 From MUSICOS to ALI
This wasn't the first time that I interviewed Dr. Ravina. About a decade ago, I had the privilege of interviewing him for an article about his research project at the former MUSICOS organization (Multidisciplinary Research Centre for Choral and Instrumental Music) at the University of Genoa. Unfortunately, the activity of MUSICOS ended in 2013, but Professor Ravina continued his research project with ALI, which is based in Cremona, the hometown of Guarneri and Stradivari, among others.
The core idea behind the research project was to apply modal analysis techniques to collect data using Simcenter SCADAS testing hardware and analyze it in Simcenter™ Testlab™ software to unlock the vibro-acoustic secrets of violins and other string instruments. More than a decade later, the project has progressed from modal analysis using the Simcenter testing solutions to complete digital twin studies.
More than a decade later, the project has progressed from modal analysis using the Simcenter testing solutions to complete digital twin studies.
Dolce Vita and Violins
The Italian light was a pleasant change from rainy Belgium as Karen De Meyer (extraordinary camerawoman and an extraordinary cellist to boot…) and yours truly jammed all our gear into our Lancia Ypsilon, a nice driving surprise actually, and started our winding journey through the Apennines towards the historic city center of Genoa. (Aside: Years ago, when I was on a shoot in Calabria for a major Japanese automaker, our Italian production manager told me, "If you are going to drive in Italy, drive Italian. Our cars are fast, zippy and you'll always be able to squeeze through a narrow street or alleyway…I still follow that advice to this day.")
Not only is Genoa a famous port, the city is synonymous with music, being the home of Il Cannone, a heritage violin dating from 1743. A masterpiece with a powerful resonance, this 1743 violin constructed by Guarnerius del Gesù was nicknamed Il Cannone by its former owner, the legendary violin virtuoso Niccolò Paganini. Today, Il Cannone is on display in the Palazzo Tursi museum in Genoa, Italy.
Onwards to Genoa
But we weren't in Genoa just to see great violins. We were in Genoa to experience the brilliant sound of handcrafted string instruments and learn the secrets from a master. So we headed to the atelier of violinmaker Pio Montanari in the old city center to meet the team of people working with ALI to reveal the data behind the sound. (The team includes Professor Enrico Ravina and engineer Paolo Sivestri from the University of Genoa, Pio Montanari, master violin maker, and Pier Domenico Sommati, second principal violinist at the Genoa Opera.)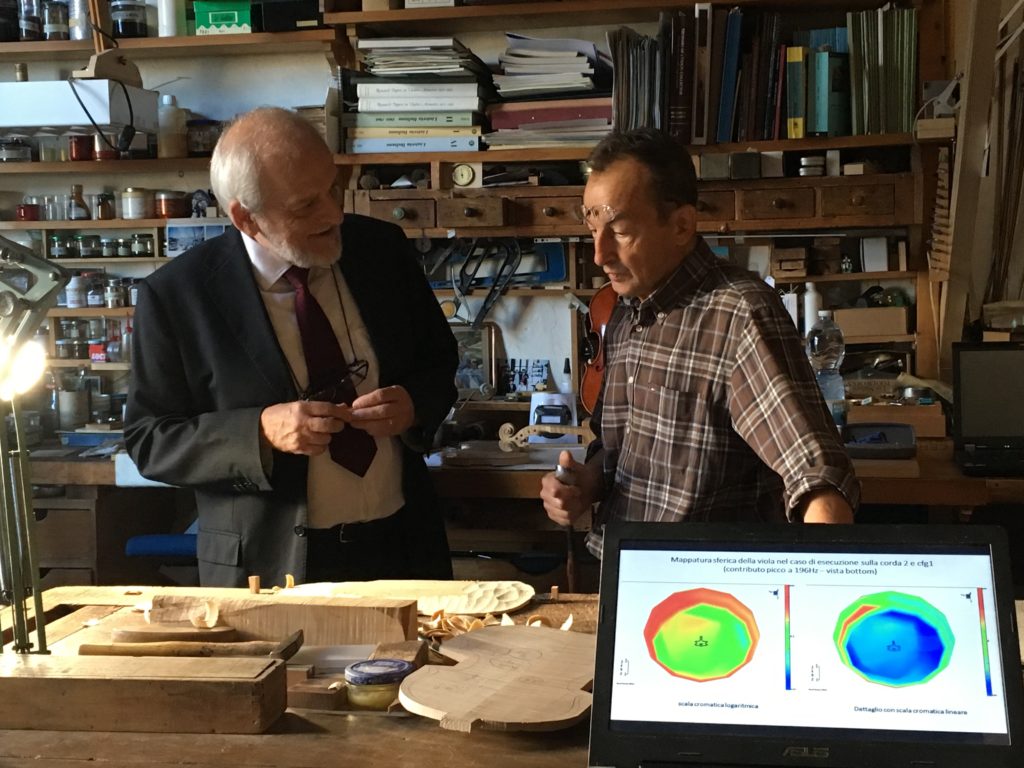 Hazy sunlight streamed through the windows, practically transforming Pio Montanari's atelier back a century or two. If it wasn't for the Simcenter test setup, the fan of the computer, and the beeping of everyone's smart phones, you might have thought you had actually taken a time machine back to the 18th century. Why don't you take a look for yourself?
So what is the secret to creating such a stellar sound? What makes priceless violins so exceptional that virtuosos clamber to play them? When you listen to Pier Domenico Sommati play a morsel of a violin concerto, let's just say that Simcenter solutions are not the first thing that pop into your head. But they are part of the answer to these questions. Questions that will contribute to the art and science of violinmaking, replication and restoration for generations to come.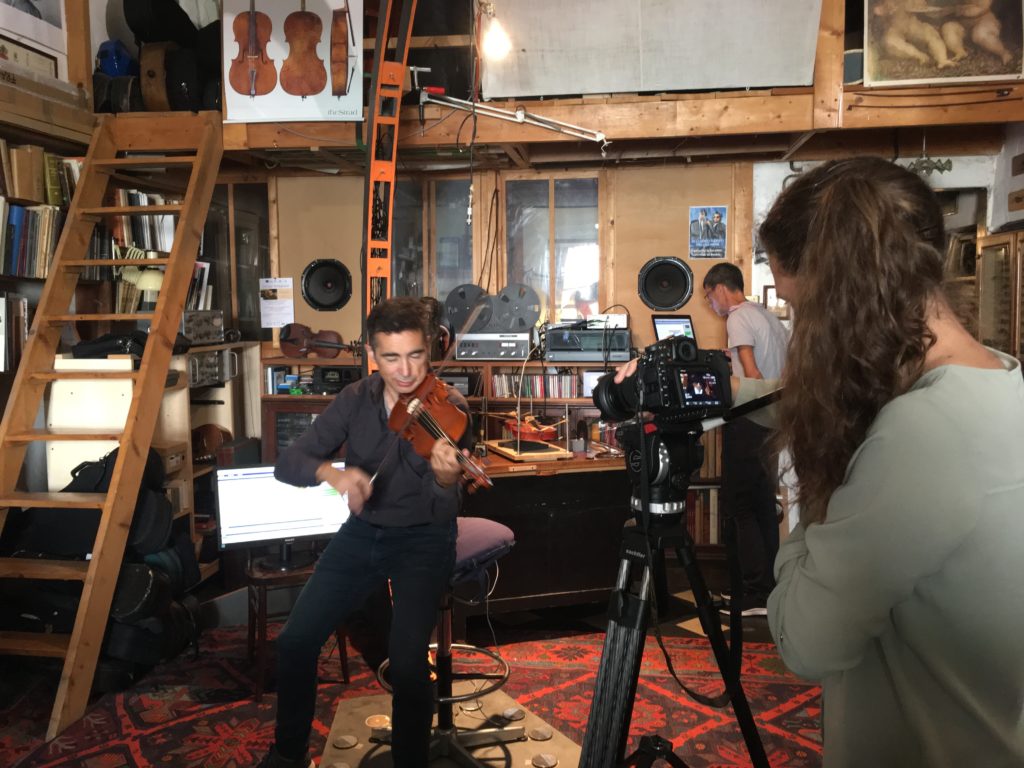 The latest digital twin is a model of a Pio Montanari violin, created in NX™ CAD software, which can be further studied in Simcenter™ 3D simulation software to explore the effects of the various acoustic data sets. The team hopes this research will be used to create a digital twin of priceless heritage violins for research purposes.
Read the full story here.
This article first appeared on the Siemens Digital Industries Software blog at https://blogs.sw.siemens.com/simcenter/a-short-tale-of-a-digital-twin-a-simple-simcenter-scadas-and-the-secrets-of-violins/