Siemens Software and Technology (S&T) Partners are leaders in their domains and leverage the Siemens open platform to provide a comprehensive set of integrated solutions that help expand the ecosystem and provide customers with several solutions that are best in class.
These partners help expand our solution portfolio and enable customers to solve business challenges by offering complementary software, hardware, and technology.
Additionally, S&T Partners augment what we do at Siemens by adding functionality, expertise, and flexibility, which in turn provides customers with the ability to tailor solutions to best fit their needs without being confined to using a specific product or vendor.
Why work with a Siemens S&T Partner:
Ensured interoperability with the exchange of technologies
Some provide an integrated solution
Offer a seamless data transfer with no costly data translation issues
Help with the digital transformation
All in all, there are over 700 S&T Partners in all areas, including software and hardware. Our partners are specialists in their fields and cover our entire portfolio.
For example, if you are looking for:
An additive manufacturing solution or help building a print farm
A solution to take CAD data and turn it into a virtual or augmented reality training course for assembly, maintenance, or layout
A specialized training course to help get up to speed quickly and be more competitive
Help in specifying a dedicated piece of hardware to run your simulation, rendering, or a virtualized environment
Ultimately, there is no reason to look any further than a Siemens S&T Partner.
Find a Siemens S&T Partner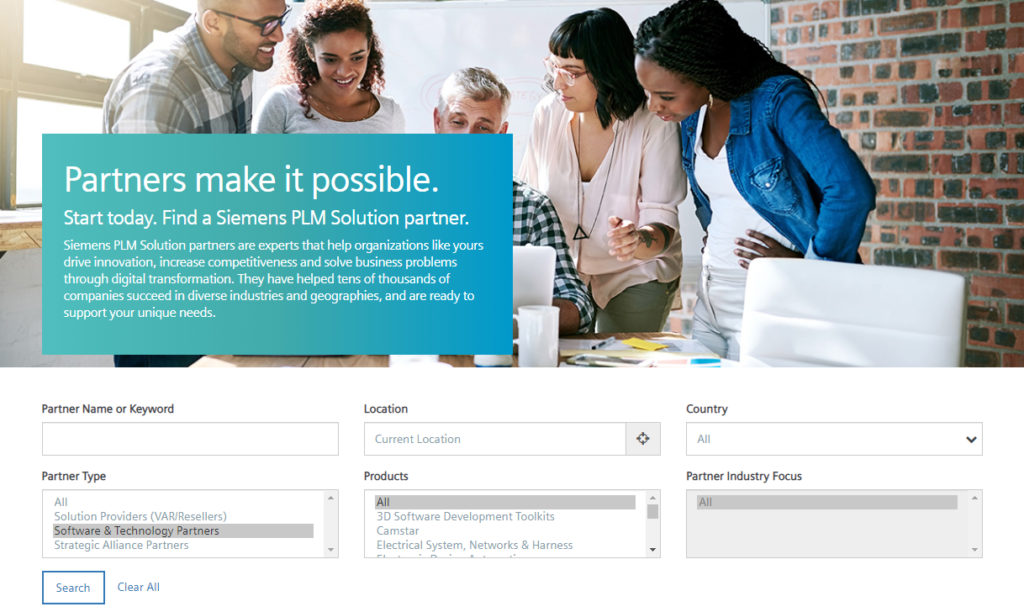 A full listing of our Partners is available on the Partner Finder. And since our S&T Partners are global, there's no need to add a location or a country.
Join the Software and Technology Partner program.
Larry Moore is the Software and Technology Partner Communications Manager at Siemens Digital Industries Software. He has over 20 years of experience in the CAD industry and enjoys evangelizing about how partners can help customers embrace the digital future.