Products
Realize Live + U2U 2021: Digital Manufacturing Experience | Opcenter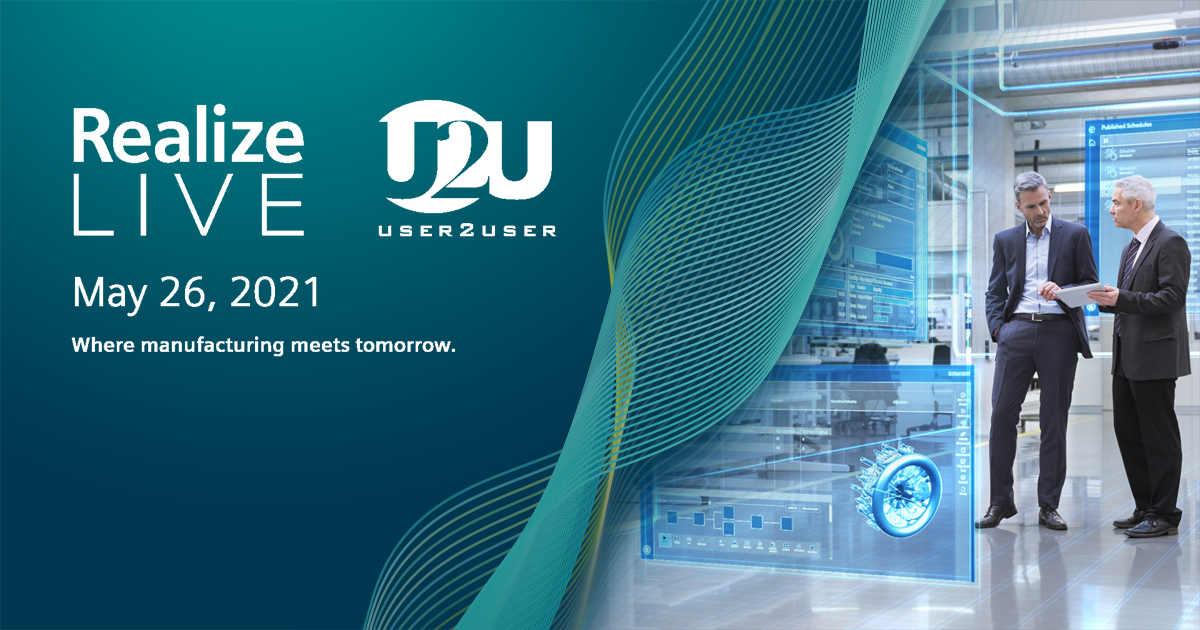 Join Us at Realize Live + U2U
For the first time, the Realize LIVE and User2User (U2U) events are becoming one unified content-rich, career-advancing event, and we're thrilled to share this experience with you. With a variety of sessions covering Opcenter, you will have many opportunities to learn, connect and grow alongside thousands of others across the globe. Learn what's new in Opcenter, how digital manufacturing turns innovative ideas into transformative products, how our applications address the most critical needs of industrial manufacturing, and much, much more in this exciting, one day event! Register today to join us on May 26 for an event you don't want to miss out on!
Opcenter Session Highlights
Driving Industrial Digitalization – Integrated Manufacturing From Product to Production
Zvi Feuer, Senior Vice President of Digital Manufacturing at Siemens will present the case for digital manufacturing as an imperative for driving industrial digitalization. He will be joined by Luca Manuelli, the CEO of Ansaldo Nucleare, a division of Ansaldo Energia.
Opcenter: a Strategic and Innovation Update
Introduced by Dr. Raffaello Lepratti, VP MOM Business Development & Marketing, this session will guide you through a set of key features for the manufacturers of today and tomorrow, presented with a crisp and clear approach by Tobias Lange, VP MOM Research & Development.
Opcenter Customer Sessions
CSIR – Accelerating Ventilator Production in South Africa
With the COVID-19 pandemic taking a huge toll on lives worldwide, a multidisciplinary, multiorganizational South African team was able to design, develop, and produce 18,000 ventilators within the span of 3 months. This amazing success story was possible because of the digital transformation of the design and production processes on which the teams relied, leveraging Teamcenter, NX and Opcenter solutions.
ROBOPAC – The Packaging Valley Goes Digital
ROBOPAC is the global leader in the packaging sector, specializing in end-of-line solutions. From their HQ, based in the so-called "Packaging Valley" in Emilia Romagna, Italy, ROBOPAC manufactures a wide range of packaging machines that are marketed worldwide. ROBOPAC's Smart Factory project has a number of key objectives, including boosting their production capacity by 50%, improving workforce and processes efficiency, enhancing the flexibility of the production system, and enabling visibility and analysis in the manufacturing processes to target performance improvements. To achieve this ambitious goal, ROBOPAC relies also on the full portfolio offered by Opcenter, Siemens manufacturing operations (MOM) platform. In this video interview, you will learn how ROBOPAC's smart factory vision has become reality.
SCANFIL – A journey towards a transparent value chain
Scanfil is a leading international contract manufacturer and system supplier for the electronics industry with 40 years of experience in demanding contract manufacturing. Headquartered in Sievi, Finland, Scanfil has several productions facilities worldwide. In this live interview Christian Kesten, Plant General Manager at Suzhou, China and Leader of Scanfil Group Digitalization Program, is sharing some highlights about Scanfil's digitalization journey & strategy and the impressive benefits obtained up to now.
TERUMO – Charting a Course to the Factory of the Future
10 years ago, Terumo Americas implemented their first MES system in their Ashland, Massachusetts cardiovascular division. The goals were to streamline the quality and manufacturing process and make their product release process more efficient. Delivering significant improvements in productivity, as well as reductions in NCRs and complaints of 40% – 60%. In 2018, Terumo Americas began a larger digital transformation initiative that included its business logistics layer and its manufacturing operations management (MOM) layer. Terumo Americas leadership selected Siemens as its strategic partner for MOM, implementing Siemens Opcenter Execution Medical Device and Diagnostics.
Explore the full Opcenter Experience
As part of this year's Opcenter experience at Realize Live +U2U, you can learn more about our comprehensive portfolio as well as explore all our must-see sessions: we have more customer success stories and our industry experts are sharing insights into our Discrete and CP&R offering as well as the brand new Teamcenter Quality portfolio.
Have a look at the full Opcenter agenda
Explore the complete Digital Manufacturing Experience
As part of this year's Digital Manufacturing experience at Realize Live +U2U, you can learn more about our comprehensive portfolio as well as explore all our must-see sessions:
Register Today!
Register for Realize Live + U2U 2021 today and join the thousands of participants from across the globe on May 26 who are looking for new ideas, new collaborators, and career-enhancing connections!
On-demand sessions will be available for 30 days, until June 25, so you can view your favorite sessions as many times as you like or watch some you may have missed after the event.
This article first appeared on the Siemens Digital Industries Software blog at https://blogs.sw.siemens.com/opcenter/realize-live-u2u-2021-digital-manufacturing-experience-opcenter/