Products
Unleashing CNC part manufacturing technology at DMG MORI Technology Days 2023 [VIDEO]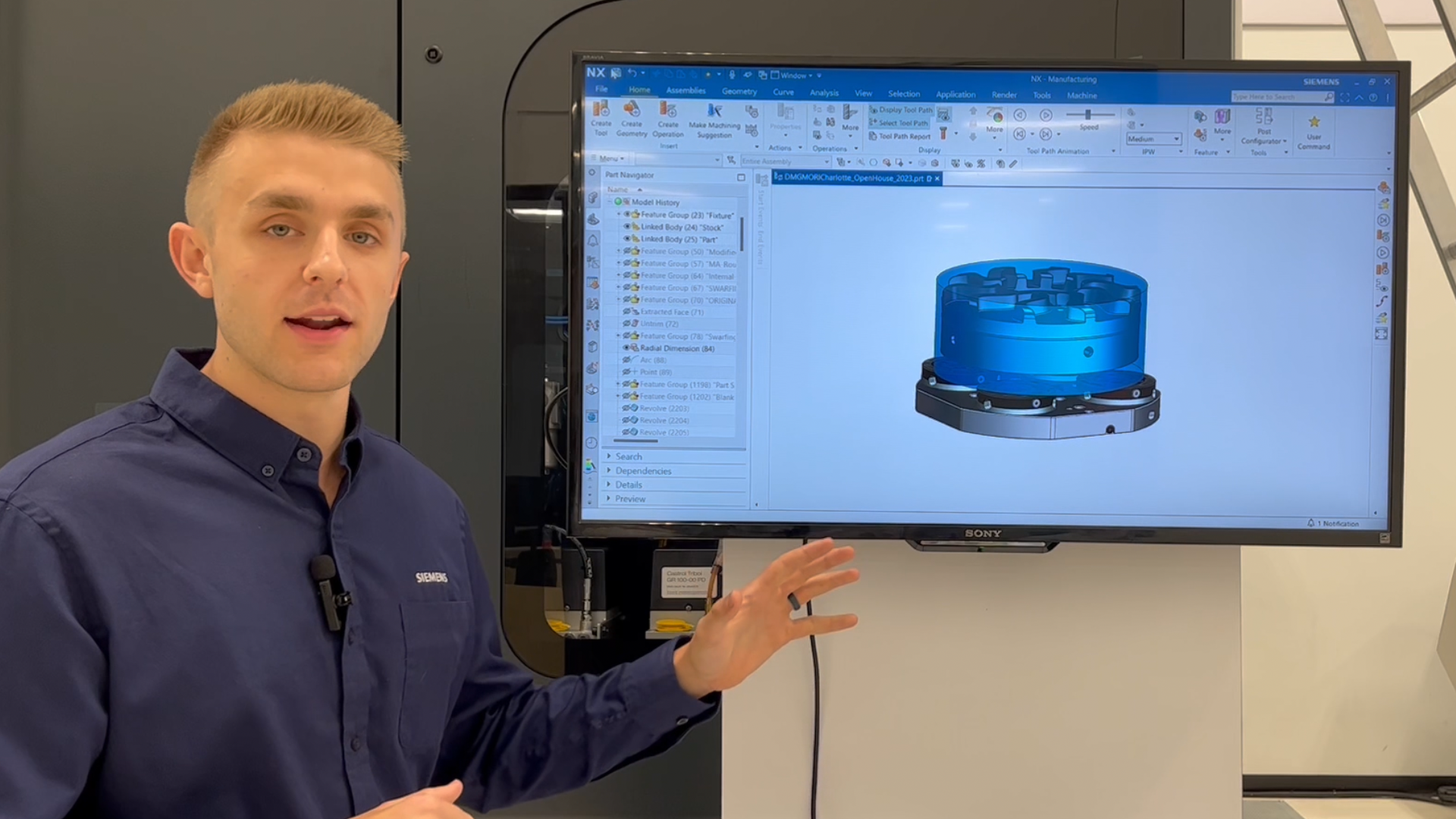 Experience the excitement we had at the DMG MORI Technology Days event in Charlotte, North Carolina from June 20th – 21st, where professionals, engineers, and manufacturing experts delved into a world of precision and efficiency with the latest CNC part manufacturing technologies.
Siemens and DMG MORI, a leading manufacturer of CNC machine tools, were center stage alongside other industry partners to show how the complexities of programming and machining can be effortlessly intertwined, resulting in collision-free operations and optimized toolpaths.
Watch the hands-on demonstration, in collaboration with industry leaders like Haimer, Mitsubishi Tooling, and SMW Autoblok, which left attendees in awe as they witnessed the seamless technology integration and unrivaled precision of machining.
Advanced Computer-Aided Manufacturing (CAM) in Action
The star of the show?
The impressive DMG MORI DMG 100FD milling machine, brought to life with Siemens advanced computer-aided manufacturing (CAM) software. This isn't your average milling machine – it's a multitasking marvel, boasting both milling and turning capabilities. The live demonstration was given by Siemens Advanced Application Engineer, Carson Huber, who showcased how Siemens NX CAM software conquers a complex part with ease so programmers can generate collision-free machining operations with confidence.
From turning operations, high-efficiency roughing, smooth surface finishing, and G-code driven simulation, there were a range of strategies and capabilities used to machine the complex part made of 316 stainless steel. The NX CAM capabilities featured during the demonstration included the newest enhancements from the latest release of NX for Manufacturing, including 3D adaptive roughing, Cloud Connect Tool Manager and On-Machine Probing. The action-packed event also revealed how NX CAM seamlessly integrates with the CAD environment used for part model preparation, fixture design, and machine setup definition.
The part programmed measures 14″ in diameter and has a length of 160mm, made of 316 Stainless Steel.
In the demonstration, see how Huber verifies the posted G-code with the unified simulation module before moving onto the machining stage. To accurately simulate the machining process, Huber used a Smart Machine Kit Solution (SMKS), a digital twin of the DMG MORI machine. Machine kits are available on Post Hub, NX CAM's cloud-based solution for postprocessing. He used the G-code-driven simulation, which helps avoid collisions by verifying the compatibility between the programmed instructions and the CNC machine's movements.
We're able to verify our code before we even get to the machine by driving the machine kit using the posted NC code from NX CAM. Using these capabilities together, we can verify that our posted code will run smoothly on the machine."

Carson Huber, Siemens Advanced Application Engineer
The DMG MORI Technology Days event in Charlotte shows us how precision and innovation can boost efficiencies on the shopfloor using the latest part manufacturing technologies. The DNC 100 FD milling machine, powered by NX CAM, proved that the future is now, and the possibilities are endless!
Experience the power of NX CAM and launch your trial for free.
This article first appeared on the Siemens Digital Industries Software blog at https://blogs.sw.siemens.com/nx-manufacturing/unleashing-cnc-part-manufacturing-technology-at-dmg-mori-technology-days-2023-video/