Products
Crisis engineering: Die-Tech & Engineering joins the race for ventilators in the coronavirus pandemic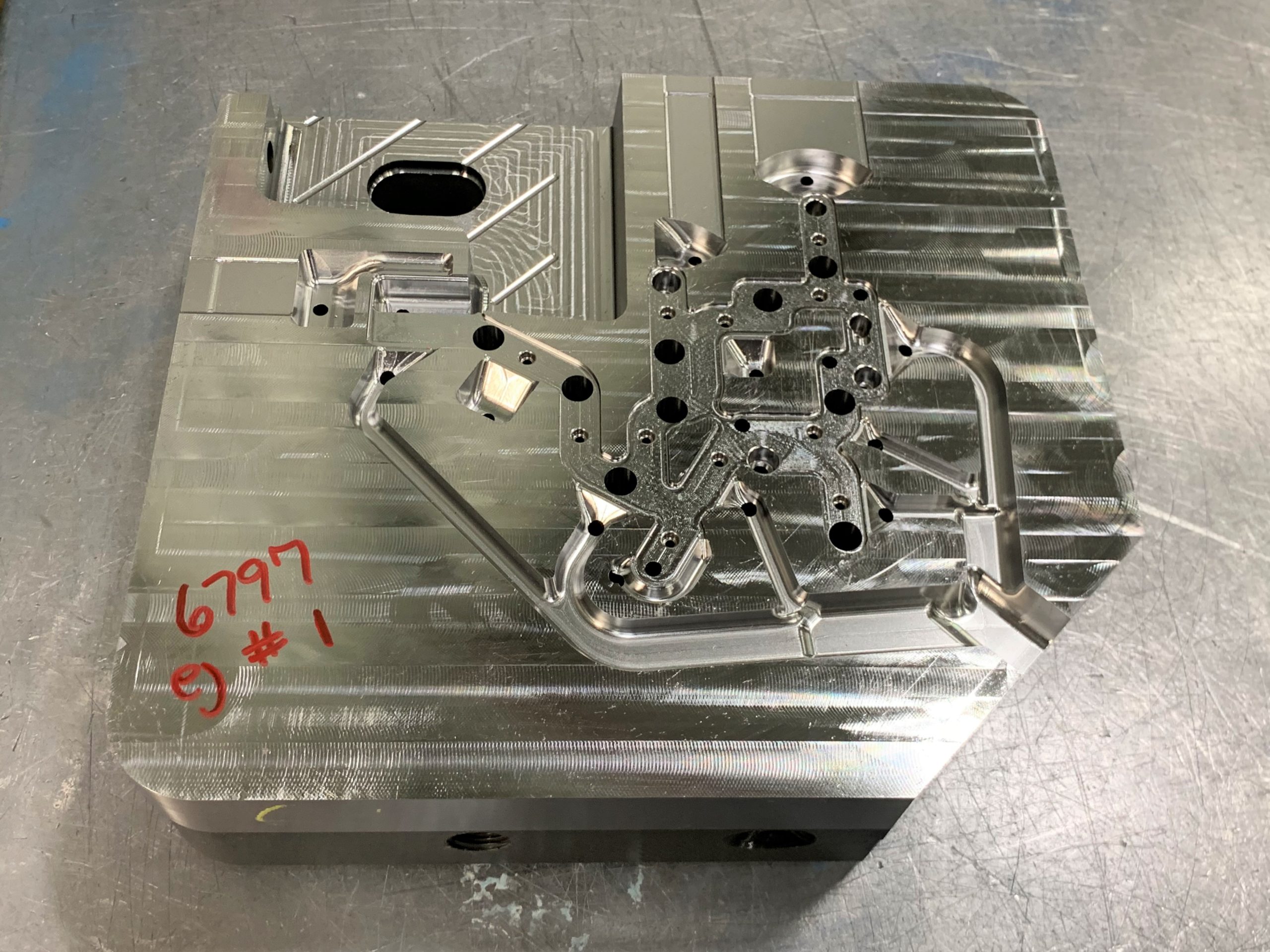 ---
This story comes to us from Phil Williams, senior writer/editor at Siemens
Update: The April 26 broadcast of CBS's 60 Minutes included a segment that describes the larger context of the race to ventilator production and the critical role of smaller companies in today's manufacturing ecosystems. Some of the ventilator parts that were cast with Die-Tech's dies are featured in the video footage. View the segment: How Ford and GM joined the fight against the coronavirus
---
Bill Berry was sitting at his desk on a Friday afternoon when he got an unexpected call from a customer. Berry is the president and owner of Die-Tech & Engineering, a supplier of casting dies in the greater Grand Rapids, Michigan area. The customer was Twin City Die Castings, who had called Berry as a trusted supplier, requesting a quote for a casting die.
It was an urgent request, and part of the effort to accelerate production of ventilators, key life-saving devices in critical short supply as the pandemic swept the globe. The request specified delivery of casting dies for ventilator parts within five weeks. Berry understood the emergency well – he and his wife had followed and discussed news of the pandemic and the life-saving efforts. He was also confident that his company had the people, technology and expertise to deliver in a fraction of the specified time. "You don't have five weeks – if these things are going to make a difference, you need them in days," he told his customer. When Berry told Twin City Die Castings that his company could deliver the things they needed in days instead of weeks, they wanted a timeline that broke down the process.
Die-Tech & Engineering and Twin City Die Castings are supply chain partners in a $490 million deal between the U.S. government and General Motors, authorized under the Defense Production Act, to build 30,000 ventilators with help from Ventec Life Systems, a ventilator manufacturer in the Seattle area. Before the pandemic, Ventec produced about 200 ventilators per month, each with about 700 components. GM marshalled its formidable supply chain to help scale production to thousands of units per month.
Die casting scales production
Many of the metal parts of the ventilators had been produced previously by machining, but die casting processes could enable production of higher volumes more quickly and efficiently. "The ventilator company was capacity-limited by certain components," Berry says. "If you're machining them from blocks of aluminum or importing them from offshore, you can only do it so fast. To scale production rapidly into a whole different order of magnitude of production quantities, you need to convert some of those parts from machined parts to high-volume tooling with multiple cavities for high-pressure die casting."
Compressing die design and production cycles
Berry briefed his staff on the project and the team went to work immediately. Brian Chatlosh, a lead designer at Die-Tech & Engineering with decades of experience, had already worked a full day. Still, he volunteered for the project and returned to his office and began modeling a preliminary design of the casting die. "We had an RFQ at 5 o'clock in the afternoon and we were able to present a preliminary mold design at 9 PM to get approval to order material," Berry explains.
"Less than four hours after being asked to quote the project, we had an online meeting showing the mold design and how it would work."

Bill Berry
President, Die-Tech & Engineering
We got the customer to agree on steel sizes and approve the concept of the tool. I stepped out of the room and called my steel supplier and gave him the sizes, and the steel was here at two in the morning."
When the steel was delivered it went through a heat-treating process that required one and a half days. As the detailed design was developing, Chatlosh shared components with the rest of the team so they could create the numerical control programs to produce them while he was still finishing the design of the tool. "Because everything is documented and everything is done in a pre-engineered fashion using modeling techniques and programming techniques that we've developed over many years, we were able to just divide the project among essentially 40 people and they were all working on their own parts," Berry explains. "Much of it was being built as it was being designed."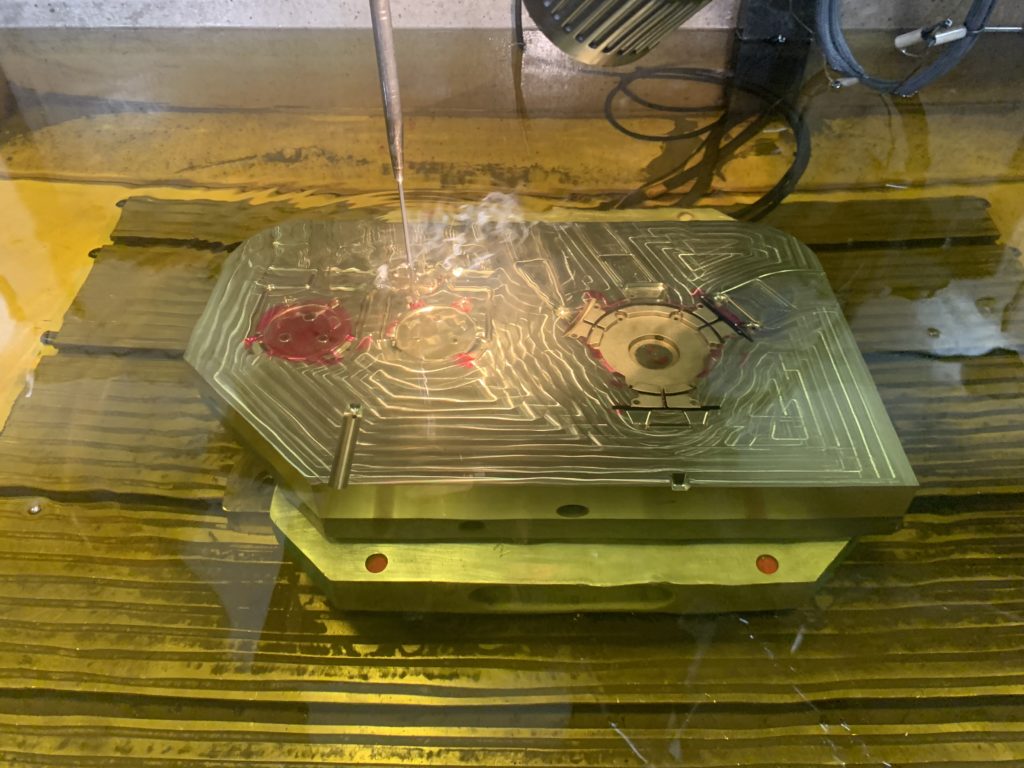 When Chatlosh left in the wee hours of Saturday morning, Die-Tech had a fully modeled tool design and the company was cutting parts on its machine tools. By Monday morning, Die-Tech's 11 five-axis machines were simultaneously cutting different components of the die from the heat-treated steel. Four and a half days after the initial call, the die was assembled, loaded on a truck and on its way to Twin City Die Castings. The next day, Twin City cast the first parts using the tool. Over three weeks, Die-Tech built a total of seven dies for 44 cavities that Twin City used to cast ventilator parts. It is likely that those parts will save lives in April.
Keys to fast turnaround
Before this urgent high-stakes project, Die-Tech & Engineering already enjoyed a reputation for fast delivery. Over the years, the company has invested in people, processes and technologies to engineer with speed. Key technologies include five-axis machining with palletization and advanced computer-aided design software from Siemens Digital Industries Software.
"We've been working together in a CAD environment for 30 years, starting with I-deas, now part of the Siemens family of products," Berry explains. "We have a big library of designs and we're using NX mold design software. We have lead engineers who understand the software and how to design molds very well. Using NX in a team environment, we were able to have multiple engineers all working on the project at the same time, along with multiple machinists and toolmakers. We specialize in being able to do things in a massively parallel fashion. By moving everything else out of the way we were able to put all of our resources on this particular project. We were able to build the entire die in essentially the amount of time as it took to build the longest-lead-time part, which was four and a half days. "
"We absolutely could not have done this without an advanced mold design environment like we have in NX. It worked really well."

Bill Berry
President, Die-Tech & Engineering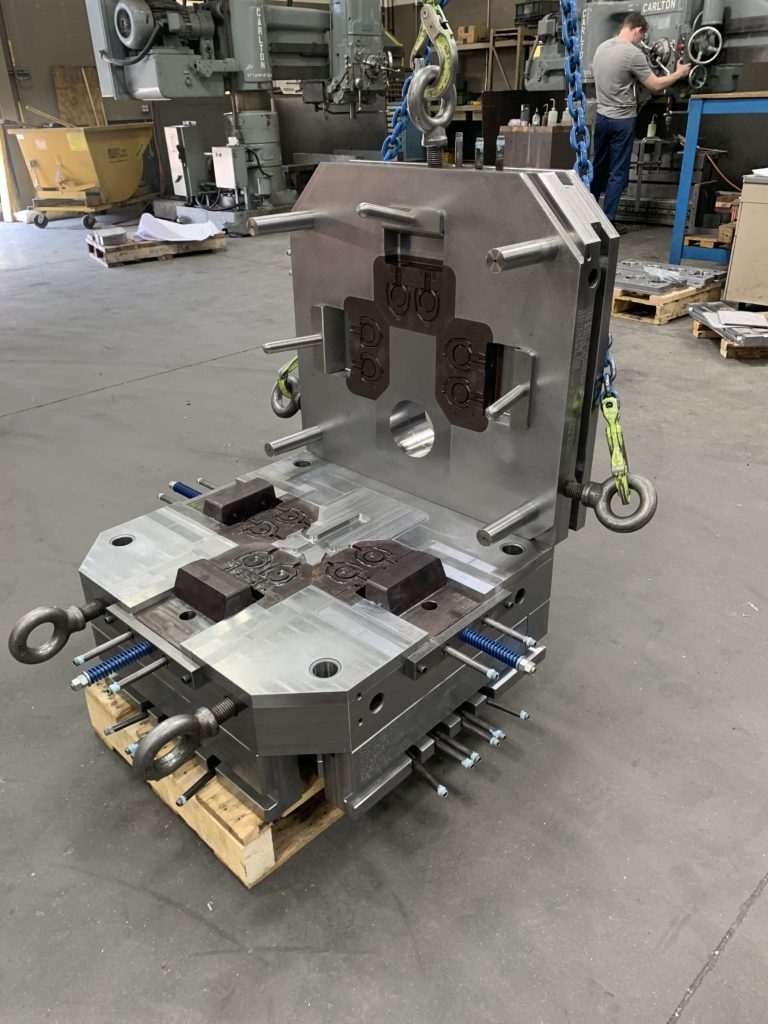 Now addressing the work that Die-Tech had delayed for the ventilator project, Berry brushes aside notions of heroism in the fast-track engineering his company delivered. "Heroism involves risk and sacrifice like the people who will use these ventilators to help others. We were fortunate enough to have the right motivation, the right kind of equipment, the right kind of CAD environment and the right kind of people that fit this project. We were uniquely qualified to respond in this way. It was the most exciting project I've ever had the opportunity to work on. It was a good example of how to use technology and people to solve a problem really quickly."
---
Die-Tech and Engineering has been supported for more than a decade by Siemens solution provider partner CAM Logic Inc.
This article first appeared on the Siemens Digital Industries Software blog at https://blogs.sw.siemens.com/nx-design/crisis-engineering-die-tech-engineering-joins-the-race-for-ventilators-in-the-coronavirus-pandemic/