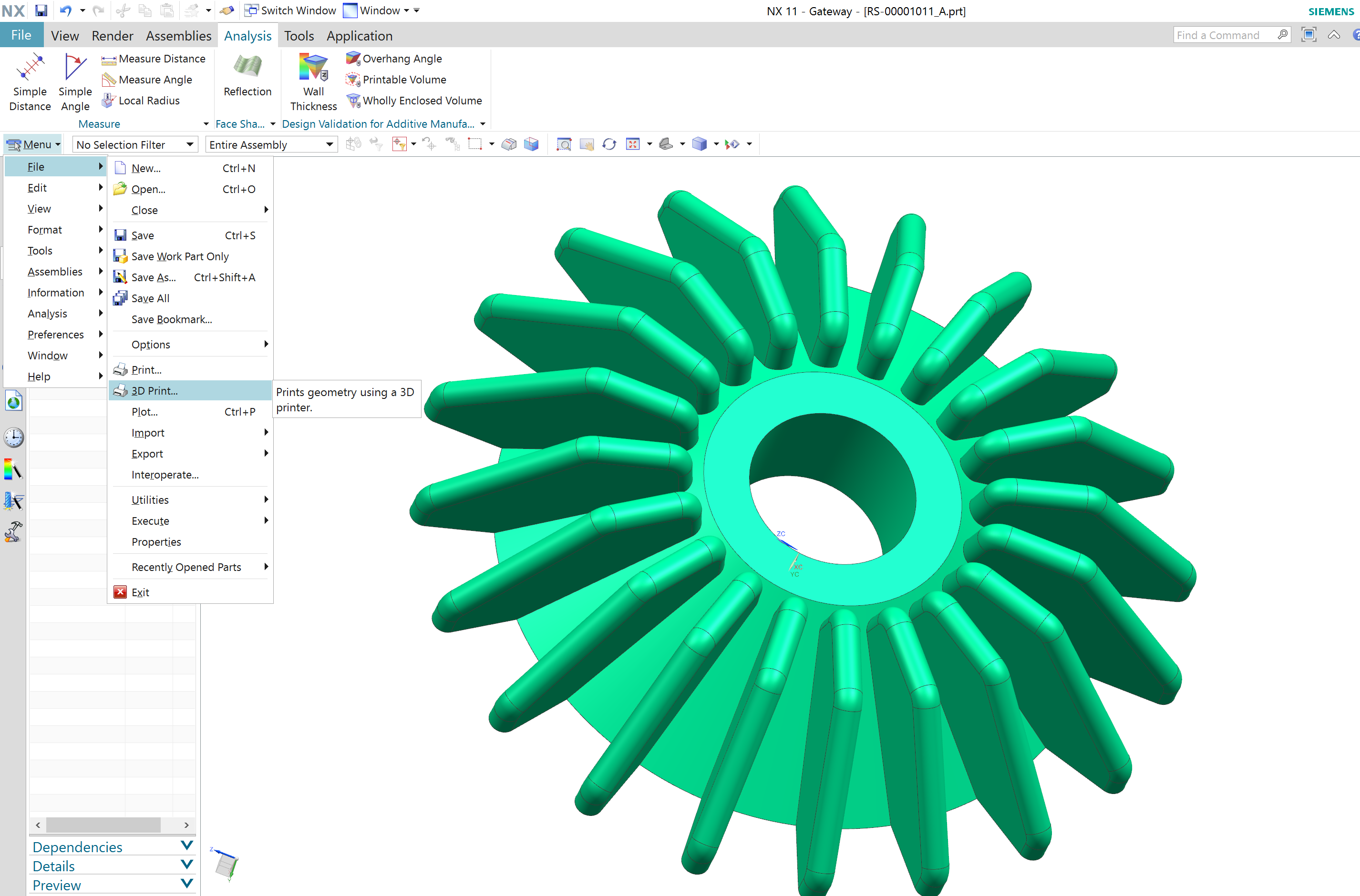 In the rapidly transforming manufacturing industry, additive manufacturing (3D printing) is no longer just a prototyping tool. It is being used across industries such as Aerospace, Medical, Energy and Consumer Goods as a mainstream manufacturing process. The numerous 3D printing techniques like Fused Deposition Modeling (FDM), Stereolithography (SLA), Powder Bed Fusion (DMLS, SLS, EBM), Polyjet/Multi-jet et al. have their own pros/cons and are being adopted based on various factors such as materials, part sizes, cost, process control and monitoring.
3D printed gas turbine blade with improved internal coolingAdditive Manufacturing enables the designer to drastically reimagine parts and design them such that the properties of the part exceed the capabilities of traditionally manufactured components. There are several examples of redesigned 3D printed parts across industries that have shown significant improvement in terms of weight saving, structural stiffness, temperature distribution etc. even if they are made from the same material.
NX 11, with Convergent Modeling technology, brings you tools with the power to drastically improve the way you develop products. These tools are key enablers for reshaping the parts that can be directly 3D printed from NX. It is as simple as File > 3D Print in NX 11. Since this functionality uses the 3D printing toolkit offered with Microsoft® Windows® (8.1 or higher) and the widely supported 3D Manufacturing Format (3MF), you can rely on wide compatibility. Using the 3D Print command in NX 11, you can:


Produce a single body or multiple bodies and use different quality and infill parameters for each job.


Add support and raft to the body to prevent common 3D printing problems such as warping, collapse, and distortion.


View the printing volume of the selected 3D printer.


3D Print directly in NX 11
Although additive manufacturing processes offer a lot of design flexibility, there are several factors that should be considered at the design stage. Designers working with plastic parts are familiar with molded part validation tools that are commonly used in injection molded part design. Similar to these, NX 11.0.1 now has design checks for parts that would be 3D printed on the Analysis tab, Design Validation for Additive Manufacturing group. The following design validations checks are available in this version:
Check Minimum Wall Thickness to analyze a product for an allowable minimum wall thickness.
If the wall thickness is less than the specified threshold value, it would be considered too thin to print. Such areas are identified and highlighted in one color (red by default) and the areas that are above the minimum wall thickness are highlighted in another color (green by default).
Check Maximum Overhang Angle to analyze the areas of the product that overhang by more than a specified angle.
If the areas exceed the specified maximum overhang angle, temporary support structures might be needed during 3D printing. Such areas are identified and highlighted in one color (red by default) and the areas that are below the maximum overhang angle are highlighted in another color (green by default).
Check Model within Printable Volume to analyze whether the product is within the printable volume of the selected 3D printer.
If any parts or bodies have geometry that lies outside the printable volume, the printer fails. This command identifies such a model and shows the result as failed in Check-Mate.
Check Wholly Enclosed Volume to analyze whether the product contains wholly enclosed volumes (empty spaces).
If the model contains wholly enclosed volumes or empty spaces, material may fall off during printing. This command identifies such areas and shows the result as failed in Check-Mate.
Along with this design specific functionality in NX CAD, you'll find a lot more 3D printing process specific functionality in NX CAM in the 11.0.1 release.
So check out this new functionality and the more than 100 enhancements in NX 11.0.1 and share your feedback with us!
Himanshu Iyer
Product Marketing, NX
This article first appeared on the Siemens Digital Industries Software blog at https://blogs.sw.siemens.com/nx-design/3d-printing-in-nx/