Industries
Design Excellence in Medical Device: Advanced Design & Re-Use
In this post we will explore Advanced Design & Evidence Re-use across products and programs: Data based – not document based – for intelligent platforming as part of our Design Excellence series for Medical Devices. Follow along to learn how 5 key areas of Design Excellence combine multi-disciplinary design collaboration with advanced design tools and multi-physics simulations to achieve competitively differentiated, premium-value devices.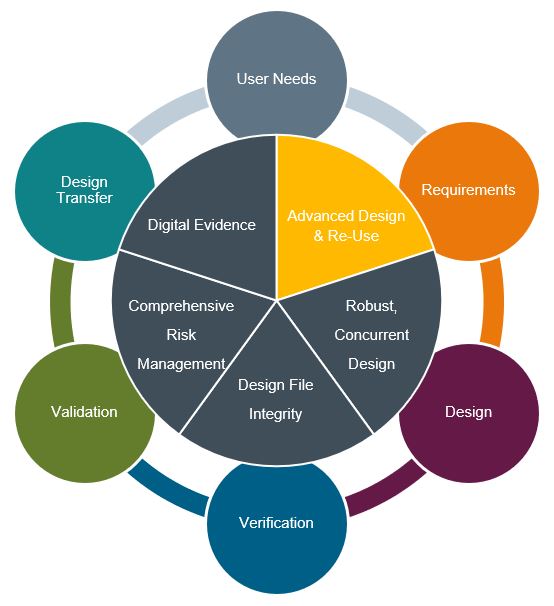 Advanced Design & Re-use
The concept of document control is deeply rooted in the medical device industry. We are trained from the start in Good Documentation Practices (GDP) and on the concept that unless it is written down the evidence doesn't exist. We have requirements built right into our regulations and standards emphasizing the importance of documents such as 21 CFR § 820.40 – Document controls and ISO 13485:2016 Clause 4.2 Documentation Requirements. When designing medical devices, the focus is then often on delivering this documentation as the result. While these requirements are necessary and serve an important purpose, oftentimes the documentation requirements are misapplied as a 'means to an end' instead of an 'end to a means'.
Advanced design & re-use challenges the focus on documentation and re-focuses on the power of data control rather than document control. Static documentation is the least effective approach to manage and store important product development information. Imagine if your organization had a data control function instead of a document control function? Instead of looking at documentation as a finished good, the data residing in a document would be individually identified, managed, and traced. A document is simply then a collection of such data objects. A data-controlled organization could produce the dynamic documentation real-time and fully up to date as required. A data approach can also expand its span of control beyond what is needed for a document but into the actual design data as well.
The advantages of re-use are well known and have traditionally been thought of in the sense of physical parts and a manufacturing environment. The advantages of re-using a common library of standard parts and assemblies is obvious, leading to standardization in inventory practices, production lines, and lower costs and greater efficiencies. Similarly, in a data controlled organization, re-use is possible through data artifacts that lead to similar organizational efficiencies for up-stream functions such as R&D, Regulatory, Quality, Marketing, etc. The value of data re-use is not only in the ability to create dynamic documentation, but also in the ability to create and manage design re-use. Both types of data (documentation and design) can be deconstructed for managed re-use. Design, analysis/simulation, requirements, specifications, risk management, verification, and validation are inextricably linked. Data sets that are fully contextualized across design control requirements not only offer robust compliance but can be developed as intelligent platforms for true re-use across products and programs. This will improve development efficiency and lower the total cost of ownership.
As medical device complexity continues to increase, many companies are turning to systems engineering principles to architect solutions for re-use. While organizational maturity and needs with regards to systems engineering principles is varied across the industry, the underlying approach is gaining traction with the need to be faster to market and to better anticipate product architectures that support development and sustaining engineering needs.
Using a true digital twin, the stage is set for comprehensive, data based, re-use of your product development assets and processes with advanced design tool support. Establish truly intelligent data and product platforms. Automate the complexity of product development management, so you can focus on getting your medical device to market faster at a lower cost, all while improving evidence of compliance.
To Learn more about Design Excellence at Siemens please visit here.
This article first appeared on the Siemens Digital Industries Software blog at https://blogs.sw.siemens.com/medical-devices-pharmaceuticals/2020/03/13/design-excellence-in-medical-device-advanced-design-re-use/