Digital Twin: Transforming the utilities industry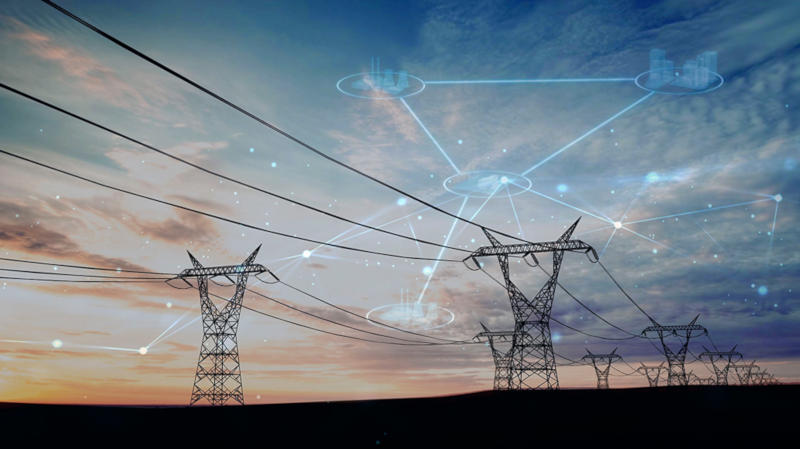 The utilities industry has been driving innovation since the invention of the steam engine during the first Industrial Revolution. Today, utility companies are preparing for a Fourth Industrial Revolution – also known as Industry 4.0 – where lines between the physical and digital worlds are blurring. Additional factors like the COVID pandemic, demands for sustainability, and tighter emissions regulations, are prompting more businesses to turn to digital twin technology to become more agile, resilient, and competitive.
What is a Digital Twin?
A digital twin is a virtual model of a physical object, process, or environment that optimizes operational efficiency, predicts outcomes, and increases profitability. The virtual model monitors and simulates the production, transmission, and distribution of a physical asset. Utility companies can use the data that's generated to maximize product performance, reduce safety risks, predict power outages, and comply with requirements. Digital twins are invaluable tools for any industry, as they work to optimize business functions continuously.
History of Digital Twins
The digital twin concept has been around since the 1960s when NASA used similar technology to replicate spacecraft used in exploration missions. In 1970, NASA controllers used simulators to match the conditions of the damaged Apollo 13 spacecraft, rapidly modifying the simulations to bring the vessel home safely.
In 1991, David Gelernter introduced the idea of digital twin technology in his book Mirror Worlds. In 2002 Dr. Michael Grieves applied the notion of digital twin technology to the manufacturing process before introducing the concept of digital twin software. The term "digital twin" was eventually introduced by NASA's John Vickers in 2010.
Digital Twin for utility companies
Like NASA, utility companies can use real-time data to replicate complex systems to predict and improve their operations. For example, water companies that distribute their product across a broad geographic region collect massive amounts of data on water consumption while simultaneously receiving additional data from other parts of their systems. The problem? This information gets isolated in silos, making it difficult for water companies to use this data effectively. Using a digital twin can improve interoperability problems and help develop an intelligent water system.
The digital twin is continuously updated using sensors, systems, meters, and other sources to create a real-time model that generates insights to improve operations. This model helps support smart water systems' planning, development, and operations. This also provides reliable, up-to-date information that water companies can use to answer the "what-if" or "what will" questions about future processes.
Real-world solutions: Harbin Turbine Co.
Harbin Turbine Co., Ltd. has taken advantage of digital twin technology to improve its turbine designs. Over the past 40 years, Harbin Turbine has provided more than one-third of the total installed capacity of all thermal power turbine sets in China. One of the company's biggest challenges was improving product information management. Frequent revisions to existing turbine design drawings made it difficult to ensure consistency between electronic and printed versions. This, combined with the need for a more efficient design approach, led the company to rethink its processes.
Traditional 2D design software resulted in long design cycles, errors, and misalignment with international standards. Harbin Turbine decided to take an advanced approach to turbine design using product lifecycle management technology from Siemens Digital Industries Software. This included NX digital product development software and Teamcenter digital lifecycle management software.
Siemens NX software delivers design, simulation, and manufacturing solutions that enable companies to leverage digital twin technology. Harbin Turbine now uses NX to revise existing drawings in its turbine design process. The software's parametric design functionality has expedited the development of universal parts. For example, instead of designing a turbine guide blade from scratch, the blade shape can be generated automatically by entering attributes and local parameters using NX. These capabilities helped reduce product cycles and improve the accuracy of designs. By harnessing the capabilities found in Teamcenter solutions, companies can leverage product information across manufacturing, quality, cost engineering, compliance, service, and the supply chain.
Since adopting the digital twin Harbin Turbine has improved its operations and technical management. System authority control and role management have helped ensure consistency between electronic and printed files, and revision controls are in place to provide better data accuracy, consistency, effectiveness, and traceability. With a new, single location for product data, designers are able to access and share resources more efficiently.
The company plans to implement even more PLM functionality in the future. Read more about Harbin Turbine's journey into digital transformation here.
Benefits and advantages of Digital Twin
The potential for companies that adopt digital twin technology is nearly limitless. Benefits like improved research and design, more effective processes, and predictive maintenance can help optimize operations, improve the product, and reduce cost. Let's take a closer look at some of the most significant advantages of adopting a digital twin.
Effective Research and Design. Digital twins enable better research and design of products and processes. Virtual models allow simulation that can predict how changes in design will impact the performance of the asset. This data can then be used to help companies refine products before they ever go into production.
Constant Optimization. Even after a new product has gone into production, digital copies continuously adapt to new conditions. This continuous optimization process produces data that enables companies to make necessary adjustments to their product or production systems.
Preventative Maintenance. Digital twins can help predict operational failures by detecting anomalies or defects in equipment or processes early on. Digital twins can help minimize time spent on equipment maintenance, wasted production hours, and the cost of parts and supplies.
Leading the way with Digital Twin technology 
As we sit on the brink of a Fourth (digital) Industrial Revolution, more utility companies will need to leverage the opportunities digital twin technology provides. Challenges like demands for renewable energy and tighter regulations mean these companies will need to be flexible and resilient in their processes and operations to survive. Digital twins are ideal for this as they are constantly learning new skills that can be used to improve products and production systems.
KPMG reports that digital leaders have a significant advantage over their less innovative counterparts. The report also found that companies prioritizing digital strategy out-perform their peers: 58% vs. 40% on operational efficiency, 47% vs. 29% on time to market, and 67% vs. 36% on customer experience. Adopting a digital mindset is necessary for companies that want a place in the future of utilities.
Adopting today's evolving digital twin technology can prepare utility companies for whatever the future holds. Learn more about our digital twin solutions here.
This article first appeared on the Siemens Digital Industries Software blog at https://blogs.sw.siemens.com/energy-utilities/2022/03/25/digital-twin-transforming-the-utilities-industry/