Snapshot: LifeCycle Insights–Collaborate faster to mitigating E/E systems complexity
Learn how E/E systems complexity can be tackled with tight collaboration.
The following is a snapshot of an in-depth analyst brief written by Lifecycle Insights, a research and advisory publishing firm with a mission is to help executives reap more value from tech-led initiatives without disruption. If you like what you read, you can find out more about this topic here.
Today, many manufacturers rely on suppliers to help them with their E/E systems. By outsourcing critical components to suppliers with specific expertise, original equipment manufacturers (OEMs) can accelerate development. This in turn will increase quality by relying on deep competencies in other companies.
In application areas that are completely new, OEMs are partnering with new-to-the-industry partners to build and share entire systems. By leveraging other companies' core competencies, OEMs avoid spending unnecessary time and money designing component systems that are outside their wheelhouses. Instead, they can harness what is already out there to make their own products better.
The inherently distributed nature and E/E systems complexity has made collaboration even more complicated.
Multi-domain collaboration is crucial. Electrical engineers, mechanical engineers, electronics engineers, software developers, specialized analysts, and many more often work for different suppliers and contractors. Delivering such E/E systems on schedule requires tight coordination amongst all of these stakeholders.
The development of E/E systems requires tight collaboration across engineering domains to identify and resolve development issues (figure 1).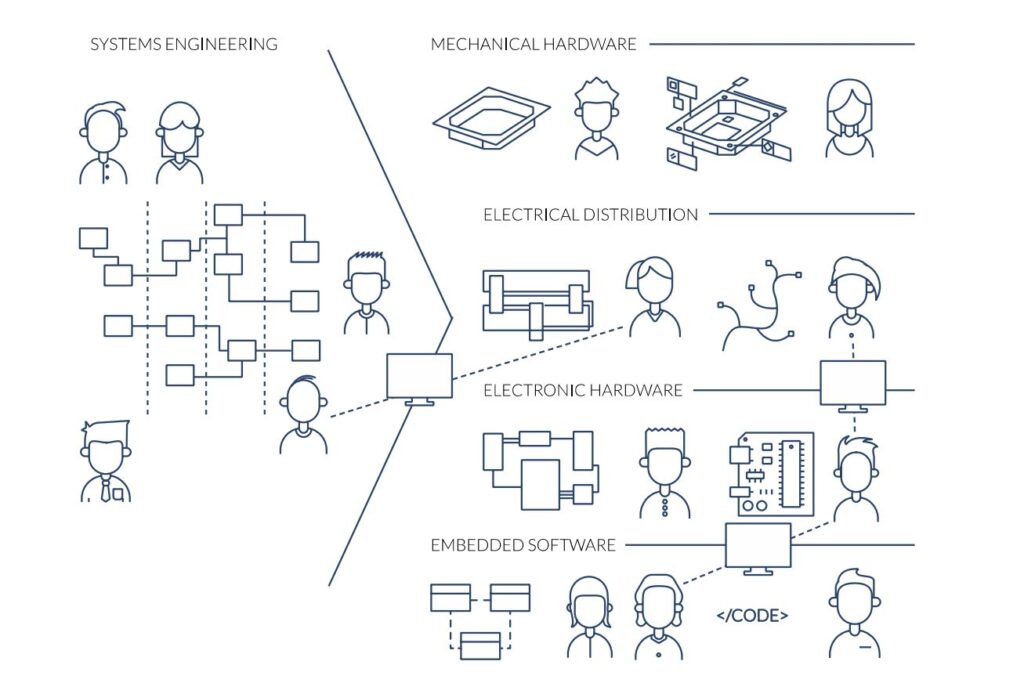 Tight collaboration, however, isn't just necessary during the design of these E/E systems.
Change management is a big issue, especially up and down the supply chain. Design engineers must also work closely with manufacturing engineers, who often work in separate companies, to help resolve production issues.
Unfortunately, working in this manner can have complicating factors, especially in light of the events of 2020. The supply chain disruptions and social distancing mandates of the COVID-19 pandemic made it much more difficult for OEMs to collaborate with suppliers—at least in the ways to which they were accustomed. Thanks to the virus, working remotely has taken on a whole new meaning. Entire functional departments moved to their home offices, making communicating and collaborating on design requirements a challenge. After all, there's only so much coworkers can share on the telephone, in an email, or even on a videoconference.
With the pandemic ongoing, remote work is the new norm. While companies were transitioning to more remote collaboration platforms before the novel coronavirus started to spread, the pandemic hastened those plans dramatically. Companies had to shift—and shift fast—to find ways to support collaborative design efforts and ensure engineering and other functional departments could access the information they need without slowing product development timelines.
And the challenges of transitioning to remote work did not absolve automotive and aerospace companies of the need to address all those complex requirements in their designs. The demands for lightweight, high-bandwidth, variant-specific E/E systems did not disappear as engineers and other key staff started working from home.
And as markets started to slow, it quickly became clear that online collaboration between engineers was crucial to identifying and resolving design issues effectively and efficiently. Not only that, but lines of collaboration need to extend beyond the OEM's four walls, to suppliers and vendor partners. This is the only way to verify requirements and make sure any component systems built by outside organizations will be able to successfully meet them.
Learn more about Siemens solutions for the Automotive industry here. Learn more about Siemens solutions for the Aerospace and Defense industry here. Also, check out Lifecycle Insights other brief:
This article first appeared on the Siemens Digital Industries Software blog at https://blogs.sw.siemens.com/ee-systems/2022/09/22/eesystems-complexity/