Thought Leadership
Key Functional Safety Insights from the 2020 Wilson Research Survey
Every two years, Siemens casts a wide net to capture the latest trends and challenges in IC Design and Verification. Given the rapid growth in safety-critical markets, this year's survey included questions around the challenges in the development of functionally safe semiconductors. After sifting through the data, I'd like to highlight some of the key findings in the world of functional safety.
1. Automotive and Industrial continue to be key safety-critical growth markets
As an opener, we asked which safety-critical markets were being targeted. There weren't many surprises here as the trendline is maintained. As expected, FPGAs and ASICs varied slightly. On the ASIC side, Automotive is the clear front-runner with 60% of projects targeting ISO26262. Industrial (IEC61508) was the second place finisher. The FPGA side is more balanced with Avionics, Automotive, and Industrial taking podium positions.
One interesting result was the growth in designs adhering to the military standard (MIL-STD-882) which saw an increase of approximately 8% between 2018 and 2020.
We also took a peak at trendlines and saw a spike in automotive between our 2018 and 2020 survey. This isn't surprising given the demand for innovation in the electrification of the drive train, delivering advanced driver assist capabilities, and the push for fully autonomy.
On the FPGA side, Avionics, Industrial, and Military saw a slight bump in 2020 when compared to 2018.
2. Don't make functional safety an afterthought
Functional safety demands a significant percentage of the overall project schedule. FPGA projects are spending between 30%-40% of the overall lifecycle on safety activities, and ASIC projects are slightly lower at 20%-30% (Median).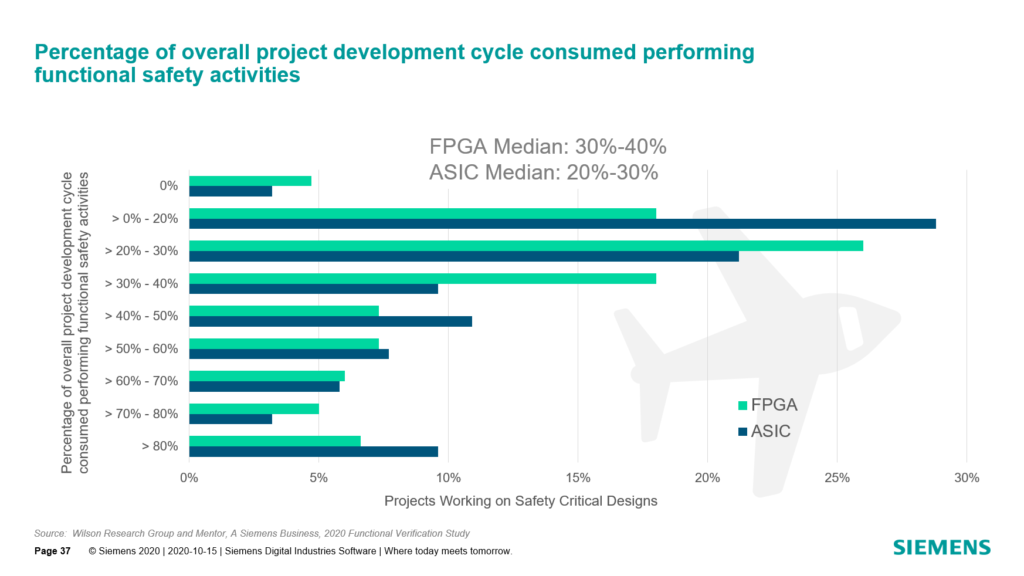 As a supporting piece of evidence, customers indicate that the amount of time spent on safety increases when safety methodology isn't considered during initial planning. Through customer conversations and other industry data, we have seen safety impacting schedule anywhere from 1.5X – 5X. From headcount and schedule to silicon area and power, safety will always require additional cost. Customers who incorporate safety early into the development lifecycle will be able to minimize the impact while meeting the safety objectives.
3. Accurate Safety Analysis is a significant challenge with today's architectures
Fault injection has been a hot topic and is frequently considered the most challenging activity in the safety lifecycle. We decided to challenge that belief in our latest survey. In both FPGA and ASIC programs, Safety Analysis was listed as the biggest challenge compared to other safety activities, including fault injection. Safety analysis activities include FME(D)A, FTA, and DFA, to name a few. The data point isn't surprising given recent conversations with customers. Growing IC complexity will continue to challenge even the most veteran safety teams in performing accurate safety analysis.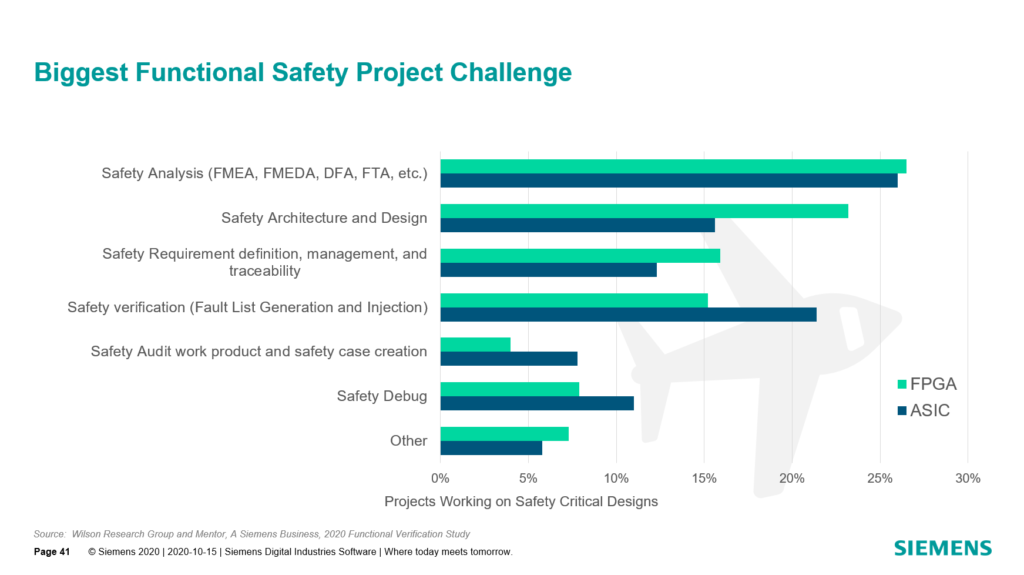 The silver medal is different for FPGA and ASIC with FPGA projects lifting Safety Architecture and Design to the number two spot and ASIC giving the nod to Safety Verification (Fault Injection).
4. Simulation is still the primary fault injection technology
Customers were asked which technique they deploy to verify their designs are protected from faults, and we provided the option of choosing multiple if more than one method is applied. The key takeaway is that simulation is still the workhorse of random fault verification. It is important to note that many companies are deploying multiple methods. This is inline with what we are hearing, especially on complex SOCs consisting of hardware and software as well as digital and analog/mixed signal components.
As IC complexity continues to grow, it will be interesting to evaluate this trendline. My suspicion is that an analysis only approach will continue to decline as safety experts find it more difficult to understand every failure mode and define a sufficient safety architecture.
Conclusion
The world of functional safety is continually evolving and Siemens is keeping a close eye to ensure we provide the methodologies and solutions required to successfully deliver products into safety-critical markets. We'll continue to crunch the data. If this blog post spawned a question, please reach out and I'll do my best to answer leveraging the data.
If you are interested in other non-safety related survey results, please see Harry's posts on the Verification Horizons Blog Landing Page.
This article first appeared on the Siemens Digital Industries Software blog at https://blogs.sw.siemens.com/verificationhorizons/2020/11/12/key-functional-safety-insights-from-the-2020-wilson-research-survey/