Thought Leadership
IEEE Approves New Low Power Standard
IEEE 1801™-2013 Enters Pre-Publish Phase
The completion and approval of electronic design automation standards has seemed to be the order of the day for several months now.  Added to this list is the IEEE Standards Association (SA) approval of their newly revised low power standard (IEEE 1801™-2013).  The IEEE SA's Review Committee (RevCom) unanimously recommended approval and that was confirmed by the IEEE SA's Standards Board last week.
If you don't recognize IEEE 1801, you may also know it as the Unified Power Format (UPF).
As with all the IEEE standards, after approval, they are sent to editorial staff to prepare them for publication.  So while you might expect me to suggest you get a copy of the standard, if low power design and verification is important to you, I know you cannot get a copy yet.  So I won't do that.  If you do need something, the superseded version from 2009 is the only one available at this moment.  I will keep you updated as to when it is published and ready for access to the global design community.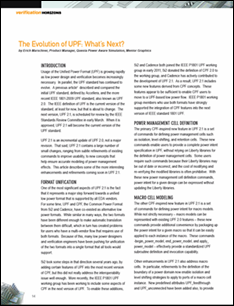 Mentor Graphics' Erich Marschner and vice chair of the IEEE 1801 working group has published a short article in the DVCon edition of Verification Horizons titled
 The Evolution of UPF: What's Next?  (Free access; no registration required; 81KB)
Erich gives a good introduction to the new standard, also known as UPF 2.1.  He describes that UPF 2.1 is an incremental update of UPF 2.0 and not a major revision. He shares that UPF 2.1 contains a large number of small changes, ranging from subtle refinements of existing commands to improve usability, to new concepts that help ensure accurate modeling of power management effects. His article describes some of the more interesting enhancements and refinements that can be found in the new standard.
Erich also shared that the 1801 working group is composed of more than 16 user and vendor companies with even many more participating in the final ballot.  This gives us good confidence in the content of this standard and that the group will be ready to tackle the next issues and emerging requirements to further improve low power design and verification.  If you are interested to join in with the IEEE 1801 team, visit here for more information.
DVCon UPF Tutorial
The IEEE 1801 leadership hosted a half day tutorial on the new standard in late February at DVCon.  For those who registered for the conference, the tutorial presentation is still available online.  Unfortunately, the material has not yet been made available to the general public.  If you know someone who attended DVCon, and went to the tutorial, you might want to see if you can borrow their copy.  The conference did an audio recording and I believe plans are to sync the audio with slides for those who were unable to attend DVCon. Stay tuned for this and I will share information when this becomes available.
As for planning you can do now.  The IEEE 1801 team will host a tutorial at DAC on Sunday.  I will share more information with you on that once the DAC registration site goes live.  Until then, I guess we all have to wait and be patient – and plan our trips to DAC in Austin, TX.
This article first appeared on the Siemens Digital Industries Software blog at https://blogs.sw.siemens.com/verificationhorizons/2013/03/14/ieee-approves-new-low-power-standard/