Products
Solving supply chain instability in the PCB design stage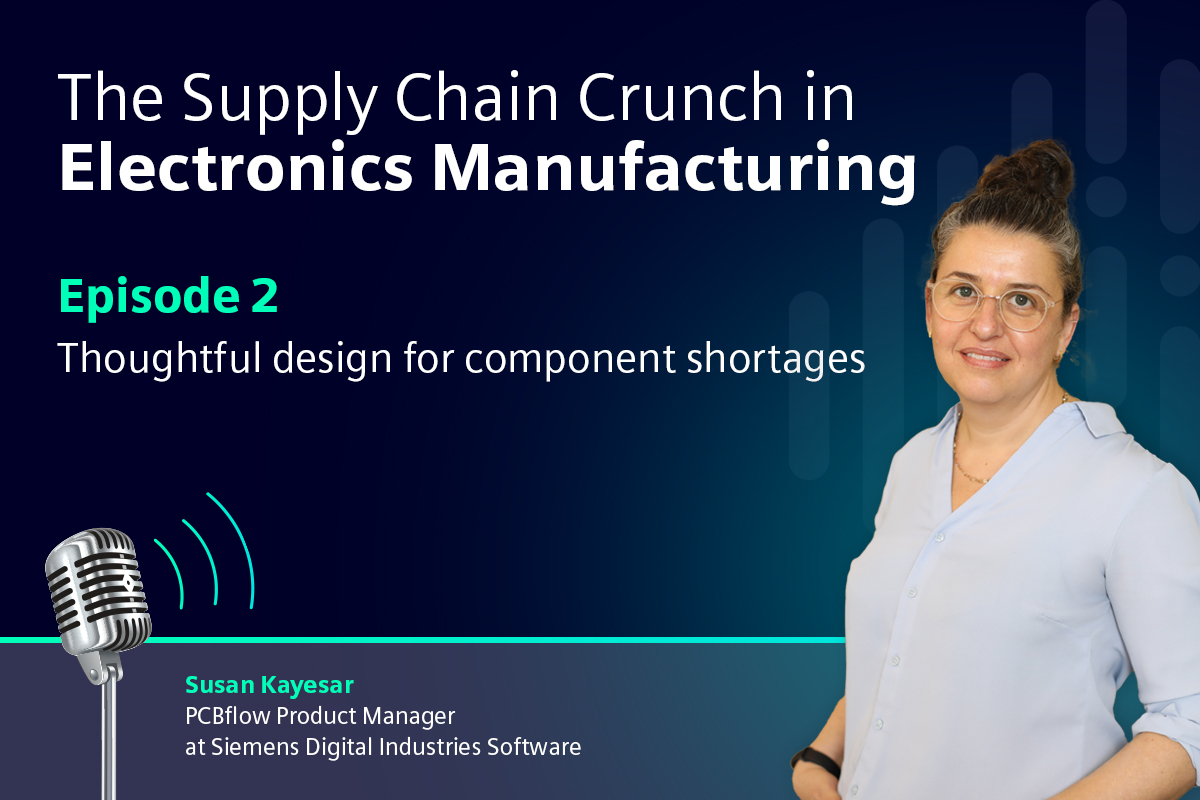 In the second of a series of WNIE podcasts, Susan Kayesar – PCBflow Product Manager at Siemens Digital Industries Software – speaks with host Karen Pearman about how electronics supply chain instability problems can be successfully handled in the PCB design stage.
Listen to the podcast now on the WNIE site, on in the player below.
In the podcast, Ms. Kayesar explains how disruptions in component supplies affect the profitability of new product introductions, due to unexpected shortages that are discovered just as production is set to begin:
Shortages of critical components may result in price increases, putting the project over budget.
Alternatively, the designer may choose to perform a costly, time-consuming board redesign using components with a different footprint.
These issues not only affect profitability, but affect product quality, yield, and time-to-market as well.
In order to prevent these scenarios from occurring, Ms. Kayesar recommends planning for component shortages already in the design phase of the project – effectively solving the problem by "left-shifting" the search for alternative components and checking their availability in advance.
With a little forethought, designers can avoid last minute supply problems by compiling a list of alternatives for each component. If no satisfactory replacements can be found, alternative designs can be planned that can accommodate components with a different footprint.
These early-stage design decisions are further empowered through effective communications and collaboration. Using PCBflow, Siemens' on-line, collaborative DFM system, developers can upload a BOM, and then connect to the Siemens Valor® Parts Library (VPL), a comprehensive database of electronic components. VPL allows users to quickly find alternative sources for a specified component.
Once a list of alternatives is obtained, current component supply and lead times can be checked using an on-line availability database, such as Supplyframe – which provides accurate, real-time information from the supply chain.
If a component is determined to be unavailable in the required quantities, a readily-available alternative can be chosen for integration – while still in the design stage.
By leveraging the power of the Internet and collaborative software, we can make sound design decisions that will help manufacturing projects stay on-time and on-budget. We can now put a mature design in the handles of manufacturers, who will be able to produce the product while experiencing a minimum of difficulties, enhancing project profitability.
Listen to the podcast with Susan Kayesar:
Other podcasts in the series:
The supply chain crunch: a temporary trend or transformation driver? With Oren Manor, Director of business development for the electronics industry at Siemens Digital Industries Software.
Effectively Managing Electronic Component Vendors as the Supply Chain Widens with Mark Laing, Business Development Manager at Siemens Digital Industries Software.
3 Creative Solutions for the Component Shortage Crisis with Zac Elliott, Technical Marketing Engineer at Siemens Digital Industries Software
This article first appeared on the Siemens Digital Industries Software blog at https://blogs.sw.siemens.com/valor/2022/10/06/solving-supply-chain-instability-in-the-pcb-design-stage/