Products
3 Strategies for Coping with Supply Chain Instability and Component Shortages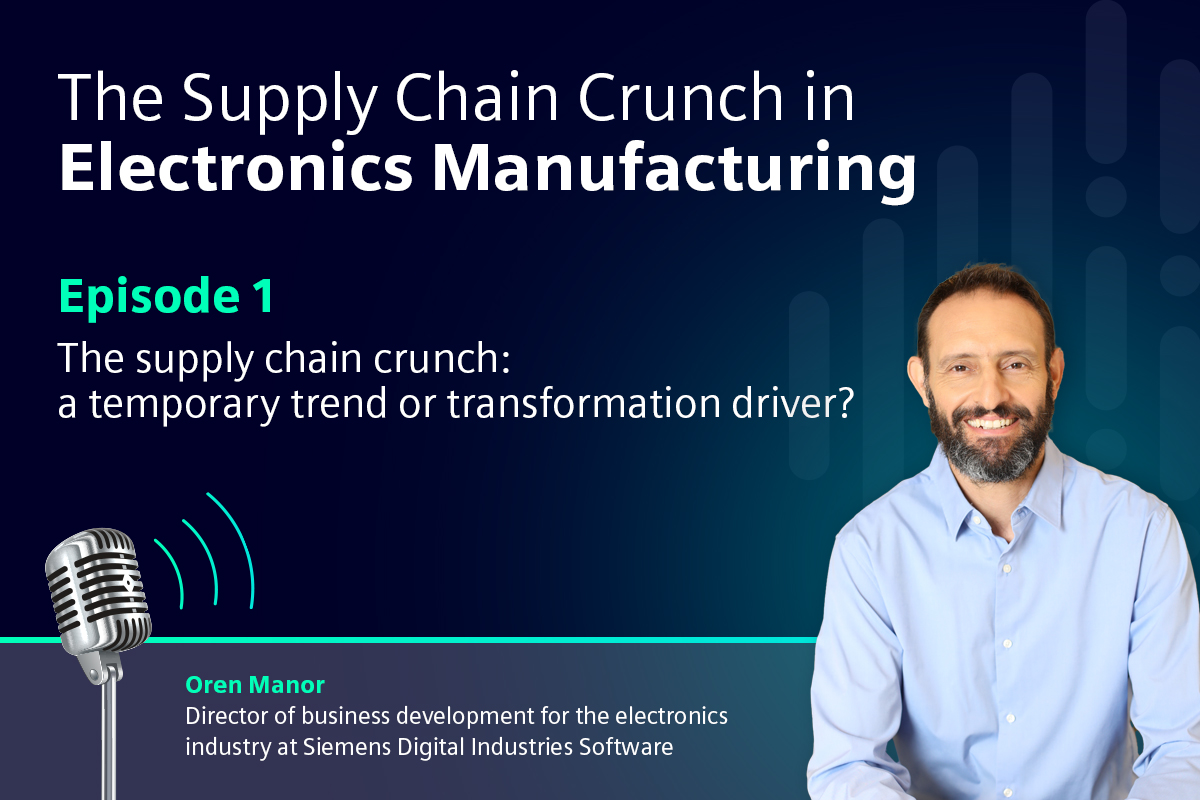 In the first of a series of WNIE podcasts, Oren Manor – Director of Business Development for the Electronics Industry at Siemens Digital Industries Software – speaks with host Karen Pearman about supply chain disruptions, how they are affecting the electronics manufacturing sector, and how product designers and manufacturers can adapt to the increasing instability in component availability.
Listen to the podcast on WNIE website, on in the player below.
In the podcast, Mr. Manor explains why component shortages are still an ongoing challenge, and notes that these shortages are likely to intensify due to the following trends:
While the demand for integrated circuits and discrete components is on the rise, as well as investment in new semiconductor fabs, the building of new manufacturing infrastructure will take several years.
The COVID-19 pandemic continues to cause supply chain instability, as new lockdowns are still enforced and production is halted.
The dynamically changing labor market has further added to instability, as component manufacturers struggle to retain highly-qualified personnel.
In an effort to adapt, manufacturers have adopted strategies for keeping crucial components with long lead times in stock – such as by placing high-volume orders and maintaining large inventories. This expensive, inefficient approach was considered acceptable for a limited number of components. However, as lead times increase for ALL components, this approach becomes unsustainable.
In the podcast, Mr. Manor offers the following proactive strategies for maintaining manufacturing agility in the face of the current supply chain instability, as well as the ability to handle future disruptions as they occur.
"Left-shift" component decisions. Check component availability during the design stage, making it an integral part of the design process. For each component, a list of alternatives should be specified, helping to avoid the need for a new ECO. Note that shortages may be geographical, with availability in Europe and scarcity in Asia, for example.
Perform design simulations. A DFM analysis should be performed on all parts and alternatives, making sure that the components are suitable for the manufacturing process (such as assembly and testing). Valor Parts Library, Siemens' comprehensive component database, can be used to ensure that each component's geometry is compatible with the current design.
Process digitalization. Despite careful planning, component shortages may occur late in the manufacturing process. By using software to implement a "digital twin" of the process, manufacturers can quickly make adjustments without sacrificing on quality – by migrating production between geographical regions, or by rapidly issuing ECOs.
Listen to the podcast with Oren Manor:
Next in the podcast series:
Solving supply chain instability in the PCB design stage With Susan Kayesar, PCBflow Product Manager at Siemens Digital Industries Software.
Effectively Managing Electronic Component Vendors as the Supply Chain Widens with Mark Laing, Business Development Manager at Siemens Digital Industries Software.
3 Creative Solutions for the Component Shortage Crisis with Zac Elliott, Technical Marketing Engineer at Siemens Digital Industries Software
This article first appeared on the Siemens Digital Industries Software blog at https://blogs.sw.siemens.com/valor/2022/10/03/three-strategies-for-coping-with-supply-chain-instability-and-component-shortages/