Thought Leadership
Accenture and Siemens – Transforming Product and Production Engineering on the Cloud
Manufacturers have harnessed desktop digital tools, integrating them into their development processes to mitigate the challenges of developing today's products. These challenges are myriad. Product design is increasingly complex, demanding enhanced security, sustainability, and new, market-driven functionalities on ever-more aggressive schedules.
Navigating this complexity requires today's multi-disciplinary design engineering teams to collaborate across departmental, organizational, and geographic boundaries. Digital technologies from Siemens on the cloud support these needs, providing a strong digital path forward for companies of all sizes. This post discusses how the cloud can enhance Siemens' digital solutions. It also examines Accenture's role in delivering such solutions to progressive companies across the globe.
Siemens' Digital Tools on the Cloud
Digital engineering tools from Siemens on the cloud can revolutionize product development. Being on the cloud allows on-demand computer system resources for data storage and computing power. This is truly a game-changer, especially when you consider that the process of creating and validating product designs creates a tremendous amount of data.
When it can be properly leveraged, that data is a treasure trove of information that can help engineers optimize their designs. Unfortunately, too often, engineers must spend their valuable time hunting for meaningful insights in a sea of disorganized product lifecycle data. But when engineering data is managed on the cloud, engineers don't have to hunt for the data they need. Instead, they can maximize the value of their design data by putting collected insights to work.
Siemens' digital engineering tools are evolving rapidly. Each new release delivers additional capabilities to help engineers solve more problems and work more productively, especially in collaborative situations. When these tools are connected through the cloud, companies can ensure all engineers and design stakeholders are working with the latest versions to come up with designs that meet all requirements.
Bringing a complex product to market is an arduous task that cannot be completed by a single individual. Companies find the most success when design teams can work in a collaborative manner across the product lifecycle. The cloud facilitates more effective collaboration. Digital solutions on the cloud allow all stakeholders to access the most accurate data about a particular design and communicate easily as they work on it together. Furthermore, the cloud makes it easy to add more users to a project, regardless of their location. This offers companies a scalable way to use digital tools.
Progressive engineering organizations use multiple systems and solutions to run their businesses, including platforms like product lifecycle management (PLM), enterprise resource planning (ERP), and customer relationship management (CRM) solutions, just to name a few. Whatever system they use, companies need engineering data to be available on demand in a consistent, accessible format. Cloud technologies support this kind of seamless data availability so engineers—and engineering executives—have the data they need to find success.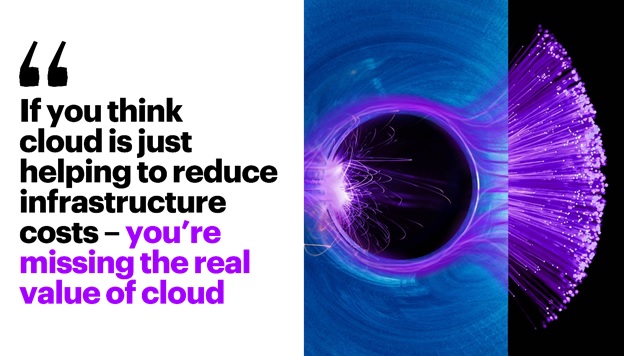 Accenture – Implementation Partner for Siemens' Digital Solutions
Progressive companies can benefit when they use Siemens' digital solutions on the cloud. Many engineering executives are wondering how they can leverage this success by moving their own product engineering capabilities to the cloud. Unfortunately, many companies lack the information technology (IT) expertise to easily make this transition. They also worry about the disruption to existing work as they move to cloud-based solutions. Manufacturing organizations need a trusted and experienced partner that can transition their product engineering teams to cloud-based solutions and services. Accenture is that partner.
Accenture is a global professional services company with leading capabilities in digital, cloud, and security solutions. With experience and skills that span more than 40 industries and nearly 700,000 people, Accenture offers services in business advisory, marketing, technology, and operations outsourcing, as well as engineering and manufacturing technologies. Accenture and Siemens are closely cooperating to support these technologies, using the power of data and digital to help their clients re-imagine the products they make—and the processes involved in making them.
Managed Services from Accenture
Accenture and Siemens can provide manufacturing organizations a quick and seamless transition to cloud-based solutions. Engineering executives are keen to minimize disruption to their operations during this transition. Accenture can help here.
Accenture provides managed services for Siemens solutions through ready-to-use tools that accelerate deployment and streamline operations. These managed services make the transition simpler and more efficient. Furthermore, companies don't need to worry about upgrading their Siemens solutions during this process because Accenture will do this for them, ensuring that the sanctity of all existing data remains intact.
Accenture also adds value by setting up the appropriate cloud infrastructure for clients. Accenture is well known for providing top-notch services around cloud advisory and data center ownership, so companies can be assured they are investing in an optimal, cost-effective cloud infrastructure that will best support their product engineering needs.
Finally, it is also important to highlight security when talking about cloud solutions. The security of engineering data is a top concern for manufacturing organizations. The engineering data produced using Siemens solutions constitutes significant intellectual property (IT) for any given company, and those assets need to be protected. Accenture manages the security and monitoring of all product and production engineering data on the cloud. It also ensures continuous, secured access to Siemens solutions, so clients' work remains uninterrupted during the transition to new infrastructure and cloud-based solutions.
Cloud-Powered Product Engineering from Accenture and Siemens
Siemens and Accenture have joined forces to deliver cloud-powered engineering to manufacturing organizations. Their digital solution offerings extend from product engineering to production engineering—all of which are supported by cloud computing technologies. Today, those solutions cover a wide range of Siemens products, including Teamcenter for PLM, Opcenter for manufacturing operations, NX for product design, Mindsphere for industrial IoT, and more, all part of the Xcelerator portfolio of software, services and an application development platform.
Manufacturing companies can rely on Accenture to be a trusted partner as they adopt these solutions. That partnership can serve them for both current and future needs. As new Siemens digital solutions come to market, Accenture will be ready, willing, and able to deploy these solutions to the cloud with zero disruptions to current operations. Together, Siemens and Accenture provide a one-stop experience to manufacturing organizations so they can have the best available tools and capabilities with guaranteed delivery ownership and accountability. It's a win-win.
Want to learn more?
Digital Engineering and Manufacturing Services | Accenture
Co-authors of this Blog:
Matthew Thomas, Managing Director, Global Engineering Digitization lead, Accenture
Caroll Jarvis, VP Global Alliance Sales, Siemens Digital Industries Software
This article first appeared on the Siemens Digital Industries Software blog at https://blogs.sw.siemens.com/thought-leadership/2022/05/25/accenture-siemens-transforming-product-production-engineering-cloud/