Digital manufacturing software changes for a smart factory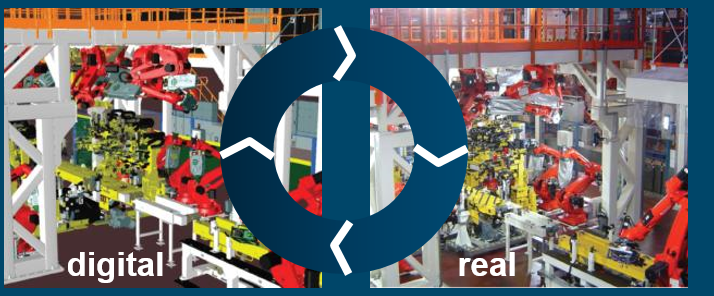 By: Wolfgang Schloegl and Christian Heck
What would it mean for smart manufacturing's future if its engineering and validation could happen by being fully integrated and including all involved planning and engineering domains? What kind of holistic planning data could offer this during a production's lifecycle?
There's still quite a bit of work left to do with digital factories before most companies reach that point. If you look at digital factory implementations today, you'll recognize three major deficits that lead to inefficiencies and waste. These deficits hinder the digital factory to unleash its full potential.
First smart factory hurdle: No common databases. In digital manufacturing, the main tasks are planning, engineering and simulating. Although several simulation technologies for different use cases are well-established – for example, for kinematics simulation and robotics, or for discrete event simulation – there are still no common databases together with the engineering tools.
For example, the plant structure containing the data that's the basis for most planning tasks is seldom directly synchronized with changes that happen during simulation. This hasn't yet happened because planning and simulation tools were developed independently and with one-way interfaces.
For a long time, a common platform for all product, process, resource and plant data for all authoring tools was out of reach. There were planning databases, engineering and simulation tools and still in parallel a huge amount of spreadsheet-based data. All contained data for a project is interconnected.
One result is the input for others to continue, but not only in one direction. Changes always happen, and you need feedback loops and round-trips. This isn't possible with current the established systems and workflows this is not possible. A new type of data backbone is necessary that can handle and manage the needed for smart factory technology. This would increase the engineering efficiency dramatically and enable companies to deal with the complexity of the upcoming projects.
To handle and manage smart factory technology, you need a new type of data backbone.
Second smart factory hurdle: No electrical or automation data. Most digital factories currently contains product, process, resources and plant data – but they don't include the electrical and automation data to run the plants that would actually bring a digital factory to life.
The electrical and automation data is missing so far because they're usually defined in later project stages, and this definition usually comes from separate departments or suppliers in a waterfall-structured organization. Electrical and automation data also have a different content and structure than more mechanically-driven digital factory models.
Software companies mostly lack all needed competencies to integrate this data in a mechatronics approach that all engineering domains could consistently use. Major portions of crucial, necessary data are still not part of the digital factory; they're handled in offline systems, which lack strong interfaces and contain no or little change management.
This also means that today's virtual commissioning tools are decoupled from the digital factory models and need to be fed through data interface, even though they need electrical and automation data. This decoupling becomes a source of errors and inefficient change management, which makes companies less efficient at responding to rapid market fluctuations.
So companies should increase their efforts working on mechatronics. This means that interdisciplinary teams need to be built to align all aspects of the respective production systems. The effort to create modular mechatronics building blocks pays off. Those modules should include the best practice and are tested. This reduces aliment efforts in the projects and increases engineering quality. Based on such modules, the simulation models can also be quickly configured for virtual commissioning.
Third smart factory hurdle: No actual production updates. Today's digital factory tools are mainly used until the commissioning phase of a production system, and they aren't updated according to the actual production.
During production, an organization's own planning and optimization tools will often come into play. The digital factory models that took lots of effort to build become useless during production: they aren't up-to-date with the changes that happened directly on shop floor.
If these models need to be used again for the next planning or integration project, for a study or for an optimization task, they would need to be manually updated because no technologies are implemented to automatically align the digital models with the real production.
If a smart factory is implemented holistically, these models could be used to synchronize the digital factory and the real factory by using the control programs and network information on the shop floor. Those exactly represent the current state of a production, and this information should have its counterpart in the digital models. The result would be the connected digital twin.
When a smart factory is implemented holistically, models should result in a truly connected digital twin.
This concludes part two of our series on how smart factories can help manufacturers build more complex products. In part three, we discuss how a certain systems engineering process can help you make these smart factories a reality.
About the authors
Dr. Wolfgang Schloegl leads the Digital Engineering department in the Siemens Digital Factory division and is amongst others responsible for the software Automation Designer. He also works on providing integrated solutions of Siemens PLM Software with Siemens automation systems. He has been with Siemens since 2003 and previously worked in planning and digital manufacturing for automotive production. Wolfgang was formerly with Daimler in Sindelfingen, Germany, where he worked on knowledge management for production planning, and later, in project management for assembly planning. He studied production engineering at the University of Erlangen-Nuremberg in Germany, where he earned his doctorate in the area of simulation for discrete production.
Christian Heck is a Production Systems Engineering Solution Manager for Siemens PLM Software, a business unit of Siemens Digital Factory Division. He has more than 14 years of experience in automation engineering and commissioning, as well as developing cloud-based industry applications. Heck gained much of his experience working for Siemens Oil and Gas Offshore in Norway, where he worked as System Responsible for several major oil and gas projects. His previous experience with Siemens includes leading a Service Line for optimizing production plant performance based on data analytics applications. Heck holds a Bachelor of Science degree in automation engineering from the University of Cooperative Education in Karlsruhe, Germany.
This article first appeared on the Siemens Digital Industries Software blog at https://blogs.sw.siemens.com/thought-leadership/2017/07/19/digital-manufacturing-software-changes-for-a-smart-factory/