What you need to know about Siemens Intosite cloud-based web app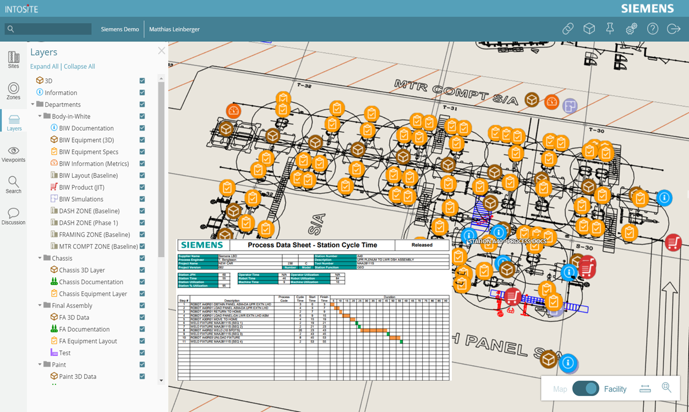 What makes Siemens' Intosite application so great? It extends collaboration between functions within a company, factory and across factories for increased productivity through quick and natural access to production information using a digital twin.
Intosite is a cloud-based web application that provides a 2D/3D/panoramic representation of a production facility; presents it in its geographical context and allows you to navigate through the facility in the simple and familiar way you navigate Google Maps™.
Intosite provides simple, intuitive access to information from any IT system. You can view manufacturing and facilities information managed using Teamcenter® software.
Intosite provides a product lifecycle management (PLM) smart connected map for manufacturing enterprises. It facilitates a virtual tour of your facilities using rich visualization techniques, with the ability to get relevant information by simply clicking on visual tags that are connected to PLM and other information technology (IT) sources.
It allows people to access, author and interact on manufacturing issues in the context of their factory location and by leveraging connected information. It fosters collaboration, standardization and sharing of manufacturing knowledge.
Intosite deploys as a software as a service (SaaS) application, meaning Siemens PLM Software hosts the application and the associated data on the cloud, and customers can access the application via a web browser. So customers do not need to invest in hardware or handle application installation, maintenance and support.
Connect PLM information to the factory
You can share information, such as future plans, studies and reports, between departments and enable more collaboration and cooperation. Using Intosite helps you harness the wisdom of crowds by allowing people in the field, as well as in factories, to share their best practices, tips and tricks and comment on data posted by central planning.
Use Intosite to represent existing and new factories
Factory employees can enjoy simple and intuitive access to up-to-date digital manufacturing and production information from the shop floor, including:
Machine information, including movies
Station performance analytics as well as station capacity and constraints
Equipment setup instructions or visual aids
Live information from planning checklists or machine status
Use Intosite to virtually represent new production facilities before they are operational and gather feedback on the building progress, new design or to train employees.
Manage Information about Assets and Systems
Using Intosite, you can visually plan maintenance operations globally and remotely, even for assets that reside in hard to access locations. Having location based information helps to understand the exact status of the plant and its facilities. At any virtual facility location engineers or other team members can add visual tags to the 3D facility representations in Intosite – just as they would in Google Maps – and upload/download content such as videos, documents and images to these visual tags.
Through its unique, visually-oriented and straightforward interface, Intosite supports effective maintenance planning and service execution activities helping to eliminate faults and damages.
Engineers and planners can check various aspects of their plan (for example, ramp-up scenarios, production readiness, maintainability and support).
System requirements
Browsers: Chrome, Firefox®, Edge
Benefits
Improves efficiency of production enterprises by facilitating navigation of factories, assets and related Information
Extends collaboration between different functions within a company, factory and across factories
Increases productivity by giving quick and natural access to a variety of production and quality information
Improves process planning by enabling central engineering to virtually understand the factory context, leveraging as-built know-how for future planning
Streamlines ramp-up of new production processes by enabling early sharing of new process studies and documents, making it available to worldwide factory personnel
Promotes knowledge and standardization by allowing sharing of local best practices across the organization
Features
Navigation of production facilities, leveraging worldwide map, 2D facility layout, lightweight 3D representation and panoramic images
Creation and sharing of visual tags (placemarks) on the Intosite map that leads to information such as URLs, files or configured data from IT systems
Organization of visual tags with a layering scheme that conforms with the business logic of your company
Advanced search for placemarks, addresses and geographical coordinates
Simple access to information from Teamcenter, MindSphere, SharePoint, .NET applications and other IT systems
Discussion panel about information uploaded to Intosite with chat functionality and email alerts
Variable visual tags (status placemarks) connected to dynamic events from machine status or planning checklists for production readiness
Watch this video, 'Master Your Digital Transformation,' to see Intosite in action.
This article first appeared on the Siemens Digital Industries Software blog at https://blogs.sw.siemens.com/tecnomatix/what-you-need-to-know-about-siemens-intosite-cloud-based-web-app/