Products
The urgent necessity of digital transformation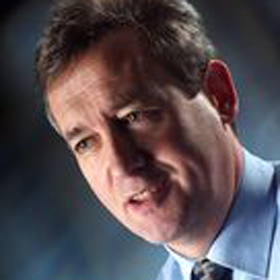 Eric Gautier, EMEA director of manufacturing business development for Siemens PLM Software, contributed to the featured article, "The urgent necessity of digital transformation," which was recently published in L'Usine Nouvelle. L'Usine Nouvelle is a weekly French business magazine that covers business and technology. In the publication, Gautier explains that the sooner companies digitalize their engineering and manufacturing processes the stronger they will be able to counter attacks from competitors. He describes how Siemens aims to help companies meet the challenge with its Smart Innovation Portfolio.
The urgent necessity of digital transformation
A strategic initiative to boost innovation
"It is crucial that our customers rapidly engage in the digital transformation of their enterprise ; it's for them the best way to remain competitive in front of new entrants fully leveraging the capabilities from digital technologies," states Eric Gautier, EMEA director of manufacturing business development for Siemens PLM Software.
Similarly to the Internet which has enabled the emergence and tremendous expansion of low-cost airlines companies, the advent of digital technologies (cloud, 3D printing, advanced robotics, big data, etc.) today puts traditional companies under the threat of new entrants offering similar products at lower price and a decent quality.
"With the advent of digital technologies, these new start-ups can, with a different business model and reduced constraints, rapidly conquer markets and thus endanger traditional companies," adds Gautier.
"So the sooner our customers will digitalize their business processes, the stronger they will be to counter attacks from those new competitors. That is also a way to continue strengthening their competitiveness."
A new offering: the "Smart Innovation Portfolio"
To face this challenge, Siemens PLM Software, a major PLM player, offers solutions for companies to digitalize their engineering and manufacturing processes. "We are a true long-term partner of our clients," states Gautier.
The company bases its Smart Innovation Portfolio on four pillars: a user-friendly UI offering to provide engaged users the right information at the right time in the proper context; data models always more intelligent and reflecting the reality of the industrial world; a scalable, easy to implement system; and finally, the differentiating ability to truly realize innovation which materializes with the actual product manufacturing.
"We ensure an end-to-end digital continuity, from product design to its recycling through manufacturing engineering, production and maintenance," said Gautier. "This global approach supports the continuous improvement strategies of manufacturers."
Virtual development and real production
In the upstream phase of requirement management and functional study, the Smart Innovation Portfolio enables manufacturers to conduct numerous simulations based on models that we can then confront with real tests to refine their reliability and precision.
In the manufacturing engineering phase, Siemens PLM Software provides a thorough Digital Twin of what the actual production environment as well as product will later become. Skoda which uses Siemens' Virtual Commissioning solution indeed saves three weeks in delivery time per station on a line counting tens of stations.
Thanks to this technique, control and mechanical engineers collaborate and face almost no issues in physical commissioning enabling a faster production launch; this results in considerable up-time for machines in the plant. "Integrating virtual development and real production enable this client to reduce up to 80% of production down-time," states Gautier.
Productivity gains
During the final phase of production itself, Siemens customers use two types of software tools: MES (Manufacturing Execution System) which delivers among others a full traceability of product manufacturing and SCADA (Supervisory Control and Data Acquisition) which captures in real-time hundreds of parameters for each machine that fuels MES.
"We can always tell at any point in time the WIP (Work In Progress) of any given order," says Gautier. "And we address the Smart Factory challenge consisting of fully leveraging the advantages of a mass production while heavily customizing the product."
Thanks to these solutions, Siemens' customer Nissan has reduced its development time from 20 to 10.5 months. On its side, Duqueine, an aerospace supplier and Siemens customer, has enjoyed significant productivity gains and is more comfortable in its ability to meet delivery deadlines and to mitigate risks, while better sharing information between its multiple production sites.
This is great customer feedback for Siemens PLM Software, according to Eric Gautier who assures that, "the customer still leads its innovation process but thanks to our portfolio, he can realize it faster and open up to new horizons (disruptive innovation)."
For more information on the Smart Innovation Portfolio from Siemens PLM Software, please visit this dedicated webpage and view the Smart Innovation infographic. Let us know what you think of our Smart Innovation Portfolio strategy.
Check out Siemens' Manufacturing 360 tablet app!
Explore the world of digital manufacturing. See how Siemens' software
for part and assembly manufacturing enable more efficient and nimble operations.
Download the FREE Manufacturing 360 app from Google Play or the Apple Store.
This article first appeared on the Siemens Digital Industries Software blog at https://blogs.sw.siemens.com/tecnomatix/the-urgent-necessity-of-digital-transformation/