Products
Jack Version 8 is now available!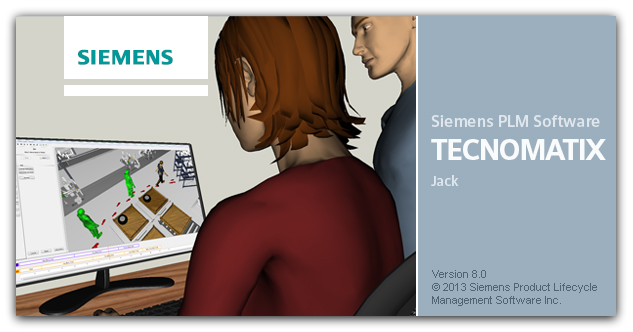 Jack can be used to simulate, test, improve and refine product designs and industrial tasks using a variety of analysis tools.
In this release, there are enhancements throughout the product. Here are some of the highlights:
The totally new Human Control Panel now includes auto-grasping and braced posture prediction.
The Task Simulation Builder (TSB) has been redesigned to allow much more control over simulation authoring and editing.In TSB you will also find two new ergonomic analysis tools; 1) real time fatigue analysis and 2) low back cumulative loading.
An interface to the Microsoft Kinect device is now available and offers a unique way to posture your Jack and Jill figures, including voice commands.
The Collision Detection module has been enhanced to work with JT geometry and its new user interface offers a friendlier way to evaluate potential collisions.
For motion capture users, Jack now offers an approach to track subjects using a small set of markers in combination with posture prediction techniques, known as Partial Body Tracking.
For more information on this exciting new version of Jack, please see the product release notes.
Webkey holders can download the full Jack release from the Global Technical Access Center (GTAC) products download site located here: http://www.siemens.com/plm/support.
On behalf of the entire Tecnomatix Human Simulation Products team here at Siemens PLM Software, I hope that you will enjoy this new release of Jack and all that it has to offer!
This article first appeared on the Siemens Digital Industries Software blog at https://blogs.sw.siemens.com/tecnomatix/jack-version-8-is-now-available/