Highlights from Plant Simulation 2015 Worldwide User Conference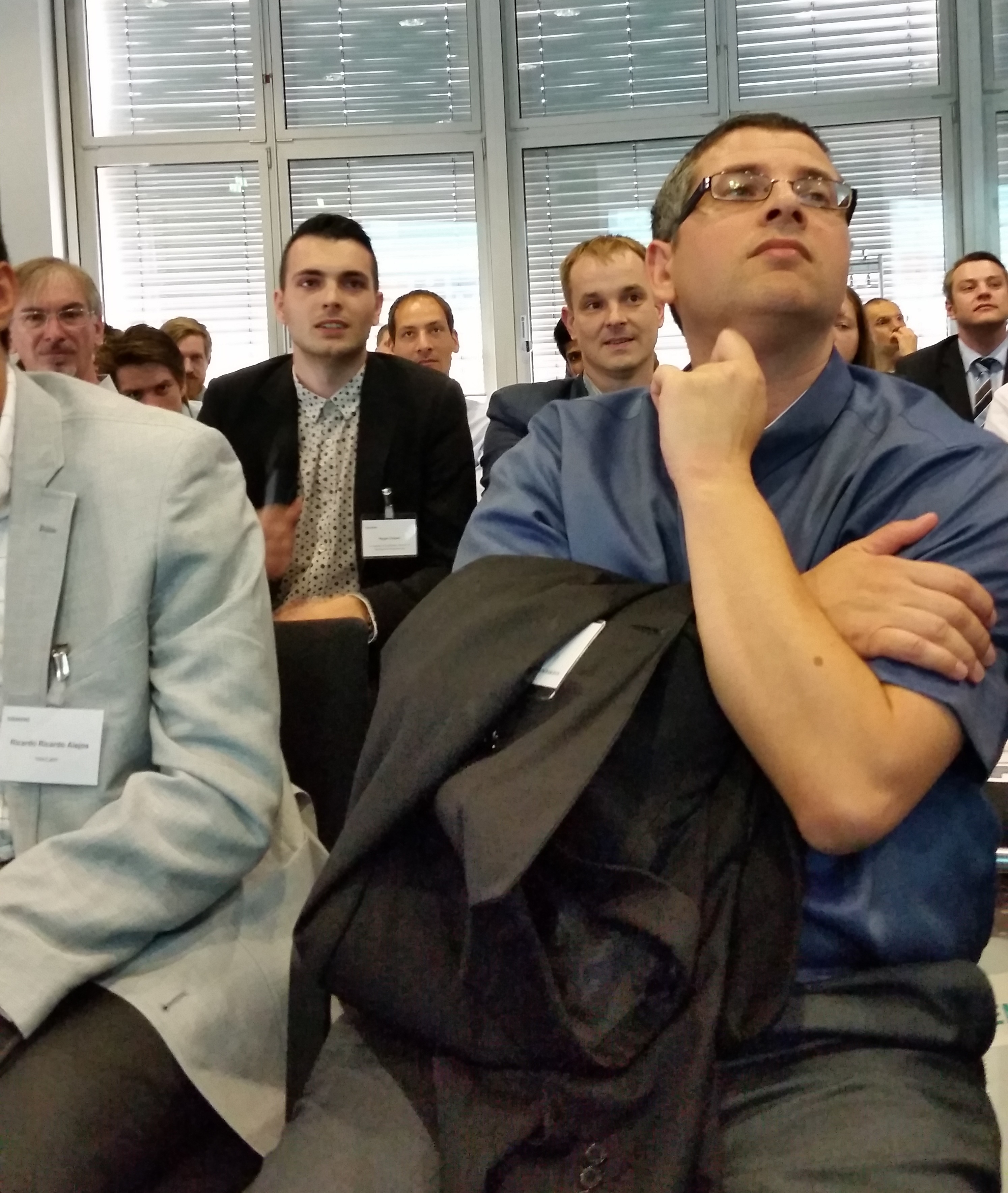 Did you miss the Plant Simulation Worldwide User Conference in beautiful Stuttgart, Germany? If so, we have you covered! Here are some of the many highlights of the big three-day event from Monday, June 15 through Wednesday, June 17. You can view presentations (PDF versions) from the conference in the Tecnomatix Knowledge Base, use search term, "PSWUC15"
Monday, June 15 – Production facilities tour at HOMAG AG, Schopfloch, Germany.
Conference attendees were treated to a two-hour tour of the state of the art production facilities of HOMAG AG, the world's leading manufacturer of machines and equipment for the woodworking industry. Prior to the tour, Mr. Michael Kratzert of HOMAG invited us to enjoy beverages in the company's canteen during a presentation about HOMAG's impressive history and how their factory operates. During the guided tour of the manufacturing facilities, we learned how HOMAG offers its customers perfectly aligned solutions, from the stand-alone machine through to complete production lines for the woodworking industry.
Tuesday, June 16 – Day 1 of Conference Sessions
Siemens' Matthias Heinicke opened the conference by welcoming over 220 plant simulation experts from over 2 dozen counties and introducing University Professor Dr. -Ing Jochen Deuse, Director of the Institute for Production Systems, Technical University of Dortmund, Germany. Dr. Deuse prepared a 30-minute talk about how plant simulation and data analytics can push the limits of lean thinking. That was followed by a high-level recap of the newest features and capabilities in Tecnomatix Plant Simulation presented by Dr. Georg Piepenbrok. Georg also gave the audience a glimpse of what new capabilities can be expected in upcoming versions of the software. Customer Michael Kratzert from HOMAG then presented a case study about how they have implemented Siemens Plant Simulation throughout their facility. After the lunch break, attendees had the opportunity to participate in 12 different sessions led by Plant Simulation customers and experts within Siemens. Participants were highly engaged in the sessions and took full advantage of the question and answer time following each presentation, and continuing conversations into the coffee breaks. The day concluded with an elegant jazz dinner.
(Above: Attendees ready for day one to begin)
(Above: Matthias Heinicke welcomes the 220+ attendees)
(Above: Siemens' Matthias Heinicke )
(Above: Plant Simulation experts continue the conversations during the morning break)
(Above: Professor Ing Jochen Deuse engaged the crowd with his insights about how to push the limits of lean thinking)
(Above: Dr. Georg Piepenbrock impresses the crowd with the features and capabilities of the newest version Plant Simulation)
Wednesday, June 17 – Day 2 of Conference Sessions
Day two of the Plant Simulation User Conference began with an exciting presentation by Siemens' Ulrich Rossgoderer about the Industrie 4.0 initiative, followed by a brief 30 chat by Matthias Heinicke on Siemens' exciting advancements in pointclouds in plant simulation. Conference attendees had the opportunity again to select from over 15 different sessions on this day. Today's sessions were more technical in nature but that didn't stop our expert plant simulation attendees from asking questions, debating topics, and bringing their real world experience to the floor. We are thrilled to have joined together so many brilliant people this week to discuss the state of plant simulation and visions for its future. We look forward to another great conference in 2016.
(Above: Samuel Schafer talks TeamCenter logistics: Combining TeamCenter with Plant Simulation)
(Above: Plant Simulation experts share their ideas)
If you would like to learn more about Siemens Plant Simulation software and what it can do to increase your productivity, start by viewing an informative webinar and reading a great case study. Let us know if these are helpful to you.
This article first appeared on the Siemens Digital Industries Software blog at https://blogs.sw.siemens.com/tecnomatix/highlights-from-plant-simulation-2015-worldwide-user-conference/