Products
Discover what's new in Tecnomatix 2301 (March 2023)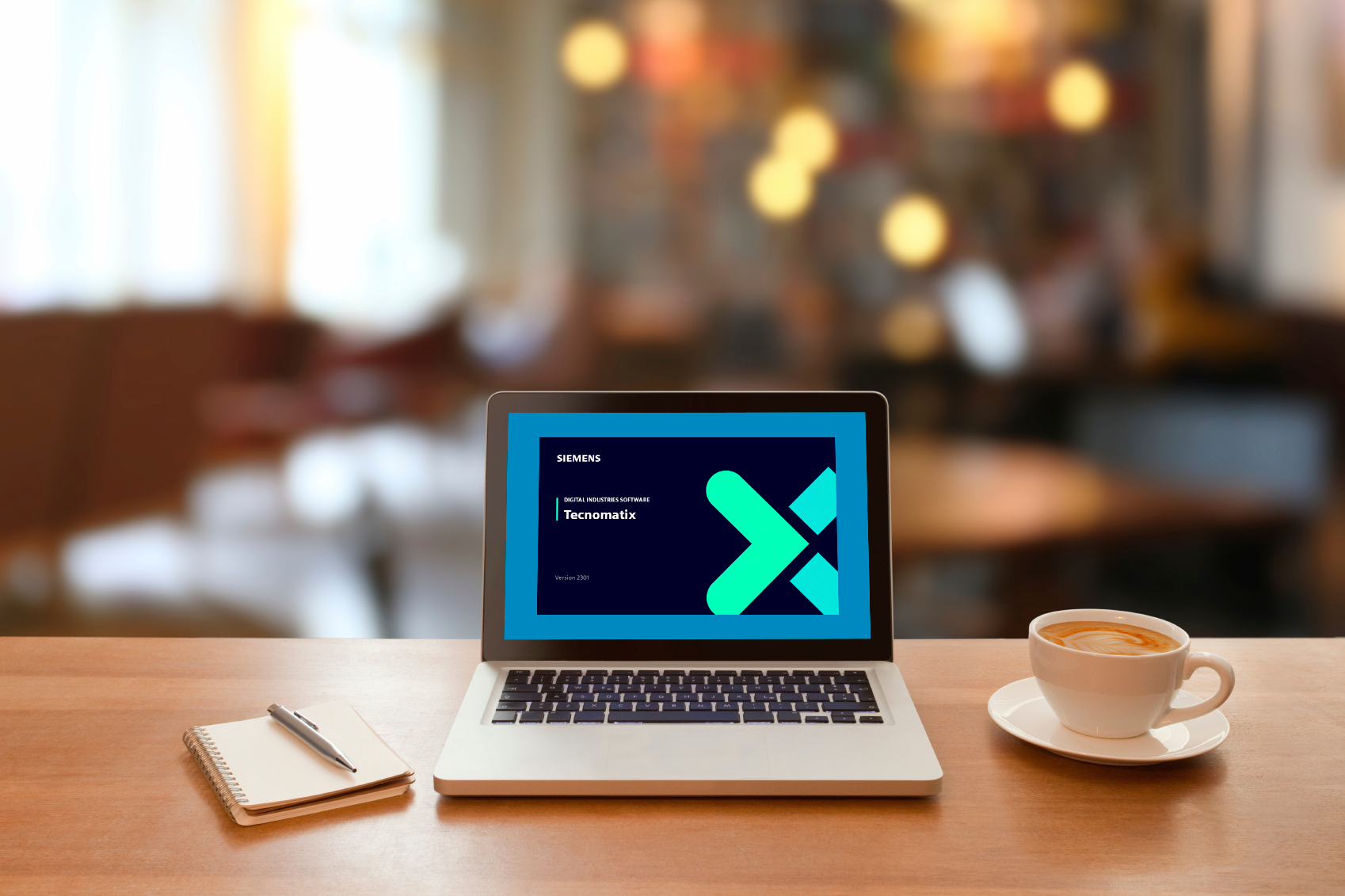 Digitalization for advanced manufacturing.
The Tecnomatix® portfolio delivers advanced digital manufacturing software to empower businesses across diverse industries and sizes. Tecnomatix 2301 launched recently with several exciting new advancements in the areas of Teamcenter connectivity, UI updates, robotics simulation, offline programming, virtual commissioning, human simulation and virtual reality.
In this blog, we explore how the Siemens Xcelerator portfolio, including Tecnomatix digital manufacturing software, helps companies minimize manufacturing risks and improve their production operations. Siemens Xcelerator is an open digital business platform that enables customers to accelerate their digital transformation easier, faster and at scale. Similarly in Tecnomatix 2301, explore how the latest advancements help enable companies do just this by leveraging digital manufacturing software to improve business now and sustain it for the future.
The latest version number for Tecnomatix signifies the year and month of the release. For instance, Tecnomatix 2301 refers to the January 2023 release. As always, we are thrilled to bring these latest enhancements to you! 
You don't have Tecnomatix software?


See the highlights from Tecnomatix 2301:
> General enhancements
> Robotics
> Commissioning
> Human-centered design, simulation and virtual reality
General enhancements
The following new capabilities are available in Tecnomatix 2301.
Process Simulate Augmented Reality Digital Twin Alignment
The new Process Simulate Augmented Reality Digital Twin Alignment (DTA) application is an easy-to-use, accurate engineering system to enhance quality, save time and lower costs during commissioning and production ramp-up phases. You can now capture information from real-life production and compare it to digital twins with augmented reality technology and inexpensive equipment, such as a low-cost camera. The uniqueness of the solution lies in the level of accuracy it can achieve, which is better than 1mm. DTA supports three main uses cases: weld point and bolt inspection, asset alignment and cell alignment. By comparing as-designed to as-built production, DTA can help detect differences earlier in the process, reducing the risk of major rework and added costs.
Point cloud
The Process Simulate Point Cloud app now supports up to 126 layers, a significant increase from the previous limit of 6. With this update, you can create more detailed point cloud segmentations using graphical selection or .NET API applications, which enables more accurate issue identification and improved hierarchy control. Additionally, you can work more efficiently with point cloud scan data by segmenting it directly in Process Simulate or using third-party tools. These layers can also be recreated in version 2209.

Camera detection area
The new display camera envelope command helps you adjust camera positions for vision-based applications using the parametric virtual camera, camera 2D viewer and the new 3D detection area.
The graphical detection range is attached to the camera and moves seamlessly with it whether it is being statically adjusted or used in a simulation. By using this graphical detection range, you can better understand the camera's range to achieve the best positions, which makes the process of positioning the camera more efficient and enhances the accuracy of detecting objects in the environment.
Robotics
Process Simulate Robotics helps you to program and validate your robotic processes in a dynamic 3D environment. It includes robotics applications for spot welding, metal processing, drilling & riveting, surface treatment and assembly.
The following new capabilities are available in Tecnomatix 2301.
Path editor
The latest updates to the path editor in 2301 provide impressive enhancements that enable you to directly edit parameter values of multiple locations with greater ease and accuracy. Once edited, the change is applied to all locations, allowing you to put edits into action more readily and delivering greater efficiencies when setting many parameters during path planning. Multi-editing is supported for most column types such as numeric, strings, dropdowns and more. While some columns do not allow multi-editing, it is supported in all controllers.
Realtime Robotics
Realtime Robotics (RTR) 2.0 is a software-only version of the original RTR hardware-based solution available directly in Process Simulate. There is no need to have RTR tool knowledge as you can export data with ease and use the Process Simulate collision functionality set by RTR.
You have the option to install it on a Linux machine or on a Linux partition on Windows 11. Better prepare the data to be sent to RTR through a dedicated dialog resulting in a dramatic reduction in programming time. Set linear motions and RTR will conduct a collision check to ensure safety, not only helping you save time, but also improving accuracy.
Virtual controller (VRC)
We are excited to release a new product in 2301, the ABB VRC Manager, which is a joint venture between ABB and Tecnomatix to provide VRC capabilities for ABB robots. The new product supports virtual time and multi-move technology to work with multiple robots at a time. Unlike other VRCs, this product does not require the use of Roboguide software.
To ensure full alignment between the individual robot capabilities, you can import the data into Process Simulate with supported commands and XMLs in just a few clicks. With the path editor and sequence editor, select which program or sequence of programs the simulation should play while controlling the simulation's speed as well as playing it back and forth. Ensure that the generated program fits the individual robot perfectly, even if the plant uses multiple robots with different capabilities.
Virtual commissioning
Process Simulate Commissioning helps you to run the PLC code that controls the station to validate robot motion, robot logic, and other mechatronic components such as clamps, conveyors, and the entire process sequence. Virtual commissioning works with real PLCs (hardware in the loop, HiL) or virtual PLCs (software in the loop, SiL), or with the Process Simulate Cyclic Event Evaluator/Emulation (CEE) internal evaluation tool.
The following new capabilities are available in Tecnomatix 2301.
Behavior modeling
Process Simulate Virtual Commissioning provides new features for building 3D interactive behavior models. New functions enable you to add graphical, 3D interaction to objects, such as clicking a door to have it opened. Graphical feedback in 3D and better control of actions and motion from SCL blocks is also possible. The SCL debugger has been extended, allowing you to debug function block calls and monitor entire logical statements with the new watch panel.
PLC connectivity
In 2301, you gain a new programmable logic controller (PLC) external connection for Mitsubishi Electric PLCs. This new connection can be downloaded from the Siemens Support Center and installed on any Process Simulate installation at version 16.1.2 or higher. You can create a new type of external connection between Process Simulate and Mitsubishi MELSEC PLCs based on the MC Protocol.
In a previous blog post demonstrating this inter-connectivity between equipment and robots integrated with PLC automation, discover how an automotive engineering company leveraged this approach until a qualified prototype was produced. Ingemat achieved this methodology using Tecnomatix virtual commissioning software with different robot brands such as ABB, KUKA, Fanuc, Yaskawa, and Kawasaki – all this in connection with PLCs issued from Siemens and Allen‑Bradley, as well as custom-defined hardware. As mentioned previously, the Siemens Xcelerator portfolio creates this exact level of openness and interoperability for your technology, as it did between Ingemat and Allen-Bradley, so that you can work more efficiently, not only with Siemens hardware offering, but also with customers, certified partners and other automation providers.
Human-centered design and simulation and virtual reality
Process Simulate Human helps you to eliminate any risk to operators with walk path analysis, reachability tests, vision analysis, and ergonomics assessments.
Process Simulate Virtual Reality delivers an immersive virtual reality environment for better engineering reviews, staff training and realistic process validation.
The following new capabilities were released in Tecnomatix 2301.
Create humans in Teamcenter
While using Process Simulate on Teamcenter, humans and human hands can now be easily created and automatically classified in Teamcenter. This feature is particularly useful while working in a disconnected study, but can also streamline the entire process when connected and offers the flexibility to add and remove humans to and from studies as needed.
Spend less time on the administrative tasks associated with managing humans as a resource in Teamcenter and automate the process, ensuring that the resources are properly classified and sent to the right location.
Hand strength analysis
Given the increased prevalence of hand intensive tasks in the industry, Process Simulate Human now offers a comprehensive analysis of hand-intensive tasks by considering hand strength data for common hand postures. Analyze hand strength based on posture, aperture, surface friction, wrist angle and frequency. This new feature supports ergonomic studies in Process Simulate Human and Process Simulate VR. With the integration of hand strength data, including power grips, ring pulls and a variety of pin grips, you can identify potential ergonomic issues and improve the safety and comfort of workers performing hand-intensive tasks.
Support for VIVE Focus 3 Headset
Process Simulate Virtual Reality can now be used with the HTC VIVE Focus 3 headset and controllers, providing a powerful and flexible hardware solution for businesses. The VIVE Focus 3 is a standalone VR headset that operates wirelessly, which eliminates the need for base stations and provides added convenience. With added support for the VIVE Focus 3, you can experience greater hardware flexibility and select the best VR hardware solution for your specific needs.
Freestyle mode
The virtual reality sequencer in freestyle mode now lets you perform tasks while immersed, without enforcing the order of tasks. Select items from the Process Simulate scene to interact with in VR and choose if you wish to work in a guided or freestyle mode. When immersed, objects can be interacted with in any order, allowing multiple process proposals to be evaluated in one session.
Leverage the various features in the sequencer, including auto grasping, posture definition and sequence saving so your session can be reused or easily shared with others. When Freestyle mode is active, you can define multiple locations to position a single object. When objects are held close to a defined location, the immersed person sees a silhouette of the item they are holding, demonstrating where the object can be placed. If multiple locations are set in the VR sequencer, all can be viewed in VR, which is helpful when experimenting with task order, workstation layout and other scenarios.
—–

These are just highlights of the advancements delivered with the latest Tecnomatix release. For complete details on the new features of Tecnomatix 2301 and its supporting releases, please refer to the release notes and new features presentations offered with the software download.
Don't forget to join the Tecnomatix public community and explore the website for even more exciting developments.
Yours in digital manufacturing,
Kelly
(on behalf of the entire Tecnomatix product team)
—–
You don't have Tecnomatix software?
This article first appeared on the Siemens Digital Industries Software blog at https://blogs.sw.siemens.com/tecnomatix/discover-whats-new-in-tecnomatix-march-2023/