Automotive equipment supplier saves time with Tecnomatix virtual commissioning solutions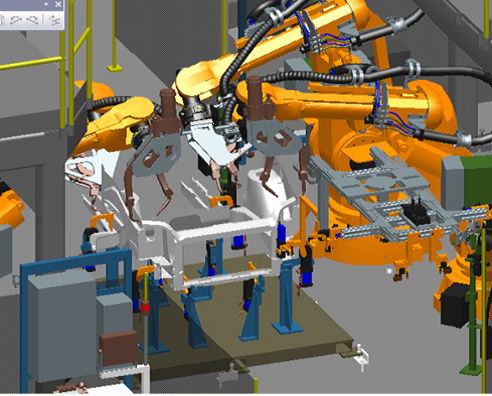 Overview
Guangzhou MINO Auto Equipment Co., Ltd. (MINO) is the largest and leading high-end automotive equipment supplier in South China. MINO leverages Tecnomatix digital manufacturing solutions to realize collaborative planning across the production line and to integrate real production with virtual manufacturing which has led to reduced project cycles, reduced on-site debugging time by 35 percent, faster virtual commissioning and few physical tests.
Problem
Years ago, MINO adopted Robcad software for robotic simula­tion. MINO used Robcad for mechanical simulation and offline robot programming in individual work cells, but the offline programs often required control engineers to debug the control systems on site to properly synchronize the robots and equipment. Using Robcad alone, the company was unable to meet the commis­sioning requirements of an entire complex production line with electronic controls.
Epiphany
To solve their business problems, MINO realized they needed to use a more comprehensive solution to help them leverage accurate process definitions to support regulatory compliance and simulate and synchronize multi-robot and equipment accessibility and operability, among other challenges. MINO adopted Tecnomatix solutions because they provide design, analysis, simulation and optimization capabilities for plants, production lines and work cells, and deliver process innovation by linking all manufacturing disciplines with product engineering, including process layout planning and design, process simulation and validation and manufacturing execution.
Execution
For implementation of the Tecnomatix solution, MINO worked with Siemens PLM Software solution partner Guangzhou Gohope Info-tech, which helped navigate the project and provided training services. Using the body-in-white (BIW) welding line for example, Guangzhou Gohope collaborated with MINO to develop independent welding process planning, design, simulation and virtual commissioning capabilities and conducted training on the software to improve the company's efficiency and quality in body process planning. The collaboration helped shorten manufacturing preparation time on the body production line and improved the capacity of the company's auto welding lines.
Results
Based on the uniform production line planning and simulation platform shared with upstream automakers, MINO is now able to exchange data and collaborate with automakers throughout the planning, simulation and commissioning stages, meeting customer requirements while reducing project cycles by 20 to 30 percent.
The virtual commissioning solution provides a more intuitive approach to offline debugging of programmable logic controllers (PLC) and completes the virtual commissioning of BIW welding lines before getting to the shop floor. Using virtual commissioning before mechanical installa­tion reduces on-site debugging time by 35 percent.
Read the complete customer success story here.
This article first appeared on the Siemens Digital Industries Software blog at https://blogs.sw.siemens.com/tecnomatix/automotive-equipment-supplier-saves-time-with-tecnomatix-virtual-commissioning-solutions/