So, what's new with our asset lifecycle solution?

In September 2019, we introduced our Teamcenter for Capital Asset Lifecycle Management (CALM) solution, you can read more about it here. Now, in our latest release, we're adding additional features to enhance the solution's user experience and functionality. These features are available with our Active Workspace interface, which allows users across the enterprise to easily access and locate relevant asset information within Teamcenter, from any web browser.
Read more about these features below:
Execute capital asset programs more effectively with enhanced dashboards
With our Active Workspace 4.3 release, we've enhanced our program planning dashboards to help you track project execution and delivery in real-time. You can see the progress of events and can navigate to event dashboards to get a complete picture of project performance.
The enhanced dashboards help you understand proposed changes and their impact while enabling you to make quick and timely decisions. You can view the live status of critical issues, changes requests, deliverables, and work packages at both the project and event levels. The ability to navigate to more detailed reports ensures users across the enterprise have all the relevant information at their fingertips.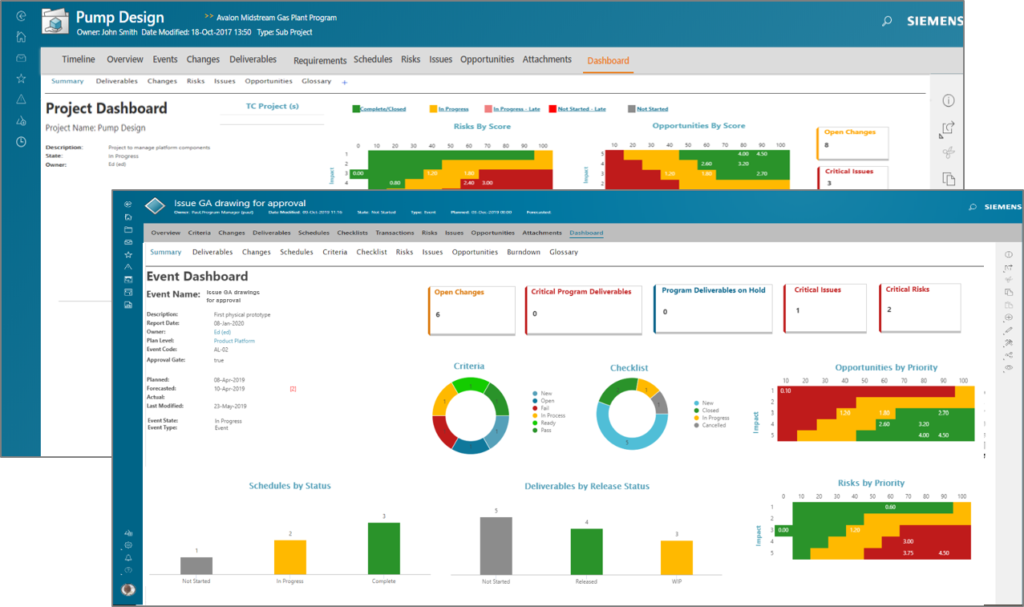 Improved productivity with plant data visualization and user experience enhancements
In the Active Workspace 4.3 release, we've enhanced our 3D viewer performance by up to 70%, helping to reduce data load times and provide a more user-friendly experience. Below are some of the features which help reduce time spent searching, navigating, and visualizing the plant or facility:
By adding viewer pagination support, we are addressing web browser time-out concerns which can occur when large plant/facility models are being loaded and rendered on the user interface. This new feature provides a quicker initial response time and acts as a "visual indicator" that the model is being loaded and rendered.
We've added partition navigation capabilities which allow you to visualize the entire plant/facility model and navigate it based on the physical and functional scheme.
An improved navigation capability has been added which allows much faster navigation between sub-locations, helping to avoid lengthy viewer data load times.
A multiple-selection feature has been added to the existing cross-probing capabilities to help reduce time spent searching for contextualized information. Note, cross-probing is the ability to visualize and associate a plant element with its respective tag and its 1D, 2D piping and instrumentation diagram (P&ID), and 3D views, all in a single interface.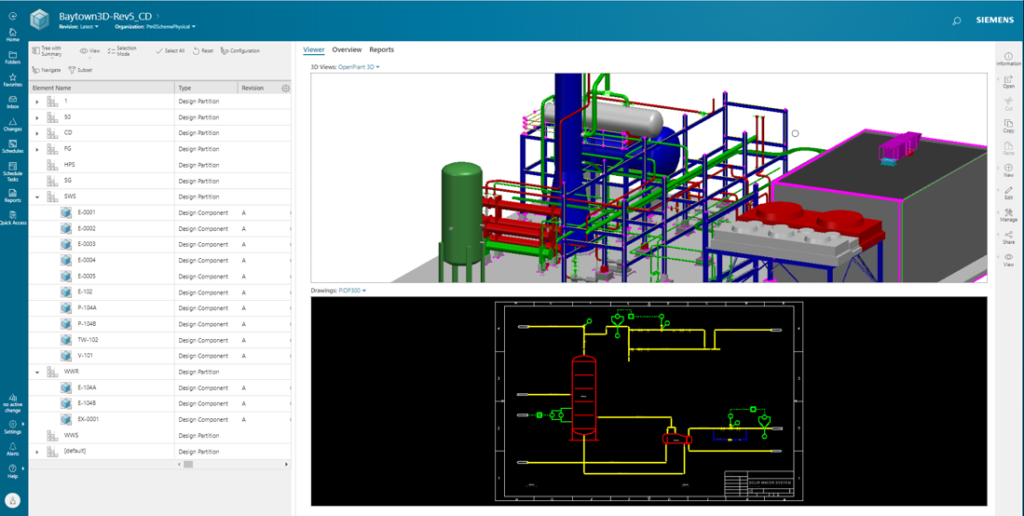 Are you interested in learning more about Teamcenter for CALM?
Check out my previous blog posts here or our energy & utilities industry web page here.
This article first appeared on the Siemens Digital Industries Software blog at https://blogs.sw.siemens.com/teamcenter/so-whats-new-with-our-asset-lifecycle-solution/