Products
Siemens & SAP introduce end-to-end portfolio and project management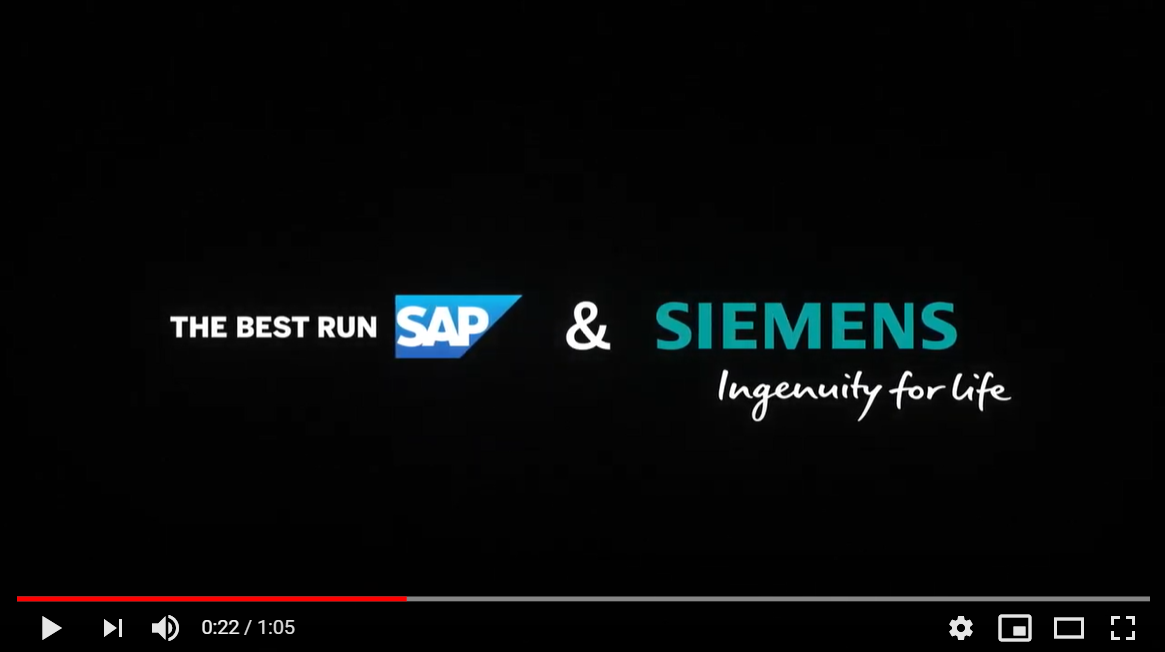 In 1999, Bill Gates authored "Business @ the Speed of Thought" which illustrated the value of information technology, not as an overhead expense, but as a strategic asset for every business organization. In the book, the co-founder of Microsoft wrote, "Information technology and business are becoming inextricably interwoven. I don't think anybody can talk meaningfully about one without talking about the other." And, he goes on to write, "The most meaningful way to differentiate your company from your competitors, the best way to put distance between you and the crowd is to do an outstanding job with information. How you gather, manage, and use information will determine whether you win or lose."
"How you gather, manage, and use information will determine whether you win or lose."

Bill Gates, Business @ the Speed of Thought
Twenty-one years later, it's apparent the information your business produces is a strategic asset. The right information, at the right time, enables you to beat your fiercest competitors, either through innovation or improved profit margin. But, the challenge of Industry 4.0 is the vast amount of information that needs to be managed and contextualized to create these types of opportunities. This is especially true when you look at the complex and distributed development environments in which new products are brought to market.
In August 2020, Siemens & SAP announced a strategic partnership to address the challenges of Industry 4.0. Through this partnership, the leader in enterprise application software and supply chain solutions is partnering with the leader in product lifecycle software and digital transformation. The next-generation of integrated software, resulting from the partnership, opens the door to an improved and unique collaboration between two critical information silos – PLM and ERP. Our goal is to help your organization become more agile and quicker to respond to changing market and business conditions.
So, what does a more agile organization look like? Let's look at just one of our joint solutions to see how it supports agility: Enterprise Portfolio & Project Management (EPPM). Today, when you look at portfolio and project management, there are two primary business processes that organizations often align with – portfolio-driven planning or product-driven planning.
---
Is your organization portfolio or product-driven?
Portfolio-driven planning is a business process originating at the enterprise-level in which a senior planning team evaluates newly proposed business initiatives in the context of currently executing programs/projects as well as currently approved/funded (but not started) initiatives. The initiatives defined at the enterprise level are supported by financial controls, resource capacity analysis, etc. Decisions are made with data and input from business segments such as R&D to approve new initiatives, cancel current programs/projects, or reduce the scope of current or future initiatives. These decisions flow down to the business segments, such as R&D, and they can plan and execute their projects accordingly.
Product-driven planning is a business process originating within the Research and Development (R&D) organization. The R&D organization has autonomy to establish the programs and projects within their domain. However, they require integration with the enterprise systems to ensure financial controls are in place, for resource capacity analysis, etc.
---
And, of course, there are business processes in between. Our EPPM solution supports all these business processes as well as a hybrid – enabling you to quickly pivot as necessary.
The solution supports the entire portfolio and project lifecycle of ERP to PLM business processes and use cases – from ideation, initiative proposal, and portfolio analysis to program planning, schedule management, and task execution with continuous financial and resource performance monitoring. You'll be able to capture the voice of your customer and prioritize the investment strategy in SAP S/4HANA. When it is time to plan and execute the engineering work, the information and processes flow seamlessly to Siemens Teamcenter to help you deliver the right products – on time and within budget.
And, it doesn't have to end here! We believe in continuous improvement by "closing the loop" through the use of the digital twin and concepts such as closed-loop manufacturing (CLM). With our EPPM solution, the project data and information roll up to S/4HANA, where you'll be able to close the loop by conducting reviews of the program and budget performance while adjusting your investment strategy based on KPI's, project outcomes, and corporate strategic initiatives.
Want to learn more about the Siemens & SAP partnership? Check out our recent press release or watch the video below.
This article first appeared on the Siemens Digital Industries Software blog at https://blogs.sw.siemens.com/teamcenter/siemens-sap-introduce-end-to-end-portfolio-and-project-management/