Products
Waste management can mean sustainable energy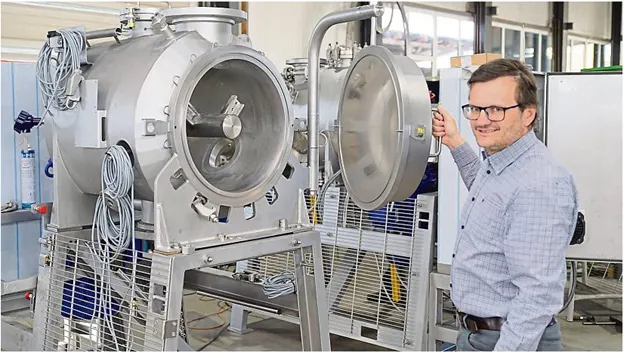 An era of higher-than-ever demand for power in household and industrial scenarios is upon us. As political ups and downs (both international and domestic) continue to change how power is obtained, higher demand means access to energy has become an adapting challenge.
blueFLUX Energy AG, based in Bavaria, Germany (south of Munich), has set out to find innovative ways to dispose of biogenic waste while at the same time generating sustainable energy. Waste management meets energy management as they look to produce systems that convert residues from agriculture, municipalities and industry into high-quality energy sources.
Dr. Ulrich Mach, the COO at blueFLUX, explains, "Our product is a plant that uses a patented hydrolysis process to efficiently convert organically degradable waste into the high-quality energy carriers synthetic coal, synthesis gas, green hydrogen (for industry through to mobility), bioethanol, and biomethane within a few hours and at competitive costs."
While the concept of turning trash into energy isn't new, the approach that the company takes provides a novel way to do so. Their technology is set apart by their decentralized approach in a modular container design. Rather than shipping materials around to processing facilities, their approach is regionally based, making the process more efficient in both material disposal/recycling and generating energy locally.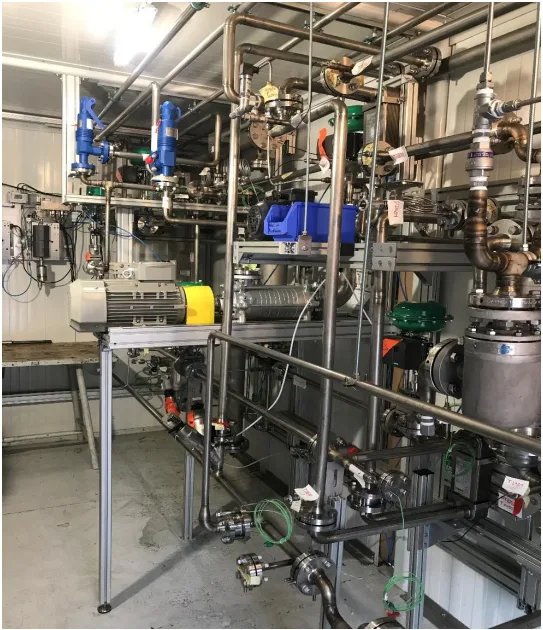 First Steps to Sustainable Energy
blueFLUX Energy may be considered a startup, but their parent company nearby, Holzner Druckbehälter GmbH, has long been in everything from container construction to medical devices to industrial coatings. In 2012, Holzner Druckbehälter began venturing into the field of renewable energies.
"The first project was about microbiological methanation at the biogas plant. After five years, the focus was changed to the cost-effective production of green hydrogen from organic residues and the blueFLUX process was developed," Mach explains.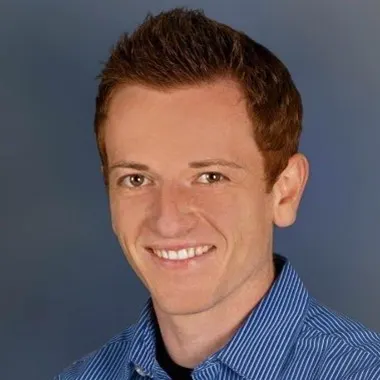 In June of 2020, blueFLUX Energy AG was officially founded to give the product its own platform. The first customers are currently having their projects implemented and the company is setting their sights on integration into agriculture and industry.
"From our point of view, waste management must change from disposal to recycling or refinement. There is great potential in organic waste materials which will play an important role for energy production and climate change." According to Mach, the blueFLUX process makes it possible to use regional material cycles to produce green energy sources. These processes have the ability to be decentralized and CO2 neutral.
As the world begins to move away from fossil fuels, blueFLUX is eyeing the concept of a circular economy, a production and consumption model that involves sharing, leasing, reusing, repairing, refurbishing and recycling existing materials and products for as long as possible. The company believes that using a decentralized model of energy production is a key part of this circular economy.
Building a Sustainable Energy System
According to blueFLUX, their plants have the ability to convert biodegradable waste materials into high-grade energy carriers within just a few hours. The flexibility of the system means it can be adapted to a wide array of situations, environments and materials.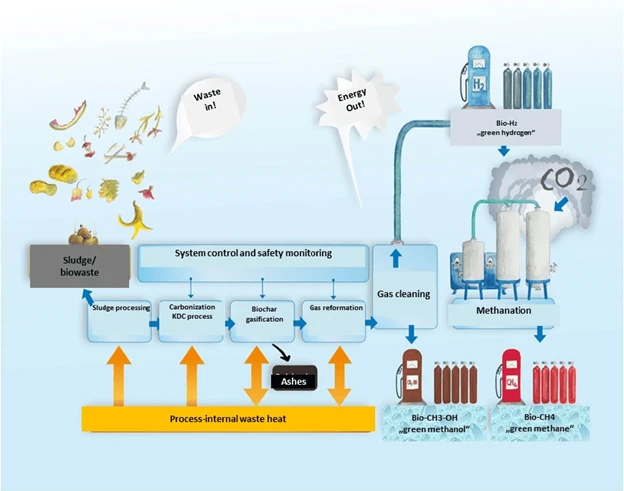 The blueFLUX process has three major steps to create energy. According to the company, the first step is producing carbon and steam from basic materials via hydrolysis. Then, both products are transformed into gas through a gasification process. In the final step, the proportion of hydrogen in the synthesis gas is increased and then the hydrogen is separated.
"The move away from fossil fuels has been initiated and, in our view, can no longer be stopped. With the circular economy, it is possible to work with materials that are created every day and are widely available," Mach says.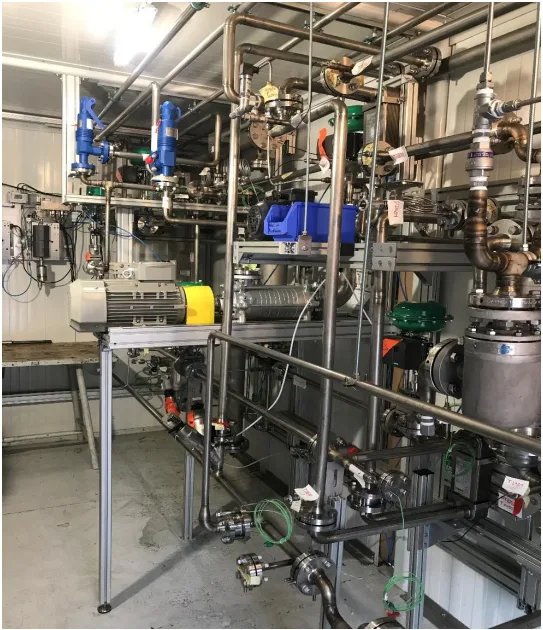 The blueFLUX team uses Solid Edge CAD software to provide the tools for design and development of their plants. "By participating in the Solid Edge Startup Program, we used the 2D/3D CAD solution Solid Edge for one year free of charge and optimized the development and production of the highly modular systems. With training and software licenses for Solid Edge, Siemens and ISAP AG support us as solution partners."
The blueFLUX team used Solid Edge in combination with ISAP's EdgePLM COMPACT to solve the design challenges. The addition of large assemblies in the 2022 update has allowed them to create full digital designs. By working simultaneously on large assemblies, the team is able to speed up their design process —making their plant implementation efficient and less expensive.
blueFLUX does a lot of pressure vessel and special plant manufacturing, which means they require a vast number of sheet metal components. "The many possibilities in Solid Edge's Part Sheet Metal environment allow easy creation of even complex sheet metal components. The precise handling of the sheet metal parts leads to a reliable quality in production," Mach says.
"Moreover, we use XpresRoute for the piping and tubing of the individual components. It allows us to proceed intuitively and quickly. The suggested routings make the assembly of the individual components much easier."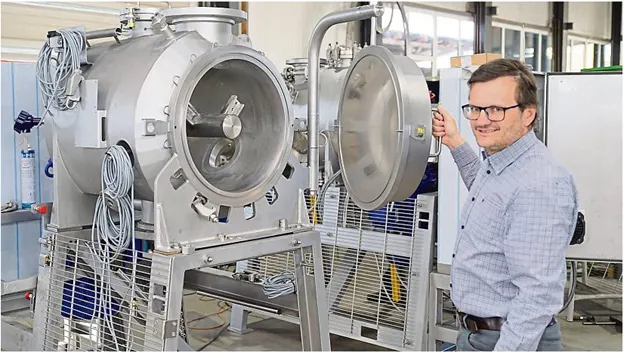 As the need for more energy continues to grow, it can't be denied that sustainable methods of creation will be in an ever-increasing demand in the market. According to blueFLUX, the climate change and energy crises are key issues in the world today and they aim to be part of the solution.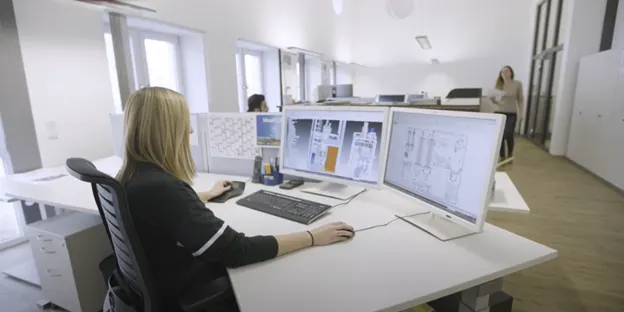 "Together with our parent company, we are intensively dealing with the necessary growth and are planning a significant plant expansion in order to ramp up the unit output to meet the market demand," Mach says.
As they look for more partners and suppliers to help achieve their market ramp-up, blueFLUX is also working with potential investors to help with internationalization and global growth. With declarations of intent from a number of different countries and industries, Mach and his organization are excited about what the future holds. The market for sustainable energy is sure to expand and this company is aiming to stay on its cutting edge.
---
For more information about blueFLUX Energy, visit bluefluxenergy.com.
To start a free trial of Solid Edge or learn more about our startup program, visit our website.
---
This Siemens-sponsored article was originally published by Engineering.com. Read original article →
This article first appeared on the Siemens Digital Industries Software blog at https://blogs.sw.siemens.com/solidedge/waste-management-can-mean-sustainable-energy/