Products
Solid Edge on #WorldPhotographyDay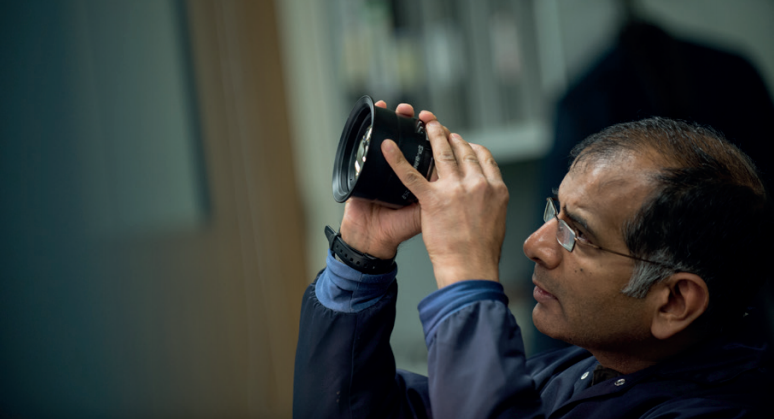 Did you know today is #WorldPhotographyDay?
In the spirit of celebrating the work of photographers around the globe, we'd like to highlight one of the many examples of how Solid Edge helps companies push the boundaries of innovation.
For nearly a decade, award-winning camera lens manufacturer Cooke Optics has used Solid Edge software from Siemens Digital Industries Software to meet and respond to increasing customer demand for new product specifications, accelerate new product introduction, and increase production across the board.
An Oscar for optical innovation
The golden statuette on proud display at the Cooke Optics office in Leicester, UK illustrates the company's contribution to the film industry. The company has been designing, developing and manufacturing lenses since the late nineteenth century, so it's no secret that they've become a giant in the camera industry.
At the 2012 Academy Awards® of Merit for Scientific and Technical, it was recognized for helping to define the look of motion pictures. Famous for the warm, natural "Cooke Look," the lenses also have a reputation for being accurate, reliable and easy to maintain. Designed for artistic creativity in various filmmaking scenarios, they ease the technical challenges of shooting a movie. If, for example, a lens iris opens faster, it lets more light into the lens and filming can begin one hour earlier in the morning.
Cooke manufactures a full range of primes and zooms for 35mm, digital and super 16mm cinematography, and a variety of large-format stills lenses. The first choice of cinematographers around the world, all Cooke lenses are hand-built to advance precision and quality. It is a constant challenge to fulfill the order book while meeting customer demand for new specifications. In particular, Cooke customers expect to see innovative developments every spring and fall at the two major film industry fairs.
Solid Edge from day one
The present-day company stems from a management buyout of Taylor-Hobson's optical division in 1998. At that point, Solid Edge® software from product lifecycle management (PLM) specialist Siemens Digital Industries Software was first adopted, and since then it has been intrinsic to the development process.
Paul Nettleton, a senior designer at Cooke, explains the task at hand:
"The engineering challenge is complicated. Each lens has about 15 different elements. These have slightly different curves that need to be set apart from each other at precise distances. In addition, we are creating complicated profiles to suit the system design."
The manufacture of glass has a longer lead time than the metal work. The Cooke design team has to manage a range of complex parallel processes as it works towards a target deadline for both. Using Solid Edge assists throughout the product development process, delivering accuracy, the agility to switch between 3D and 2D, the ability to use both synchronous technology and ordered environment, and visibility for all involved.
Accuracy to within 20 microns Once the optical specification is confirmed, the mechanical engineering team has to design the glass to that specification and create the metal casing that holds the lens in position. The team needs to achieve tolerances of less than 20 microns.
"At this stage we liaise closely with our optical specialists as we work through potential clashes until we all agree on the design," says Nettleton. "Some of Cooke's components have complex geometries, so there are lots of reference planes and this is where Solid Edge is very helpful with features such as tangents. Calculating the weight of the components and showing their 3D movements all aid the design process."
"From start to finish, there is extensive reworking and everything has to come together perfectly when it's all ready. This requires a totally integrated approach for design and development, and that's what we have with Solid Edge," said Steve Pope, Engineering Manager at Cooke Optics.
This article first appeared on the Siemens Digital Industries Software blog at https://blogs.sw.siemens.com/solidedge/solid-edge-on-worldphotographyday/