Products
Building a water treatment startup in rural Africa
Purpose-driven engineering is the concept of a company or organization developing products or providing services that tackle something bigger than the products themselves. When a company embraces purpose-driven engineering, their products and services should have a broader purpose. Kainos Projects Africa (Kainos) built their purpose-driven business by partnering with companies and organizations focused on water treatment solutions and waste-to-energy projects.
Ruan Erasmus is a project engineer at Kainos, where he is tasked with designing package- and skid-based plants for customers, including 2D drawing, 3D model development and generating manufacturing drawings and BOM's for procurement.
"Kainos was started out of a need to do business differently—in a new way that not only benefits the company and its employees, but also the communities surrounding us, our partners, clients and even our plants. Leading a business with a holistic vision and principles and impacting communities for the better," says Erasmus.
The business' vision is to help alleviate a growing need for water and energy throughout the entire continent of Africa. "The goal is to take hands with partners and be the change needed to help communities with basics like clean drinking water," he says.
Product development for water treatment
Kainos' business is based around working with various partners and building or re-engineering systems for their clientele. Their main focus is on complex wastewater treatment for re-use.
"We pride ourselves on being able to integrate various technologies to solve complex water problems in laundries, distilleries, dairies and other industries," Erasmus explains.
To integrate those technologies, Kainos uses Solid Edge throughout their design process. Like most design firms, they start with a client's needs. In the case of water treatment, that begins with testing and measurement. Through a sampling campaign, they determine the needs for treatment and begin engineering.
"Our in-house process engineers design and calculate the best process for the application, keeping budget, efficiency and physical constraints in mind," Erasmus said. "It then goes through a process of planning, which involves piping and instrumentation diagram (P&ID) creation, as well as general layout drawing creation."
At that point, the Kainos team takes the P&ID created in Solid Edge and chosen hardware and they begin to design the treatment plant. "This involves fitting all the hardware and pipework onto a steel frame to minimize site work and for ease of installation. Solid Edge gives us the opportunity to design standardized skids, which we can easily reproduce as necessary. It also lets us easily upgrade or downgrade skids for certain customer needs by easily swapping in and out different hardware," Erasmus explains.
Once the design is complete and has been approved, Kainos develops manufacturing drawings for fabrication. Using Solid Edge's drafting, they create ISO drawings for pipe installations and general assembly of the skids.
"Thanks to CAD design, we can easily do this in a workshop, reducing the complexity of the main installation on site, saving time and energy," Erasmus says. "We do all the main designs, which includes PVC-piping, sheet metal, 3D modeling and 2D drafting with the Solid Edge Premium package."
A water conservation startup concept in action
When Kainos worked with a South African industrial laundry organization, they found that the organization used borehole water for washing operations and boiler feed water. Upon initial review, the water quality was in spec with the South African National Standard (SANS) 241:2015 Drinking Water Specification, which meant it was safe for human consumption. However, while the water quality was compliant for consumption, the total dissolved solids (TDS) and hardness were too high for efficient use within the laundry facilities.
Previously, the industrial laundry company had installed a water softener system to reduce the hardness. According to Kainos, "the TDS was not reduced, and the softener operation was expensive due to the demand of high concentration salt water (brine) for regeneration of the softener plant."
Beyond just water hardness, the TDS contained dissolved iron which expended some of the peroxide used in the washing chemicals, causing drops in efficiency and higher chemical usage throughout the facility.
Kainos stepped in to help deploy a brackish water reverse osmosis water treatment plant. Brackish water refers to water that is more saline than freshwater but less saline than true marine environments—exactly the type of water the laundry was looking to use. When combined with raw borehole water blending, they were able to provide optimum water quality at the needed quantities for more efficient operation. Fewer chemicals were needed to keep the water at the proper hardness and the facility saved on both water and chemical consumption.
"Being in the water industry and always working with pipes, we use Express Route quite often. Using Piping Route within Express Route has made my work 100 times easier, as you can add fittings to pipelines with just a click. Solid Edge has a wide range of parts in the standard parts library, but it is also easy to make your own library of parts and pipes to use in conjunction with Piping Route," Erasmus explained.
Africa suffers from a number of challenges when it comes to water utilization. In fact, there are roughly 785 million people that lack access to safe drinking water. While Kainos runs as a startup to help make industrial water treatment components, they also operate as a non-profit, working to help conquer water challenges throughout the continent.
"Kainos has a vision of sowing into Africa and helping to alleviate a big need for water and energy over the whole continent. The goal is to take hands with partners and be the change needed to help communities with basics like clean drinking water," Erasmus said.
Their mobile solutions and non-profit arm are helping to provide clean water without excessive energy or labor expenditures. The trailer, which can be deployed in emergencies or in remote environments, can operate on solar power and provides a resource for surface water treatment, pathogen removal and advanced filtration.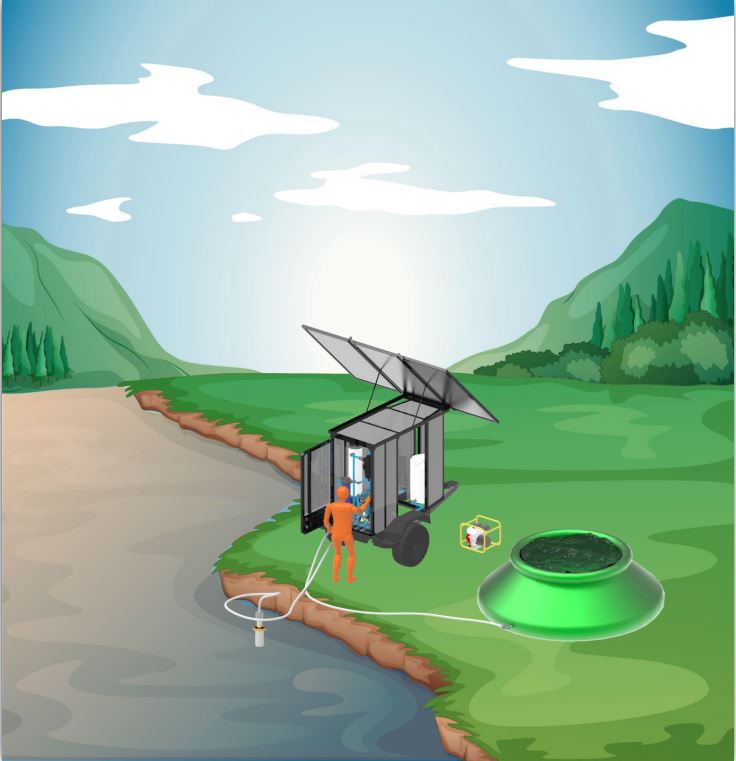 Using Solid Edge as a startup
Erasmus had worked with various other design applications in the past before experiencing Solid Edge but now he swears by it. "What always stuck with me was the effort that the Siemens team and the local reseller put in for us," he said. "We could see changes and improvements being made on a global program from feedback of our engineers. Engineers from Siemens USA were sitting with our engineers and figuring out changes and issues that we had. We always had feedback on changes and updates on bug fixes and maintenance packs and they have always been eager to help with anything."
Kainos Project Africa is a young company that is building on their startup status. But even young organizations need capable software. After working with Solid Edge at another organization, Erasmus started his research into the software's capabilities.
Working with water means working with pipeworks and plant designs, for which they found XpresRoute could be an excellent solution. "We couldn't invest in something if we didn't know it would cater to our needs. We started with a 30-day trial and saw that we would be able to use it in the context of plant and skid design," Erasmus said.
In their research, Erasmus and his team came across the Solid Edge Startup Program which provides early-stage startups access to their CAD, CAM and CAE software for free. With access to a proper design suite of tools, Kainos was able to produce standard packages for their plants and create an offering to their customers. Without access to the program, Erasmus explained that they would not have been able to afford software of the same caliber.
With access to a powerful suite of products, they were off and running. "Using pipe routing within XpresRoute has made my work a hundred times easier, as you can add fittings to pipelines with just a click," Erasmus explained, "Solid Edge has a wide range of parts in the standard parts library but it is also easy to make your own library of parts and pipes to use in conjunction with pipe routing. We also pull reports from assemblies and use them for BOQ's for ordering and manufacturing purposes."
Beyond the features that directly aid in their design process, Kainos also uses Solid Edge with KeyShot to provide detailed visuals of their skids and plants. "This helps us with high-end representations for enquiry for clients but it also gives us the ability to produce datasheets with realistic renders for marketing standard products without having to spend any money or time on building a product," he added.
They also use the cloud collaboration tools in Solid Edge to share models with clients for review, even if the clients don't have the ability to look at CAD files. The communication means they have a more transparent stream of contact with the clients, creating a more efficient method of designing remotely.
As Kainos Project Africa grows and their project load increases, they expect that the need for CAD users will increase and they will use other features in the Solid Edge suite of tools. Specifically, Erasmus wants to expand into using simulation.
"Using simulation would allow us to do our own structural designs and save us from having to rely on subcontractors for those designs," he says. "We want to impact Africa and Solid Edge will ensure that we can keep designing package and containerized plants for use in rural Africa."
Free software for startups and entrepreneurs
Siemens Solid Edge for Startups provides early-stage startups and entrepreneurs with free access to industry-leading Solid Edge software for mechanical design, electrical design, simulation, manufacturing, technical publications and more.
Learn more about Solid Edge for Startups →
---
This Siemens-sponsored article was originally published by Engineering.com.
This article first appeared on the Siemens Digital Industries Software blog at https://blogs.sw.siemens.com/solidedge/building-a-water-treatment-startup-in-rural-africa/